First report: VW's Taigun is a compact SUV with a big 150hp heart. So just how good is it at playing the fun-to-drive, well-built, well-equipped and practical SUV?
Stop-start, stop-start, stop-start... traffic shouldn't be this bad today. Then, to make matters worse, we get VIP movement, complete cops running a pantomime, and then, as time marches on traffic snowballs. Nothing I can do, but try and relax, all thoughts of giving our new long termer a good workout now dead.
As the Taigun crawls forward in stop-start traffic, I first pay attention to just how slick the manual gearbox is. An absolute delight, the action is light, the longish gear lever can be moved forward gently or punched through in a flash, and while clutch modulation can be tricky if you want to take off in a hurry, my left ankle soon learns how to do it just right. Also nice is that the 1.5 TSi pulls cleanly from low speed and performance builds in a linear, progressive manner; no dump of turbo boost here.
What makes the VW Taigun's cabin such a pleasing place to spend time in is that it has just the right combination of build quality and spec. Don't much care for the red dash, but what I particularly enjoy is the slick new wheel, the luxury car-like build, and then this driver's seat just hits the spot. The steering, for starters, looks fabulous. I love the grey steering boss and those grey spokes, I love just how well it's detailed and I think the new VW logo looks super, neatly suspended in chrome. What really gives the cabin a lot of feel-good factor is the tough build and the high-quality fit and finish, especially in places like the centre console, door pads, gear lever and elbow box. They all seem to have a heft and a built-to-last quality not present on competitors.
SUPPORTING ACT: Driver's seat has the right combination of size, support and side bolstering.
What also makes the long crawl tolerable is that the driver's seat is wide, has a supportive ridge on each side to hold me in place and provides just the right amount of support for my back, shoulders and thighs. While buyers today prioritise having upmarket sounding but seldom used features, not enough attention is given to important stuff you use all the time. I think a good driver's seat is an essential, enhances comfort massively, and this one here is clearly among the best in its class. Makes a huge contribution to just how comfortable the Taigun feels.
TURNKEY: No keyless entry on this spec and no start-stop button here either.
The other thing that wows me immediately is the big, bold and sharp screen with wireless Apple Car Play. Having Google Maps displaying real-time traffic helps tremendously when you are in a jam, and when you need it, wireless charging is also a boon.
As I turn away from the traffic jam and the big river of light, gaps in traffic allow me to stretch the Taigun's legs a bit, use more of the powerband. And this just feels great. The ever increasing thrust and the sheer kick you get towards the top end is just super. And what's refreshing is that it delivers a level of performance you don't get in many more expensive SUVs. The drive back later that night is everything I want from VW's SUV and more.
POWER STATION: 150hp engine pulls like a turbine, adds another dimension to performance.
It, however, takes a hop across the harbour to Alibaug and some more open roads to display just how good a driver's SUV the Taigun is. This suspension on the 1.5 TSI is a bit more absorbent than on the 1.0 TSI, and it feels more comfortable over small undulations in the road. This also helps on a dirt road where I find I get an impressively planted feel. The manner in which it gives me the confidence to push on and enjoy the dirt track is such an eye opener.
Taking a Google Maps shortcut back via the rear of a nearby railway station, I land up on what looks like a Jeep track. There's no one around as I cross an unmanned level crossing, only some motorcycle tracks; some sections need more ground clearance and better traction than the Taigun has.
This means I often have to get off and assess the obstacles ahead before I can drive over them. A bit of luck later, the Taigun passes all the obstacles unscathed and I can carry on. Wonder why Google Maps still doesn't have enough AI to inform you that you are about to drive over a motorcycle path or one where the surface isn't well paved.
Due to some brilliant packaging, the rear seat is both spacious and comfortable.
As the dirt track improves and I get some tarmac again, I begin to extract more and more from the engine and chassis. The rev happy turbo engine, big rev counter, the slick manual gearbox, the nice ride and handling balance... this just has to be the best of everything VW has, all wrapped up in an ideally suited package. And yes, it's important that it's packaged well too. There's a good amount of space for rear seat passengers due to the high seating position and the boot swallows a fair amount of luggage, the latter easily good enough for a long weekend.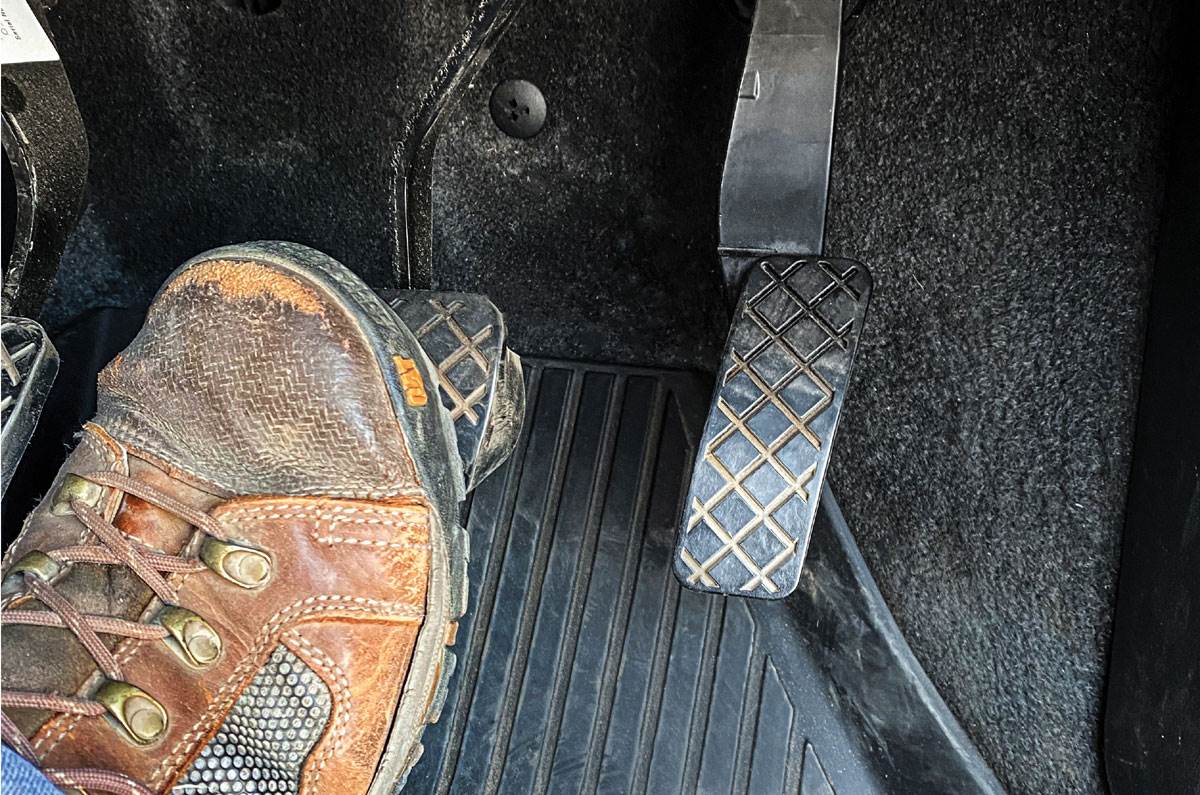 MORE BITE: Brake pedal needs more instant or immediate bite when you step on it.
Would have liked a bit more bite from the brake pedal, and at times the supple suspension gets unsettled by deep craters. Otherwise, VW's compact SUV looks ideally suited to our conditions. And the fact that it delivers so much quality and engineering depth at a not-so-elevated price is the cherry on the cake. Easily the best car VW has put on sale yet here in India.
VW Taigun, Skoda Kushaq crash test video
9457 Views|5 months ago
Volkswagen Taigun vs Kia Seltos drag race video
25208 Views|1 year ago