Our Yaris' term is over. It's had a busy tenure, even if the odo might not show it.
I'm almost bemused that our long-term Toyota Yaris has done all of 3,000km in its five-month stint with us. I've spent so much time in it, I'm convinced there should be an extra digit on the odometer. But that's what driving in Mumbai does to your sense of time and distance. The shortest of journeys can take over an hour, and if you have to go to the suburbs in rush hour, my sincerest sympathies are with you. I don't have it as bad as some of my colleagues (Sergius drives 40km one way!), but given that the powers that be have decided to construct the metro, the monorail, widen roads, build flyovers and revamp the pipe network, all at the same time, there's just no escaping the maddening traffic. It's in this madness that the Yaris has been my temple of calm. Okay, that's overstating things but the Toyota has had a calming influence on these helpless journeys.
EASY DOES IT: Smooth CVT is a boon in city traffic and makes the Yaris auto the version to buy.
My fondness for the Yaris centres on its CVT gearbox. Yes, CVTs are dull and whiny and whatnot but when stuck in a sea of slow or start/stop traffic, I'd pick this over a manual any day. The CVT is particularly smooth and responsive and makes the Toyota a smart choice in town. Our range-topping VX trim also featured paddleshifters and they worked well shifting between the seven preset steps of the CVT. But, fact is, I rarely ever had the urge to play Jari-Matti Latvala in the Yaris. Because pleasant and easy to drive as the Yaris is, it is the last car to get your heart racing. The engine has pep but no personality. Toyota president Akio Toyoda had famously issued a diktat to designers: "No more boring cars". And I only hope the engineering team delivers on this too when developing the next Yaris.
CONNECTIVITY ISSUE: Smartphone addicts will find absence of Android Auto and Apple CarPlay an irritant.
A quick fix on the existing Yaris would be the inclusion of Android Auto and Apple CarPlay. Plugging in my phone to connect to Android Auto has almost become as instinctive as belting up for me, and it's disappointing that I have to make do with Toyota's fairly average stock operating system. Security concerns, rather than stinginess, kept Toyota from rolling out these connectivity essentials on its cars so far. The issue, however, has reportedly been resolved, so that's something to look forward to. Talking screens, I liked the MID, especially the readout that displays how much money you've potentially saved by driving economically. Unfortunately, my indicated savings were never substantial enough to celebrate. At its very best, the Yaris delivered 11.5kpl in smooth-flowing traffic. However, a particularly bad spell of traffic had the figure plummet to just 6.1kpl. Thankfully, the average city figure was closer to the 8.5kpl mark.
Of the other things, I liked the inclusion of a powered driver's seat, but it's also something I could live without. What I would also be happier without is the faux stitching on the dashboard. Meant to replicate the look of stitched leather, the unusual detail just doesn't look authentic enough. Faux wood. Fine. Mock carbon fibre. Passable. But fake stitching is just the limit in my book.
This being a Toyota, expectantly nothing went wrong. A squeak originating in the vicinity of the infotainment system is all I have to bring up, really.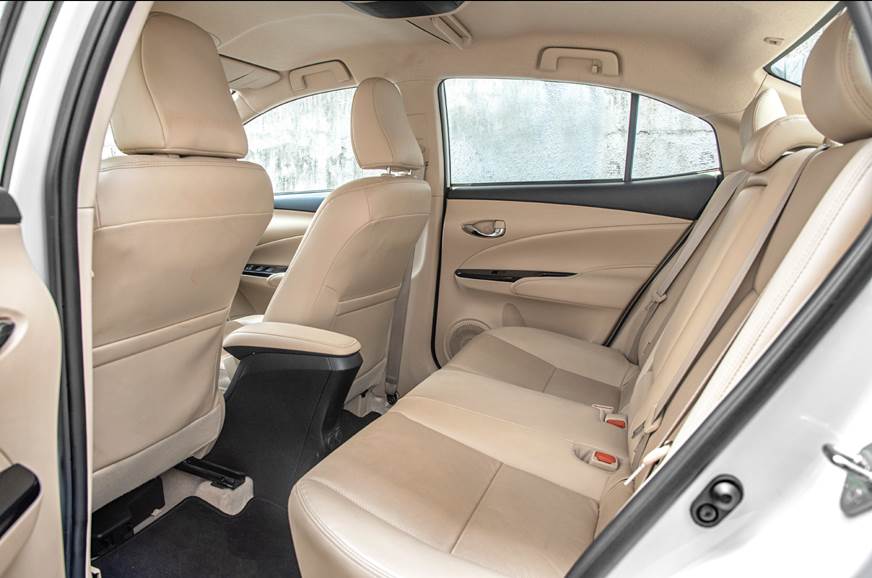 SEAT TREAT: Space is reasonable, while nicely positioned rear seat makes getting in and out easy.
I spent all my time at the wheel so I can't give a firsthand account of the rear-seat experience. But my friends who did occupy the rear seat didn't mention anything. So I'd take the lack of news as good news. The Yaris' rear seat also found favour in the extended Autocar family. Renuka Kirpalani's mum-in-law found ingress and egress really convenient with the seat set at just the right position for her comfort, and she also liked the roof-mounted air-con's precise airflow. The Kirpalanis have added a Toyota Yaris to their driveway since.
And that's the thing about the Yaris. It's not the first car that comes to mind when recommending a midsize sedan. It's not the most spacious, it's not the most exciting nor is it the most value for money option out there. But spend time in one and you're sure to find things you like. If it's an easy-going and fuss-free car that you desire, the Yaris will fit the bill just fine.
Also see:
Toyota Yaris long term review, first report
Click here for Toyota Yaris prices, reviews, videos, images and more
Click here for Toyota India models, prices, reviews, videos, images and more