The frugal diesel hatchback excels in the city, but how does it cope with a 600km trip during monsoon season?
With the monsoons in full swing and a mid-week national holiday coming up, I decided to head to Goa for a little vacation. It's a near-600km drive from Mumbai and what I needed was a car that would be good for a long-distance, highway run. But being at the end of the month, I also had to consider the factor of fuel economy. So, brushing aside the S-cross, Creta and Brezza, I decided to take the Celerio diesel for the drive. It is, after all, one of the most economical cars on sale right now.
Of course, I was warned by several colleagues who were apprehensive about the little hatchback's capabilities outside the city. But given that I wouldn't be able to carry much speed anyway, owing to wet conditions, I wasn't particularly worried about the underpowered diesel engine. The dual front airbags that ZDI (0) trim brings gave me more reassurance, especially when heading out on such a long drive.
We set out early in the morning to skip traffic and were soon on the Mumbai-Pune Expressway. To my surprise, the Celerio was faring pretty well on open roads. Yes, the vibrations from the two-cylinder engine were constantly present and the intrusion was irritating – especially when pushing it on the highway – but it was fairly easy to hold three-digit speeds. I just made sure the music was turned up enough to drown out the engine noise. Speaking of entertainment, Bluetooth, USB and aux compatibility, along with steering-mounted controls, ensured I could have uninterrupted music on the go. And the speakers are better quality than quite a few of its competitors in the class.
Stability at high speeds isn't too bad either, but its hatchback shape is a bit vulnerable to the strong cross winds that accompanied the rains on the open highway. There is body roll around corners, but nothing that shook my confidence.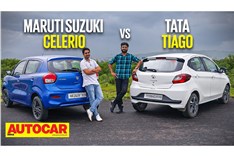 2022 Maruti Celerio vs Tata Tiago comparison video
17735 Views|1 year ago
2021 Maruti Suzuki Celerio video review
16250 Views|2 years ago