9,000km report Let's just say it's transformed our weekends dramatically.
Sunday mornings aren't the same anymore. I wake up at 4am, drive 40km, meet up with a few jeepers, throw our respective off-roaders at some hill outside Mumbai and see what comes of it.
I think getting covered in mud is a relaxing way to spend a Sunday and, as I've learnt, off-roading can be fun even at 5kph. The thrill doesn't come from speed, it comes from clawing your way through/up/down/under a seemingly unconquerable hurdle. It's an adrenalin rush like nothing I've experienced, believe me.
As for my newfound friends, they pick the most impossible-looking obstacles this side of the Himalayas to drive over. It's scary, heart-pounding, cold-sweat stuff, and wrong moves could result in falling off the edge of the narrow road or, worse, breaking something on the Jeep.
Of course, I've modified the Thar a bit to keep up with the other Jeeps, and these basic mods have infinitely improved its off-road abilities. I've equipped it with Maxxis Trepador
mud tyres, fitted a set of Neo alloy wheels (Rs 32,680 for five), removed the side-steps and fitted a battle-ready front bumper (Rs 10,299).
I've also taken the plastic fenders off the wheel arches because they'd limit wheel travel by a few crucial millimetres. The Trepadors are amazing. They make such a huge difference to the way the Thar behaves on loose stuff. Where the Thar used to sink in and spin its wheels on slush, it now claws its way through. They allow the Thar to take full advantage of its 105bhp and 25.18kgm of torque and it now takes really deep slush to stop the Thar in its tracks. What's even more impressive is how they behave well on the road too. There's little of the tyre roar usually associated with big-lug design tyres and the Thar's ride has improved marginally thanks to the taller sidewalls.
I'm amazed by how tough the Thar is too. Over the past few months, I've crawled over huge rocks, waded through deep slush and Devesh even drowned the Thar in a trench once. Drowned, as in, got water into the cylinders. He towed it out, removed the injectors, cranked the engine over a couple of times till the water was expunged, fitted the injectors back on, started it and drove back to Mumbai. I don't know any other car that can do that. We had to send it to the Mahindra workshop though. The turbo had taken in some water and we had to get it opened, cleaned out and change the engine oil and other fluids. The gearbox had been knocked out of alignment too – shifting gears had become tough – the gearbox mount had to be straightened out.
Now, when you go driving through thick brush, body damage is inevitable. So if it was another car, I would be pained by the paint scratches and the light dings, but in the Thar, it's just another battle scar. I think each ding tells an interesting story, much like the scars on a soldier's face.
There is one downside and it's with the independent front suspension. The transverse lower arms hang quite low and dig into dirt rather than skate over it like longitudinally positioned leaf-springs would. To work around it, you need to keep your foot in and use the engine's power to literally dig your way through. The lower arms are also prone to hitting rocks and I'm thankful they are tough enough to take the hammering they've received. So far at least. Still, I think the front suspension's contribution to the Thar's everyday usability (it bounces much less than the old Jeeps on the road) more than makes up for this surmountable off-road issue.
I think the horns need to be placed higher as well. Their current position behind the front bumper means they drown at the first sight of water.
I've used it as an everyday car (or should I say Thar?) since I've got it and the odo now reads 9,000. It means the first service at 5,000km cost a reasonable Rs 2,600 and the damage to the gearbox mount and the turbo repairs cost Rs 5,900. As with any car, you have to be prepared for repair bills if you use it hard.
Just one small thing I'd like to mention. When I first started taking the Thar out, the off-road crowd used to laugh at me. They didn't think it was capable enough to keep up with them. It has, mostly, and I laugh the hardest when they ask to sit in the air-conditioned comfort of the Thar's cabin after a long day of hard-core mudding. I tell you, it's great fun.
OUSEPH CHACKO
Odometer 9,039km
Price Rs 8.20 lakh (on-road, Mumbai)
Test economy 8.52kpl (overall)
Maintenance costs Rs 11,000
Faults Drowning horns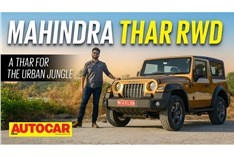 Mahindra Thar 4X2 video review
23474 Views|4 months ago
Autocar India Off-road Day 2022 video
16766 Views|7 months ago