The i20's intelligent manual transmission is a big hit with our man, who's readily taken to life without a clutch pedal.
It's a bit of a shame that you don't see all that many Hyundai i20s and Venues, and for that matter Kia Sonets, with the iMT badge on them. I've lived with the i20 iMT (intelligent manual transmission) for a couple of months now and can vouch for the unique transmission as a good halfway house between a conventional manual and a far pricier torque-converter or dual-clutch automatic.
You could argue: 'What's the point? You have to change gears anyway', and while that is true, if like me, you've grown up on a diet of manual-transmission cars, that task will be second nature to you. It's the absence of a clutch pedal that makes all the difference. An iMT (intelligent manual transmission) automates clutch modulation – a big pain point in crawling, rush-hour commutes – and, at least in the i20's case, does its job surprisingly well. Gearshifts are smooth, the car creeps forward quite naturally and even uphill starts aren't problematic.
LOOKING BACK: Crisp rear view camera with guidelines comes in very handy when parking.
The best bit is how easy it is to get used to, something I witnessed firsthand when I hired a driver to drive my i20 iMT and me home after a night out. Sanjay, le chauffeur, who was quick to reassure me of his experience in a whole range of cars, looked positively flummoxed when he got into the driver's seat. This was the first iMT he'd been in and the manual-like gear lever and auto-like two-pedal arrangement threw him off. It didn't take much time to talk him through the dos and don'ts of the iMT, but still, I can't say I was entirely comfortable with the idea of my late-night journey home being the practice run.
Thankfully, Sanjay got the hang of it quickly. Okay, the start was slightly jerky (shifting to second early helps) and he did forget to shift down once, only to wake up the gear reminder buzzers, but that was it. The rest of the drive was smooth and the setup (and superb reversing camera) also won praise from Sanjay, who'd just added the experience of another transmission type to his CV.
AFTER THE DUST SETTLES: Dust shows easily in all-black cabin and is hard to get out at certain places.
What's nice is that the iMT is more MT than AT in its drinking habits. Fuel economy in town is around the 11kpl mark, which is not bad at all. A relaxed drive to Pune and back saw the figure rise to 17kpl. There haven't been any problems to report, though I need to calibrate the TPMS with our trusty office tyre pressure gauge. The TPMS alert flashes intermittently and the car's readings somehow seem a bit off.
Our i20's odo has crossed the 8,500km mark, so a service will be in order over the next month or so. When it goes in, I'll be putting in a special request for a thorough interior clean. Even the smallest specks of dust stand out in the all-black cabin and the particularly long period of inactivity over the lockdown hasn't helped. Professional attention is needed to restore the original sheen.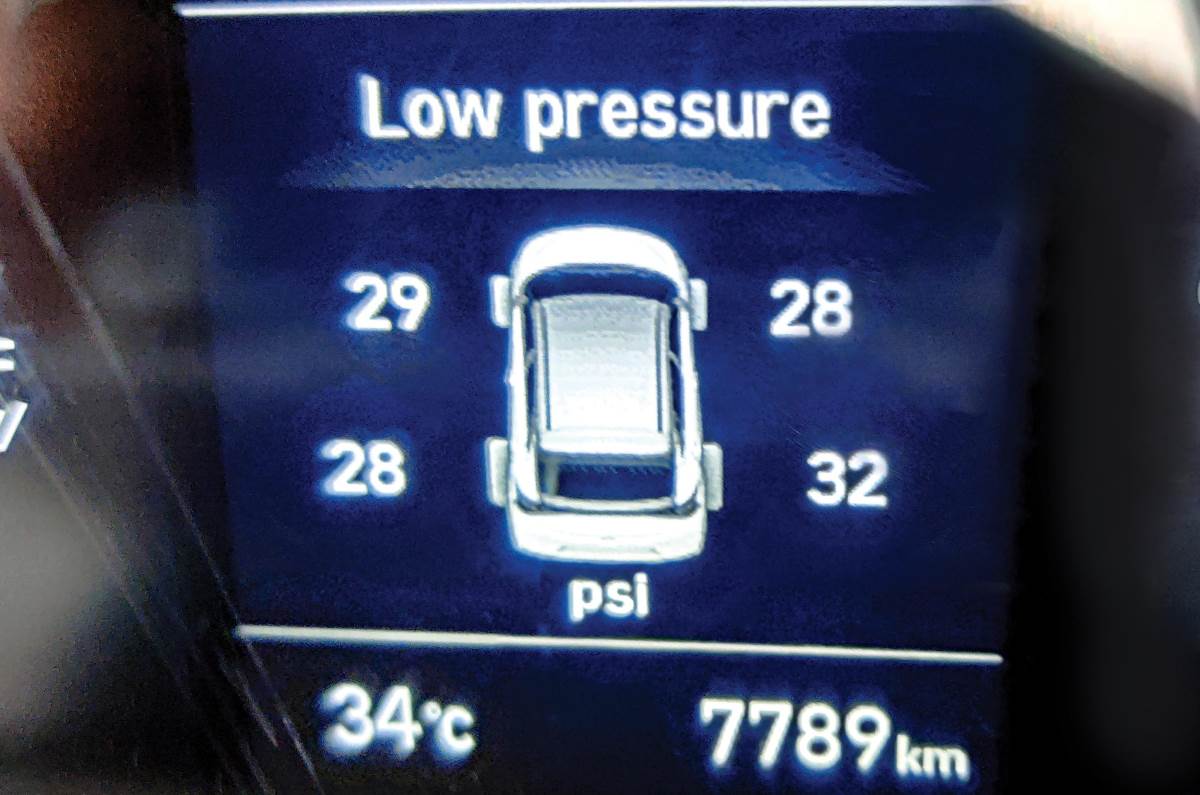 UNDER PRESSURE: TPMS isn't entirely reliable; has intermittently flashed warnings soon after fill-up.
With the rains upon us and flooding almost a certainty in Mumbai, I've been curious to know how to tackle a waterlogged street in an iMT. There's no special mention of this scenario in the owner's manual, so I hope the standard operating procedure for a manual applies here too. Fingers crossed, I'll keep the car out of trouble... and water.
Also see:
Hyundai i20 N Line spied ahead of launch
Hyundai i20 Turbo iMT long term review, first report
Hyundai i20 N Rally1 image gallery
4189 Views|8 months ago
Hyundai i20 N Line Image Gallery
7036 Views|1 year ago