The run-up to the 2014 Auto Expo had been hectic and I have, to borrow the words of Frost, many shoots to go before I sleep. I'm the executive producer of anything digital at Autocar India and under normal circumstances I use the Duster. Those who know me know that I'm six-foot-eight tall and need all the headroom I can get. So while the Duster, my regular runabout, was getting serviced, the Amaze landed in my lap.
You should also know that I have a Brio. Given that the driving position in the Amaze is the same, I knew I would have no problems fitting into the saloon. It's just that I wasn't sure if the boot would take all my camera equipment, and I was pleasantly surprised when it did. Of course, some equipment spilled over into the back seat, but I can live with that. I only have Siddharth, the video editor, and cameraman Neeraj in the car with me, and we are quite adjusting that way.
Otherwise, the Amaze has been quite amazing — I love that it is so easy to drive. Some of these shoots can be quite stressful and I really don't need the drive to the location to add to that stress.
I particularly like the light clutch and the gearshift and the way it fits into parking slots almost as easily as the Brio, thanks to the light steering and tight turning circle.
I love that the engine response is so linear and how compact it feels on the road. It's a really easy car to drive and that's what has endeared it to me over the past few days. The only thing that annoys me is the drone from the diesel engine. I was sure I would get over it after driving around for a bit, but no, its ever-present nature has never let me forget that I'm driving an oil burner.
I also wish the interiors were a bit more exciting — it's the same as my Brio and if it weren't for the engine noise, I could easily fool myself into thinking I'm in the hatch.
I have, however, no complaint with the fuel economy. To get to decent shooting locations, I am forced to drive out of Mumbai, and that means lots of miles over a short period of time. The Amaze's 20.8kpl on the highway is quite, well, amazing. I think I'll leave the Duster at the workshop for a bit more time.
Sandeep Srikanth
Odometer: 14,100km
Test economy: 18kpl (Overall)
Maintenance costs: None
Faults: None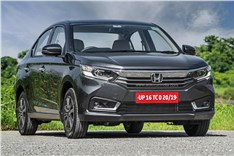 2021 Honda Amaze facelift image gallery
10807 Views|2 years ago
New Honda Amaze image gallery
93966 Views|5 years ago