Our Wagon R's munching kilometre after kilometre without any major issue, even through peak Mumbai monsoon.
The Wagon R has been put through some seriously testing conditions in the course of our anniversary issue shoot schedule. To be specific, the three weeks of torrential rain put a halt to life in Mumbai for more than a couple of days at a time. The Wagon R's taken a beating of sorts in the monsoon fury, and brought to my attention the fact that it isn't very well-insulated from sound. The rain hammering down on the roof with all its might was deafening, drowning out music playing on the inside as well as vehicle horns on the outside. Even so, it was a good experience for the simple reason that nothing adverse happened to the car and it took everything thrown at it in its stride. The Wagon R has been on some really bad surfaces, through shin-deep flooded areas, slush and rocky hill slopes, all in a matter of days, and come out unscathed and unaffected. On top of that, in those weather conditions and the heavy traffic snarls, fuel economy was still a good 15kpl.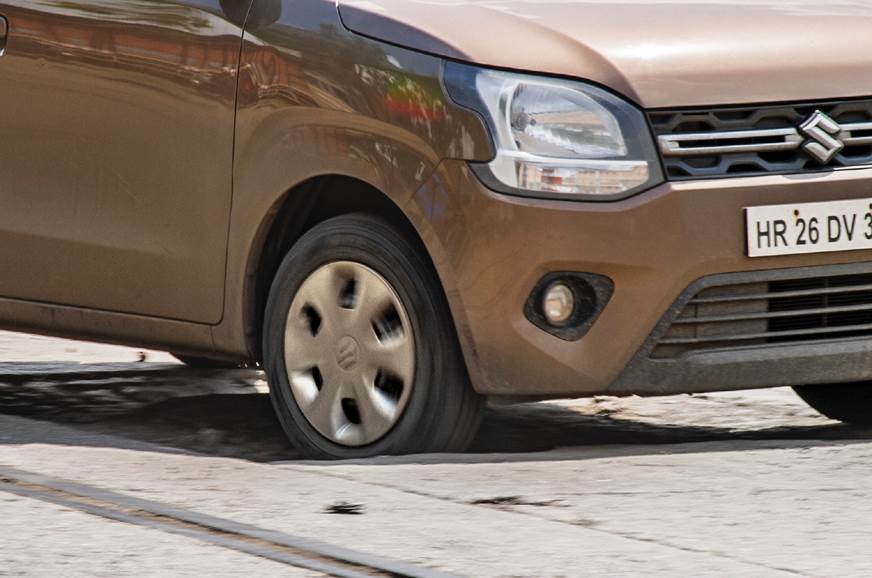 STABLE RIDE QUALITY: Decent ride quality even on Mumbai's pothole-ridden streets.
That said, there were a couple of niggles that I noticed after having spent so much time in the car. While the Bluetooth connectivity is a boon, my voice simply wouldn't carry through clearly. The microphone is placed in front of the IRVM on the roof and I'd either have to talk very loudly or turn my head left and upwards towards the microphone to be heard. The Wagon R's high roof only added to the problem, and more often than not, I had to pick up the phone to talk. Positioning the microphone in front of the driver, near the sun visor or towards the right-hand side of the roof, would have worked better, I'm sure.
WEAK MICROPHONE: Does not catch your voice easily.
The other issue was with the front windows fogging up because of the AC draft in this weather. This would happen with the AC vents facing straight ahead, and turning them slightly inwards did not help either. They needed to be turned in considerably. I think three-vent slats, instead of the current two, would have been the solution.
A
NGLE OF ATTACK: AC draft fogs up the side windows when vent is pointed straight or slightly inwards.
All in all, though, the Wagon R is a very capable machine to own for many a practical reason. Its roughing of the harsh rains and roads with apparent ease has instilled confidence in me, and I'm sure I'll be reaching out for its keys more often.
Ashley Baxter
Also see:
2019 Maruti Suzuki Wagon R long term review, first report
Click here for Maruti Suzuki Wagon R prices, reviews, images, videos and more details
Click here for Maruti Suzuki models, prices, reviews, images, videos and more details
New 2019 Maruti Suzuki Wagon R review gallery
25539 Views|4 years ago
New 2017 Suzuki WagonR image gallery
23622 Views|6 years ago