The dependable diesel Maruti became the fuel economy champion during its stay with us.
I used the Celerio for what it was intended – city driving, especially during the Mumbai monsoons. Those who know Mumbai know that the roads – figuratively speaking – have more craters than the surface of the moon, and the Celerio did pretty well in ride quality. Its suspension has decent amount of travel, which means it did absorb most of the bumps, save for a few sharp ones which thud through.
Although I am not a big fan of the one-piece front seats in the Celerio and most new Marutis, they are fairly comfortable. My grandmother found the front seat to be at the right height for comfortable ingress and egress. What she was also happy about was the boot. At 235 litres, it may not be class-leading but the opening is wide enough, which means we could fit her wheelchair in easily.
The 235-litre boot was wide enough to hold my grandmother's wheelchair.
Mechanically, the Celerio didn't skip a beat in its time with us. And though we put it through quite a lot, there was not a single squeak from this Maruti.
No doubt, the diesel engine with its poor refinement and very modest performance falls far short of the class-best and leaves me wanting for a better power plant. But in all fairness, the Celerio did a fair job of transporting me to office daily and taking my family around town on the weekends. With its ultra-frugal nature, decent boot size, roomy cabin and decent ride quality, the Celerio diesel did its job well. If only it was a nicer car to drive.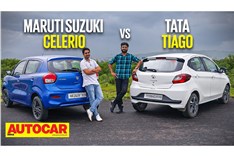 2022 Maruti Celerio vs Tata Tiago comparison video
16496 Views|1 year ago
2021 Maruti Suzuki Celerio video review
15521 Views|1 year ago