Not your full-size 4x4 giants, but not the entry-level crossovers either, we think mid-size luxury SUVs are where it's at. But which one is best?
The idea to do this comparison test came up way back in December of last year, at the test-drive event for Volvo's about-to-be-launched new XC60. 'Awesome,' we thought, 'finally, a new and capable rival for the GLC.' The Mercedes, you see, was our winner the last time we did a comparison test in this segment, but that was in 2016, and there hadn't been an all-new launch since. Well, with the Volvo, that finally changed, but then there was a new problem – the all-new Audi Q5 would be launching the following month, so we postponed it until January. But then we realised there'd be an all-new X3 coming in May (which we managed to drive in February and rather liked); we couldn't leave it out, could we? So, there you have it – it took a while to get the gang together, but we hope you'll appreciate our commitment to comprehensiveness. It is the entire segment of mid-size diesel luxury SUVs, and yes, that does include the Land Rover Discovery Sport, which is represented for the first time with its more powerful 180hp Ingenium diesel engine that's a much closer match for the others. This could get interesting.
LET'S TALK ABOUT SPECS
This had to be a diesel test because, while the X3, GLC and Disco Sport do get petrol engine options, the other two don't. And we settled for nothing less than the highest specification, so that means the X3 Luxury Line, Q5 Technology, GLC Sport and Discovery Sport HSE Luxury; the XC60 only comes in a single Inscription trim. It's when you look at the prices that things start to get interesting. The GLC is the most affordable at Rs 54.10 lakh; impressively, next comes the newest car – the X3 at Rs 56.70 lakh; perhaps even more impressively, in the middle of the pack is the XC60 at Rs 57.90 lakh (look at the equipment list to know why). JLR vehicles tend to be expensive, so the Disco Sport's Rs 59.24 lakh price tag isn't much of a surprise, but what is a surprise is that it's the Q5 that's the most expensive at Rs 59.79 lakh (all prices, ex-showroom).
On the styling front, things are pretty much what you'd expect from each of these brands, and each of these SUVs showcases its maker's latest family signatures. Despite this, however, here's a certain homogeneity to the German trio in their overall design – all are proper three-box shapes with broad shoulders and a squat stance. The X3 looks distinctly larger though (it's the largest car in this test in almost every dimension), and the 19-inch wheels give it a good stance. The Q5 looks perhaps a bit too similar to its predecessor at first glance, but look closer and you'll notice the sharper creases and new details. The big giveaway, however, is the thick brushed silver surround for the 'Bulgarian Beard' grille that's more like the new Q7. In this company, the GLC does look a bit like a lifted hatchback or estate car thanks to its long bonnet and flowing lines, but there's also an elegance to the curvaceous design, characteristic of most new Mercs. The Volvo also looks a bit like a hunkered-down crossover, but that all depends which setting you have the air suspension in – jack it up to off-road ride height and it looks like a pukka SUV. Plus, this chrome-rich Inscription trim and the distinctive 'Thor's Hammer' headlamps give it an air of class. The Discovery Sport wears its rugged credentials on its sleeve. There's no chrome here, but instead loads of gloss black trim and some classy brushed silver accents, and you can tell it's capable of tackling a small mountain with ease.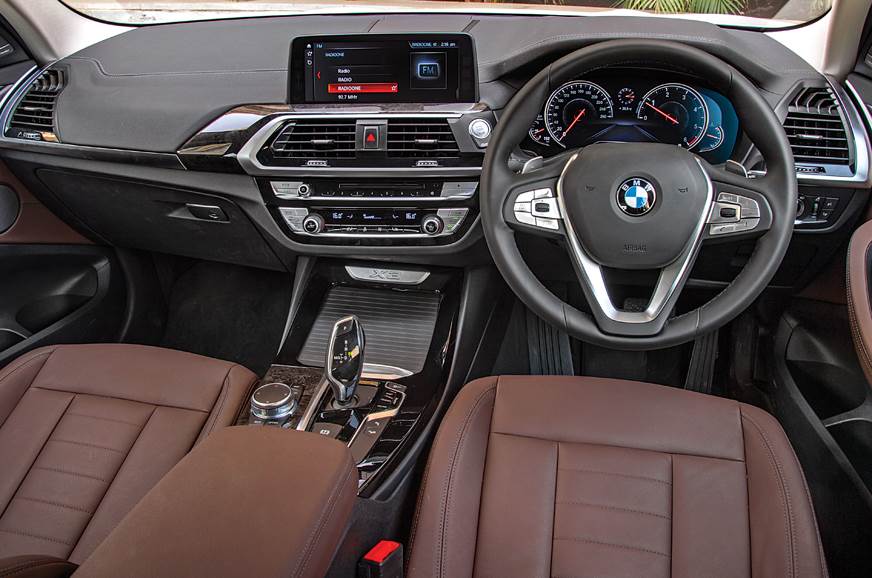 A huge leap in quality in the X3, with more brushed metal and soft surfaces. Driver-focused layout too.
What you get for you money
BMW X3 xDrive20d Luxury Line
Audi Q5 35 TDI Technology
Volvo XC60 D5 Inscription
Mercedes-Benz GLC 220d Sport
LR Discovery Sport HSE Luxury
Price (ex-showroom, India)
Rs 56.70 lakh
Rs 59.79 lakh
Rs 57.90 lakh
Rs 54.10 lakh
Rs 59.24 lakh
LED headlights
Yes
Yes
Yes
Yes
NA
Electric boot
Yes
Yes
Yes
NA
NA
Air suspension
NA
NA
Yes
NA
NA
Cruise control
Yes
Yes
Adaptive
Yes
Yes
Android Auto/Apple CarPlay
NA/Yes
Yes/Yes
Yes/Yes
NA
NA
Massaging front seats
NA
NA
Yes
NA
NA
Ventilated front seats
NA
NA
Yes
NA
NA
Climate control
3-zone
3-zone
4-zone
2-zone
2-zone
Panoramic sunroof
Yes
Yes
Yes
Yes
Yes
Auto parking
NA
NA
Yes
NA
NA
360-degree camera
NA
Yes
Yes
NA
NA
Driver seat memory
Yes
Yes
Yes
NA
Yes
Airbags
6
8
6
7
6
FOR THOSE WHO DRIVE
The X3 marks a huge step up from its predecessor, both in terms of design and quality, and it certainly feels worthy of its price tag this time around. There's plenty of brushed metal switchgear inside, and they've made sure to use quality, stitched leather even on the dashboard top. Like many BMWs, the dashboard tilts towards the driver, and you're treated to a slick digital instrument cluster and a chunky steering wheel. What's unusual is the front seats that, though comfy enough, offer very limited adjustment.
The Q5 has the most comfortable ride in this test, overall.
The Mercedes does get more adjustability, and the seats themselves offer sofa-like levels of comfort and support, but unlike in the others, there's no memory function here. The dashboard is identical to that of a C-class and that means a classic luxury feel, with big swathes of polished wood trim and nice brushed metal switches. The design and the driving position feel more like a sedan than an SUV though, and you don't get that same sense of solidity from the trim and switchgear as you do in the others.
Neat and good quali ty but just doesn't feel special enough, especially for the price.
If you want solid, you should try the Land Rover; it's the closest you'll get to a tank in this test. The doors feel heavy, the trim feels thick and rugged, and even the dashboard design is more functional than flashy. Trouble is, some might find it a little too plain at this price point, and a little bit of flair would not have gone amiss. Moreover, some switchgear, like the steering controls, don't feel as built-to-last as the rest of the interior. Still, this is the only one that gives you that proper SUV driving position, and the feeling of towering over all and sundry.
The Audi Q5 interior is an unusual thing. You can't really fault it for functionality, ergonomics, and especially the micrometre-precision with which everything is put together. The screens are slick, visibility is good, and the seats, though they look a bit flat, are really comfortable. It's just that it doesn't look or feel special enough. Some touchpoints feel a touch plasticky, especially around the doors and central console, but moreover, the design is ordinary, and it feels like they could have specced it more sumptuously, but didn't. It just doesn't have the wow factor of its rivals, or even some of its own stablemates.
Superb quality, amazing equipment and one of the best sound systems ever fitted on a car.
The Volvo has its own uniquely Scandinavian take on a luxury car interior. It's minimalist, but not drab, and has bling in all the right places. For instance, the wood trim is a thin strip that winds around the base of the dashboard, and chrome bits are peppered around the cabin. Quality is right up there with the X3, save for a few lesser bits here and there. You do wish there were more physical buttons for basic functions though; having to use the touchscreen to operate the AC is a pain while driving. The front seats are superbly supportive, they're heated, ventilated and even offer a massage function! However, some might find the cushioning a bit too firm.
FOR THE CHAUFFEURED
Where the Volvo gets marked down a bit is the back seat. It's spacious enough, but you sit quite low, those firm seat cushions continue, and the backrest is a bit upright and non-adjustable. Still, this is the only car with four-zone climate control and rear AC vents both in the centre console and on the B-pillars, to help with cooling.
Dash shared with C-class, and it feels car-like to drive too. Quality is good but trim tends to creak on the move.
The GLC, by contrast, has only dual-zone climate control and, here too, you sit quite low and thigh support is not the best. There's enough leg- and headroom, but this car feels distinctly narrower than the rest. The seats are, however, nice and plush and the recline angle is good, so you won't mind that it's not adjustable.
The X3 does get seatback recline adjustment, and you'll find yourself sat at a comfy perch with a good view out and more than enough space. However, the seat itself does feel a bit too flat and unsupportive, and that takes away from the comfort just a bit.
The Q5 has a really nice back seat that seems to offer a good blend of space, comfort and support, despite the fact that it appears to be quite flat. The cushioning is good, and it even slides back and forth (although this is really only to the benefit of luggage room), and has a recline function as well.
If you want space, nothing comes close to the Discovery Sport. The seat slides, but even in its middle position, it offers as much, if not more space, than the others. Like at the front, you get a good view out, thanks to the high seat position and low sills. And let's not forget the ace up this SUV's sleeve – a third row of seats, which though not spacious, can be used at a pinch if the need arose.
Dash layout simple and functional, but lacks flair and the final degree of quality.
Fold away that third row and the Land Rover has the largest boot too (unencumbered by a spare tyre, which is bolted underneath the chassis), so for practicality, it really comes out on top. The three Germans all have identically sized 550-litre boots, but the Audi's feels the most usable as the spare is neatly tucked underneath. The BMW has a cradle for the spare that takes away some room, while the Merc's spare just sits on the boot floor with your luggage. The Volvo, on paper, has the smallest boot at 505 litres, but the wide, flat loading bay means you get to use all of it. It's worth noting, however, that all these SUVs get only space-saver and not full-size spare tyres, so prepare for a slow drive home in the event of a puncture.
Dimensions
BMW X3 xDrive20d Luxury Line
Audi Q5 35 TDI Technology
Volvo XC60 D5 Inscription
Mercedes-Benz GLC 220d Sport
LR Discovery Sport HSE Luxury
Length
4708mm
4663mm
4688mm
4656mm
4600mm
Width
2138mm
2140mm
2117mm
2096mm
2130mm
Height
1676mm
1659mm
1658mm
1639mm
1724mm
Wheelbase
2864mm
2819mm
2865mm
2873mm
2741mm
Tyre size
245/50 R19
235/60 R18
235/55 R19
235/60 R18
235/60 R18
Boot capacity
550 litres
550 litres
505 litres
550 litres
981litres
TECHNO-LOGICAL
Take a look at the equipment box for a more comprehensive comparison of what each of these cars gets and doesn't get, but let's just look at the highlights for now. The Mercedes feels the most sparsely equipped, missing out on things like front seat memory and a separate climate zone for the rear cabin. It, along with the Land Rover, are the only ones that miss out on digital dials. The GLC's COMAND infotainment system isn't the latest version and feels the clunkiest of this set; plus it uses a tiny screen that's not well integrated with the dashboard.
Un-diesel-like rev-happy engine enjoys being driven hard.
This HSE Luxury version of the Discovery Sport gets the better 'Pro' version of the InControl interface, and while it's good, it doesn't get Android Auto or Apple CarPlay (neither does the Mercedes). The Audi and Volvo get both these smartphone integration facilities, while the BMW gets only CarPlay, though uniquely, it doesn't require a cable here. The Audi and BMW also both get wireless charging docks for compatible mobile phones, and the Volvo and Audi are the only ones with 360-degree cameras.
However, when it comes to equipment, the XC60, on the whole, has the others licked. It starts with the adaptive air suspension and goes on to various driver aids, including active and passive safety features, like road-sign recognition, adaptive cruise control, lane departure warning, collision mitigation and even Level 2 autonomous driving. Moreover, it's got a phenomenal-sounding Bowers & Wilkins audio system, front seats with heating, cooling and massage, and has heated rear seats too.
WHEN THE TOUGH GET GOING
All these cars use the latest versions of their respective makers' 2.0-litre four-cylinder diesel engines, apart from one. The GLC soldiers on with Mercedes' ageing 2.1-litre OM651 motor, which will be replaced by the new 2.0-litre OM654 (already seen in the E-class) when the SUV gets a facelift next year.
State-of-the-art radar and sensor-based safety systems on the Volvo.
On paper, the Volvo, with its twin-turbo D5 diesel engine, dominates the power and torque charts, with 235hp and 480Nm. Being one of the lightest SUVs in this test, it's even got the best power-to-weight and torque-to-weight ratios as well. The BMW and Audi both make 190hp and 400Nm, while the Land Rover has 180hp and 430Nm, and the Mercedes 170hp and 400Nm. In the real world, however, things aren't what the spec sheet would suggest.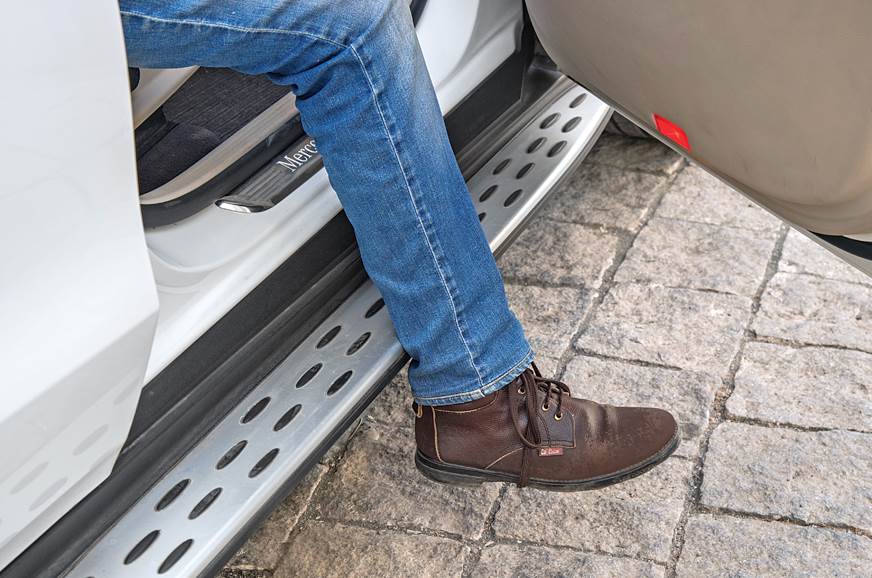 Wide step on the GLC more of a hindrance than help.
For instance, the XC60 isn't the quickest in any measure, and that's likely down to its linear power delivery and lazy gearbox. The power is all there, and you can feel it more and more as you pick up speed, but there's no urgency, and the eight-speed automatic can be slow to respond, and even fumbles with gearshifts. This is an SUV that prefers to be driven leisurely.
As is the Discovery Sport. The more powerful iteration of the Ingenium diesel engine certainly packs a stronger punch than the 150hp version, but here too, power delivery is more measured and thinly spread across the rev range. Additionally, Land Rover's nine-speed automatic is not good either; it will often shift at the wrong time and also takes its own time to respond to inputs from the accelerator. The result is some jerkiness at low speeds and often quite a delay when you want to make an overtake.
The top HSE Luxury trim gets you rear passenger screens.
On the other hand, the GLC's nine-speed automatic feels the best of this lot. It's quick, smooth and super-intuitive, which means it always has the right gear for you when you need it. Which is why, despite the Merc's power deficit, it's the quickest in kickdown acceleration from 20-80kph. The engine feels linear too, building its power in an ever-swelling surge.
The X3's engine, as always with BMW, is incredibly rev-happy by diesel standards. It can feel a
little lazy in Comfort mode, but you'll see a sea change by switching over to Sport. It eggs you on to drive harder and faster, and that just adds to the car's sporty appeal. BMW has improved the eight-speed automatic in this car, and it feels a lot smoother than it did in some of the older models.
Spacious enough and seating position is good but a touch too flat in the X3.
There's a relentless efficiency to the way the Q5 accelerates. No fuss, no drama – the seven-speed dual-clutch gearbox and Quattro AWD system just get it together and bolt you off towards the horizon. Yes, that gearbox can feel a little clunky at low speeds, but it's not bad enough to put a serious dampener on things. It proved to be the quickest from a standstill, clocking 100kph in just 7.74sec. The Volvo is next at 8.36, then the GLC with 8.56 and then the BMW with 8.65. The Discovery Sport, not too surprisingly, took a leisurely 10.68sec.
Seats comfy in the Q5 but headroom could've been better; centre tunnel is wide.
On the all-important matter of refinement, it's the Q5 that feels the quietest, followed by the GLC. The Discovery Sport accelerates with a loud boom as revs build, the XC60 does have some mechanical clatter, but it's the BMW motor that still sounds the loudest.
Powertrain and performance
BMW X3 xDrive20d Luxury Line
Audi Q5 35 TDI Technology
Volvo XC60 D5 Inscription
Mercedes-Benz GLC 220d Sport
LR Discovery Sport HSE Luxury
Engine
4 cyls, turbo-diesel
4 cyls, turbo-diesel
4 cyls, twin-turbo diesel
4 cyls, turbo-diesel
4 cyls, turbo-diesel
Cubic capacity
1995cc
1968cc
1965cc
2143cc
1999cc
Power
190hp at 4000rpm
190hp at 3800-4200rpm
235hp at 4000rpm
170hp at 3000-4200rpm
180hp at 4000rpm
Torque
400Nm at 1750-2500rpm
400Nm at 1750-3000rpm
480Nm at 2900-3700rpm
400Nm at 1400-2800rpm
430Nm at 1750-2500rpm
Gearbox
8-speed automatic
7-speed automatic
8-speed automatic
9-speed automatic
9-speed automatic
0-20kph
0.83s
0.58s
0.91s
0.88s
0.97s
0-40kph
1.98s
1.61s
2.19s
2.09s
2.32s
0-60kph
3.55s
3.12s
3.71s
3.71s
4.47s
0-80kph
5.64s
5.17s
5.75s
5.82s
7.23s
0-100kph
8.65s
7.74s
8.36s
8.56s
10.68s
0-120kph
12.98s
11.27s
11.62s
12.04s
15.78s
0-140kph
18.66s
15.43s
15.69s
16.85s
21.98s
20-80kph (in kickdown)
6.17s
5.14s
5.11s
5.04s
6.02s
40-100kph (in kickdown)
7.59s
6.60s
6.41s
6.39s
8.61
TALL ORDERS
However, no prizes for guessing that the BMW is the fun handler of this bunch. Put all the settings (which includes adaptive dampers) into Sport mode and everything tightens up nicely around you. Yes, the steering isn't quite as sharp as, say a 3-series, but it still feels the best of this lot, with a nice weight to it. It feels quite large initially, and understandably so, but with a nice enough road, you're sure to have the most fun in this one. Ride quality can be a little lumpy at times compared to some of the others, but in isolation (and Comfort mode) most will like the way the X3 handles bad roads.
Spacious, but firm cushions and upright backrest in the Volvo mean seat comfort isn't ideal.
The Mercedes is quite good fun to drive too, with a quick, sharp steering, and like the BMW, a distinctly rear-wheel-drive feel. It is a bit too softly sprung to be a true corner carver though, but we think that's forgivable in a segment like this. Ride quality is quite good on this car's passive dampers and steel springs, although you do tend to hear a lot of the road, especially when you hit a bump, inside the cabin.
The Q5 also gets adaptive dampers, and choosing Dynamic mode does add heft to the steering as well. But while the handling is benign and predictable, it falls short of being an out-and-out driver's car, and this is largely down to the relatively inert steering. Still, combine the decent body control with that strong powertrain, and most owners should be able to have some fun with this car. Where it makes up for all this is the ride quality, which is the best in this test. It manages to be soft enough to cushion you from bumps, but yet firm enough to keep the car flat at speed.
You sit low with your hips tucked far back into the seat in the GLC; feels like a sedan.
You'd think the XC60 would ace the ride quality test with its adaptive air springs, but though it comes close, it's not quite as good as the Audi. That's because it does feel a little too fidgety at low speeds and over undulations, and, unless you have it set to Dynamic, a bit too floaty at high speeds. It's also no corner carver, again because of that soft, comfort-oriented suspension, but also because the steering isn't very quick or engaging. At low speeds, however, you'll enjoy its wonderful fluidity, which makes parking or changing lanes a cinch.
The Discovery Sport isn't one for a winding road either, and is instead more about feeling solid. The steering here too isn't quick or sharp, and doesn't encourage you to push this SUV. What it has, though, is an incredible heft that not only gives a feeling of security, but also lets you know what's going on under the wheels. This car is all about pummelling the road into submission and is set up a little bit firm. That means at high speeds, it stays rock-solid stable and also flattens out bumps remarkably. However, at low speeds, it's just a little too lumpy and you will get moved around in the cabin.
The Discovery Sport is the most spacious by far with the most flexible seating; also a commanding view out.
MIDDLE OF THE ROAD
It's amazing how much the dynamics of this segment has changed in a few years thanks to new and improved competition. The GLC, which was the previous class best, now feels a little behind the times, and yes, that includes its use of an old-generation engine, while the rest have moved on to more modern motors. It may be the most affordable, but its equipment list reflects that too. And while it is comfortable, refined and has a plush interior, it just doesn't feel SUV enough. What definitely feels like an SUV is the Discovery Sport, and many from the Autocar team found a renewed liking for it. Maybe it's the more powerful engine, or the fact that they seem to have finally got the spec right, but it's more likely that despite it not being objectively the best here, it's got a rugged charm that none of the others do. It also helps that it's the most spacious, practical and capable off-road.
Which brings us to the final three, and here's where things get really close. The Q5 is just a superb all-rounder. It surprised us by being the quickest, but it's also got refinement on its side. Add to that a healthy equipment list, and you get an SUV many would be happy to own. It's just that it is the most expensive here, and for that it just doesn't look or feel special enough, inside or out, nor does it bring anything ground-breaking to the table.
The X3, then. It has the goods to be the best in class, with not many shortcomings dragging it down. Let's see – engine refinement could have been better, ride quality is a bit shy of perfect, and perhaps it could have done with a better back seat. But all these things aren't bad enough to be deal-breakers either. Especially if you enjoy driving, it's the one to pick, but even if that's not a priority, the X3 is just a damn good mid-range luxury SUV, full stop.
But the thing is, the XC60 is even better and it scores well in almost every area. To begin with, it is equipped like an SUV from a segment above; no exaggeration. It's pleasant to drive, the rear seat is reasonably comfortable, it isn't too expensive and, as ever, it comes with loads of safety kit. Volvo is even improving its service network and availability of spare parts. Sure, the XC60 has its shortcomings, and, in some areas, its competitors have an edge. But if you are looking for the best overall SUV in this segment, this is it.