The practicality and aesthetic appeal of an SUV, combined with a compact footprint and a relatively compact price, have made sub-four-metre SUVs the new go-to segment in India. We introduce the newest member of the class to its rivals.
They say competition is what breeds performance, and when it comes to the compact SUV segment, it certainly seems so. Take the Ford EcoSport – it's the one that really popularised the sub-four-metre SUV class, and for a while, it was on top of the world. But the competition came up so fiercely that when it was time to give it a mid-life facelift, the changes were so extensive, it almost felt like an all-new car. So what was this competition? Well, there was the Vitara Brezza, which is now quite simply the bestselling SUV in the market. And it's not just the Suzuki badge on its nose – this compact SUV gets the fundamentals spot-on, offering the right amount of space and comfort in a robust-looking design. Then came the Tata Nexon, which proved you could have a very stylish and sleek compact SUV without sacrificing space and practicality. It also helps that it has strong mechanicals to boot. And now there's the XUV300, which isn't Mahindra's first sub-four-metre SUV; there was the Quanto (which became the NuvoSport), there is the TUV300, and they claim the KUV100 is an SUV too – but all these target a different customer. The XUV300 is the one that best fits this class, and it seems to have learnt a bit from all its rivals, delivering a very strong package indeed. Strong enough, though? That's what this test is going to find out. And to keep things Even Stevens, we've opted for the only powertrain combination that's currently common to them all – diesel-manual. And, in case you're wondering why the Brezza here isn't the latest version (no black wheels, but it's mechanically identical), it is because Maruti didn't have a car to give us, but since so many people bought them, it wasn't too hard to borrow one from a friend.
EXTERIOR & STYLING
Let's not get too deep into the discussion of styling, because that can be very subjective. For instance, I find the Vitara Brezza very dull looking, and though it's got the basic shape right, the detailing leaves a lot to be desired; many disagree. On the other hand, I think the Nexon is absolutely exquisite and the best-looking in this segment, with a multitude of curves and variety of colours and layers that complement each other; but many think it looks too much like a hatchback. The EcoSport looks especially aggressive in this black-accented S trim and the XUV300 is one of the most pleasantly tidy designs to come out of Mahindra in ages. What I think most will agree on, though, is that while the EcoSport and XUV300 are both well turned out, they look truncated at the rear, and this is owing to the fact that both started out from vehicles more than 4m long and were cut down to size. The Tata and Maruti, designed from the start as sub-four-metre SUVs, are much better proportioned. That said, I also applaud Ford and Mahindra's decision to go with 17-inch wheels on these top-spec variants, as opposed to the other two that have stuck with 16s; it gives them a much bolder look.
The XUV300 and EcoSport look truncated at the rear, while the Nexon and Brezza are much better proportioned.
Dimensions
XUV300 Diesel W8 (O)
EcoSport TDCi S
Nexon Revotorq XZ+
Vitara Brezza ZDi+
Length
3995mm
3998mm
3994mm
3995mm
Width
1821mm
1765mm
1811mm
1790mm
Height
1627mm
1647mm
1607mm
1640mm
Wheelbase
2600mm
2519mm
2498mm
2500mm
Fuel tank capacity
42 litres
52 litres
44 litres
48 litres
Boot capacity
257 litres
352 litres
350 litres
328 litres
Ground clearance
180mm
200mm
209mm
198mm
Kerb weight
1405kg
1304kg
1285kg
1195kg
Tyre size
215/55 R17
205/50 R17
215/60 R16
215/60 R16
INTERIORS & EQUIPMENT
Thus far, the EcoSport has been ahead of the pack in terms of interior ambience, but the XUV300 comes close, and with a few bits like the infotainment and steering controls, it even surpasses it. Switches and buttons are really well finished and damped, and plastic quality is generally very good. It's just that the design is a bit incongruous, particularly the HVAC controls inherited from the SsangYong Tivoli that look rather dated. The EcoSport, particularly after its 2017 facelift, looks far more cohesive, and in the case of this S model with the orange accents, sportier too. I particularly like the large, freestanding touchscreen that sits upright at the edge of the dashboard, putting it comfortably in arm's reach. The Ford also has the best instrumentation, with simple but clear dials, and a large, informative TFT screen between them. Overall plastic quality, however, falls a bit shy of the Mahindra. It's close between these two, but overall, the Ford feels like the more enticing cabin to step into.
XUV quality largely fantastic but cabin design is a mishmash of old and new bits.
When it comes to design, you've got to love the Nexon's cabin too, which, much like the exterior, is really attractive. I particularly like the dull grey trim that runs across the centre and separates the top of the dash from the centre console, and the way the AC vents are integrated. The trouble is the inconsistency in quality; the dash top has a rich grain and feels premium but there are too many rough edges lower down, and iffy switchgear. There are also a number of functional oddities, like the AC controls that unintuitively show you their functions in a tiny corner of the touchscreen, and a central storage bin that's too narrow and deep to be properly useful on the go.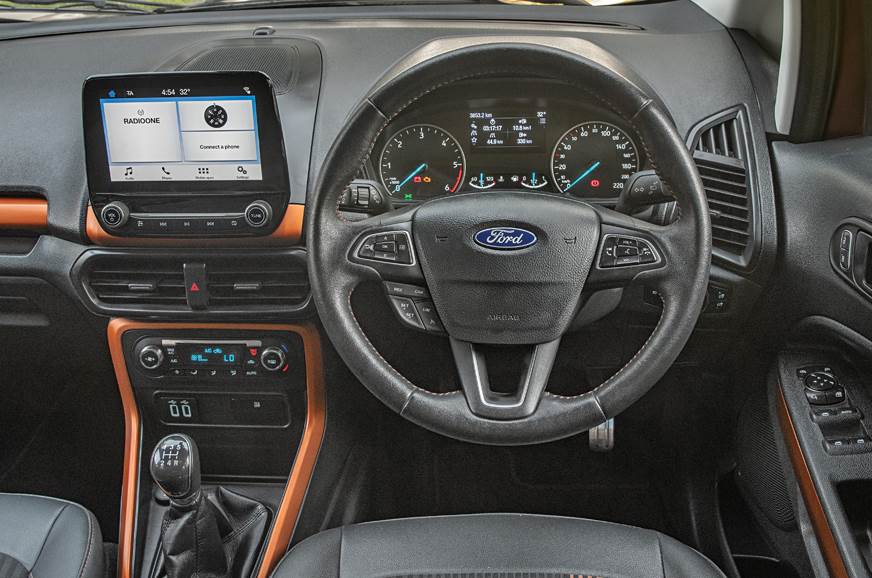 EcoSport's interior feels the most cohesively designed and the sportiest too.
The Vitara Brezza's cabin feels better put together but it's let down by dull and cheap-looking plastics. The switchgear is familiar because it's common in other Marutis, and sure, you can customise the interiors a bit using Maruti's colourful accessories, but by default, it's all too dreary. The interior design lacks any flair and can be described functional at best. You'll also note that while the XUV300 and EcoSport come with leatherette upholstery and steering wraps, the Nexon and Brezza do not.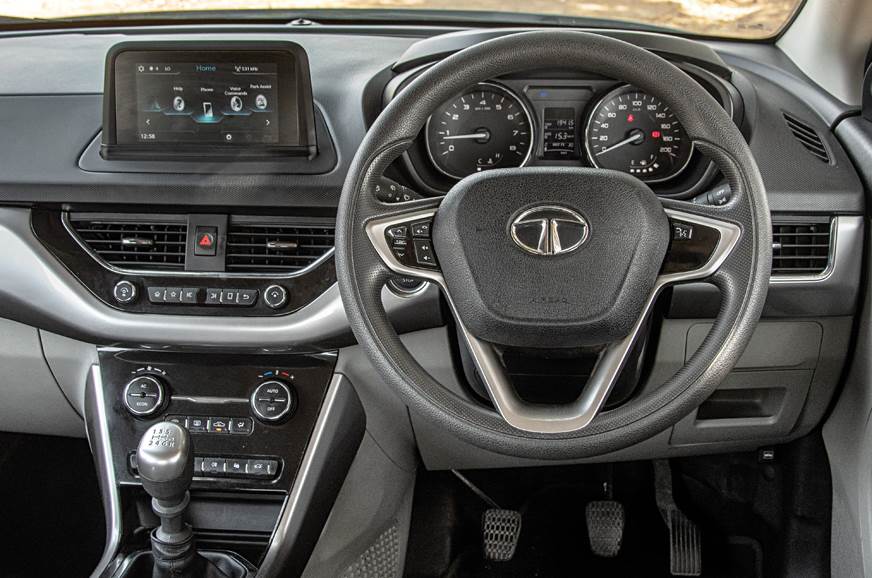 Beautiful design let down by functional oddities and poor plastics lower down.
Regarding the subject of what each of these gets and doesn't, while the Tata and Maruti are sufficiently well equipped, it's the Ford and the Mahindra that are really trading blows and pushing the boundaries for what you can stuff into a car in this segment. They are, for instance, the only two that offer the much-sought-after sunroof. You can see how they compare in detail on the reference chart, where you'll notice they fall into rank with the Mahindra first, the Ford second, the Maruti third and the Tata fourth. The top-spec XUV300 is packed with segment-firsts like front parking sensors, rear disc brakes, dynamic steering modes, dual-zone climate control, heated mirrors and seven airbags. They all have touchscreens, and all get Android Auto and Apple CarPlay, but it's the EcoSport's interface that is the slickest, quickest and most intuitive; doesn't hurt that it has the largest screen too. Mahindra's system isn't too bad either. And having come a long way since v1.0, Maruti's SmartPlay interface is clean but quite sluggish in operation (hopefully they'll upgrade it to the new SmartPlay Studio system soon), and the Tata's small 6.5-inch screen simply feels the furthest behind. It's clunky, slow to respond and cluttered – none of which you want while on the move.
Dull plastics and a duller design make the Brezza's cabin feel functional at best.
Features
XUV300 Diesel W8(O)
EcoSport TDCi S
Nexon Revotorq XZ+
Brezza ZDi+
Touchscreen
7-inch
8-inch
6.5-inch
7-inch
Android Auto/Apple CarPlay
Yes
Yes
Yes
Yes
Satellite navigation
Yes
No
No
Yes
Auto climate control
Dual-zone
Single-zone
Single-zone
Single-zone
Rear AC vent
No
No
Yes
No
Leatherette upholstery
Yes
Part
No
No
Projector headlamps
Yes
Yes
Yes
Yes
Automatic headlamps
Yes
Yes
No
Yes
Automatic wipers
Yes
Yes
No
Yes
Cruise control
Yes
Yes
No
Yes
Keyless entry & go
Yes
Yes
Yes
Yes
Steering adjust
Tilt
Tilt + Telescopic
Tilt
Tilt
Rear-view camera
Yes
Yes
Yes
Yes
Auto-dimming inside mirror
Yes
Yes
No
No
Heated wing mirrors
Yes
No
No
No
Sunroof
Yes
Yes
No
No
Drive modes
Steering
No
Engine
No
Airbags
7
6
2
2
Parking sensors
Front + rear
Rear
Rear
Rear
Tyre pressure monitor
Yes
Yes
No
No
Isofix child seat mounts
Yes
Yes
Yes
Yes
ABS with EBD
Yes
Yes
Yes
Yes
ESC
Yes
Yes
No
No
Hill hold
Yes
Yes
No
No
Traction control
Yes
Yes
No
No
Rear disc brakes
Yes
No
No
No
SPACE & COMFORT
All four SUVs offer good driving positions, with only the Nexon's feeling a tad lower and more car-like, but that's hardly a complaint. What you might complain about is rearward visibility, due to the sloping roofline, and similarly, the blind spot from the EcoSport's large, split A-pillar. You couldn't really complain about any of these cars' front seats in isolation, but in a comparison of peers, differences start to show. Let's start with the Brezza. Its seats feel large enough and decently cushioned in their own right, but compared to the rest, they're a little flat and unsupportive. The Nexon and the XUV300, both, have better contoured front seats with good lateral support, but people with larger frames might find them a touch snug. The EcoSport's big front seats, however, offer the best combination of comfort and support, and even feel quite sporty.
XUV good on space and quality but low-set seat means thigh support is lacking.
The back seat, however, is possibly the Ford's biggest shortcoming, as it simply doesn't offer as much space as the others, particularly in width and legroom. The seat itself is pretty comfortable though, more so after the facelift. The XUV300 doesn't have great rear headroom either but legroom is vast, and the cream colour scheme does give you a good sense of airiness. It gets bonus points for having a three-point seatbelt and adjustable headrest even for the middle passenger. However, the low seating position means you don't get a great view forward and you're sat in a knees-up position.
EcoSport seat is plush and supportive but width and legroom lower than the rest.
The Vitara Brezza gets the basics of a rear seat right. While it might lose a centimetre here and another there to different rivals, overall, this feels like the most spacious one, and the position of the bench is good too. The only let-downs are that the cushioning is a bit firm, and perhaps thigh support could have been better. The Nexon is a big surprise because you don't expect it to have the space it does, given its curvy shape. Leg and headroom are actually fantastic, and width is not too bad either. The seats are also incredibly comfortable, and the Tata's big trump card is the rear AC vent – which none of the others get. You soon realise, however, that those supportive seats really work best for two people, as the cushions push you toward the centre. Here too you're sat quite low, and though actual headroom is good, the roof line does cut into the window area, both of which make you feel a little cooped up.
Surprising amount of space in Nexon but sloping roof makes you feel hemmed in.
One area the new Mahindra just can't hope to keep up is luggage space. At 257 litres, you'll find more room in some hatchbacks, and it's almost 100 litres down on the EcoSport and Nexon. The loading lip is also very high, so you'll have to heave your luggage up and over. The Nexon and Brezza's boots actually feel the most usable here and are well shaped to house any sort of luggage. At 352 litres, the EcoSport might have the largest boot on paper, but the load area is tall and shallow, and so requires you to stack your things vertically. Also, while all the others have conventional hatchback openings, the EcoSport's side-hinged door (opening kerb side), with the heavy spare attached to it, can be an inconvenience.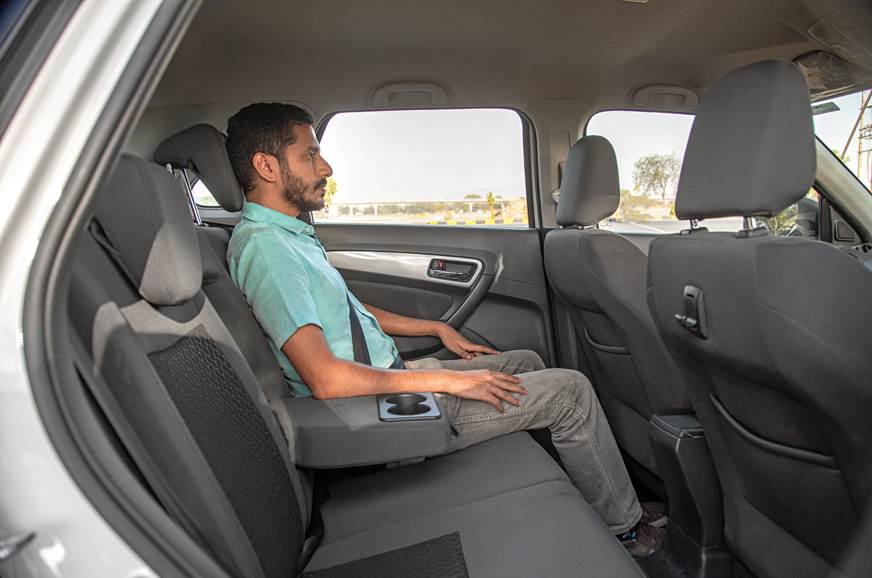 Boxy Brezza has loads of space, even for three, and the seat is well positioned too.
SAFETY
Safety is a big buzzword these days and we'll try to address it as best as we can. All four offer two airbags as standard across their entire model range, but things differ when you get to the top spec. The Nexon and Brezza continue to offer two airbags, while top-spec EcoSports get you six, and the XUV300 tops even that with a seventh, knee airbag.
XUV screen is crisp and well featured.
All get rear parking sensors and cameras, but the XUV goes a step further with front parking sensors, and while the other three have drum brakes at the rear, the Mahindra has discs. ABS with EBD is the norm here, but the XUV and EcoSport have loads of other electronic safety aids like traction control, stability control and hill hold.
EcoSport's infotainment screen is the biggest and best.
When it comes to crash- worthiness, comparing them is not quite as easy. The Nexon, famously, became the first Indian car to score 5 stars for adult occupant safety in the Global NCAP test, and the Brezza wasn't too far behind with 4 stars. The EcoSport scored 4 stars too, but this was in the Euro NCAP test (which has a different testing methodology and scoring system), carried out on a European-market car. The XUV300 hasn't been tested yet but, if it's any indication, the SsangYong Tivoli, on which it is based, also scored 4 stars on the Euro NCAP test, so make of that what you will.
Tata screen feels slow & clunky.
POWERTRAIN
It's not just the equipment list where the XUV300 shines, but the engine spec sheet too. With 117hp and 300Nm of torque from its 1.5-litre engine (sourced from the Marazzo but in a different state of tune), it has the edge on numbers. The Nexon is next with 110hp and 260Nm of torque from its 1.5 unit, the EcoSport with 100hp and 205Nm of torque, also from a 1.5 mill, follows next, and then there's the Brezza with the 90hp/200Nm 1.3 Fiat Multijet motor. However, Maruti is about to introduce its own, all-new 1.5-litre engine in the Ertiga and Ciaz, and this should eventually make its way to the Vitara Brezza.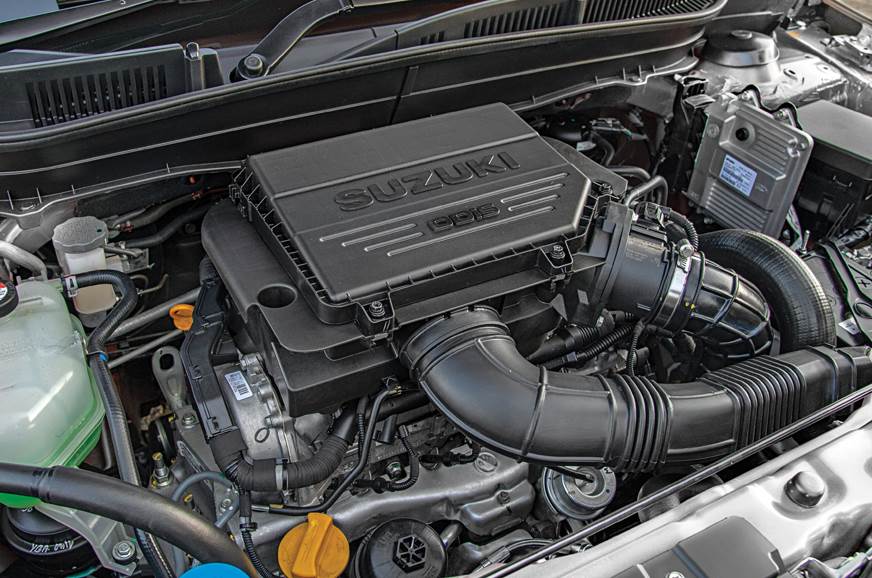 Brezza engine has lots of turbo lag.
For now, there's the aged 1.3, which has the smallest stats, but in practise doesn't feel underpowered. One reason is the Brezza's relatively light 1,195kg kerb weight, and the other is that this motor has a mid-range kick that comes in strong after 2,000rpm, and if you keep it in this zone, it won't feel lacking at all. But that's easier said than done, because this engine has a severe case of turbo lag. Around town, you'll find yourself shifting the lever and prodding the clutch a whole lot; the former is quite light, but the latter is quite firm. The result is it's difficult to make smooth progress, unless you're cruising on the highway.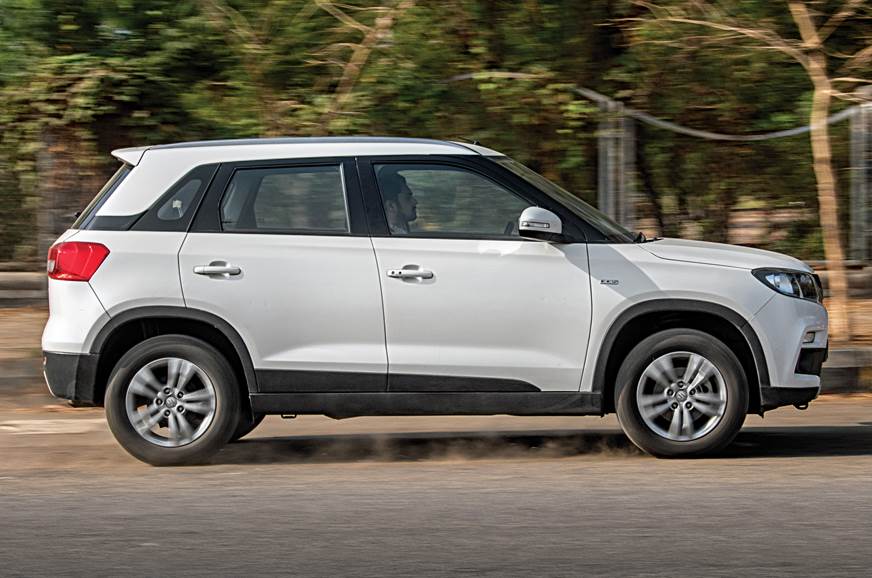 Brezza has the most SUV-like stance.
The Nexon suffers a bit of lag as well, but it's not as pronounced or intrusive as in the Suzuki. What also makes it more manageable than the Brezza is that the boost comes in more gently rather than as a massive whack, so you don't find yourself having to shift around as much. Thing is, at lower speeds, the Nexon's power delivery can be quite jerky and that, much like the Brezza's turbo lag, makes it frustrating to drive in the city.
XUV diesel takes off like a rocket ship.
The Ford 1.5 TDCi engine is the best at low speeds and has the broadest torque spread. You could be crawling along in 3rd or even 4th gear, and you'll rarely feel the need to shift down. What helps is that this continues quite strongly throughout the rest of its rev range, and though the Nexon is more powerful, this one feels a little gutsier on the move. What isn't so great is the clutch, which is quite heavy, and the gearshift, which feels a little rubbery.
The XUV300 isn't as peppy, off-boost, as the EcoSport, but the turbo lag doesn't last long. And once it comes in just before 2,000rpm, you'd better be holding on tight, because this thing just takes off! It has the biggest numbers on the spec sheet and you can really feel that from behind the wheel. Once you're used to the amount of thrust on hand, however, you'll realise it comes in quite linearly, and its accelerator pedal isn't an on/off switch like the Vitara Brezza's.
In a race from a standstill, the XUV300 will crack 100kph a full second quicker than the rest, in 11.85sec, but frankly it feels like it should've been quicker. That's likely down to its portly kerb weight, which, at 1,405kg, is almost 100kg heavier than the EcoSport, 120kg heavier than the Nexon and over 200kg heavier than the Vitara Brezza! You'll admit, though, that the EcoSport and Brezza's times of 12.75sec and 12.96sec, respectively, aren't too shabby in their own right, but what's surprising is that the Nexon is the slowest, at 13.68sec.The truth is, despite its strong outputs on paper, it just feels like a more relaxed powertrain. It does come a lot closer to its rivals in in-gear acceleration (20-80kph in third gear and 40-100kph in fourth gear), but again, the XUV just rockets past them all in this area too.
At 257 litres, the XUV has a tiny boot.
None of these engines is what you'd called quiet, with each throwing up a fair amount of diesel grumble, but it's safe to say the XUV300 sounds the least intrusive while the gravelly sounding Fiat diesel in the Brezza is the harshest.
As for the all-important fuel-economy stakes, the Mahindra didn't fare too poorly, considering its power and weight. The 14.4kpl in the city and 17.9kpl on the highway it returned in our real-world test are pretty much par for the course and averages out with the rest. The Brezza returned the best urban figure of 15.3kpl, while the EcoSport managed the best highway figure of 18.6kpl.
Spare makes boot opening cumbersome on the EcoSport.
Powertrain & performance
XUV300 Diesel W8 (O)
EcoSport TDCi S
Nexon Revotorq XZ+
Vitara Brezza ZDi+
Engine type
4 cyl, turbo-diesel
4 cyl, turbo-diesel
4 cyl, turbo-diesel
4 cyl, turbo-diesel
Displacement
1497cc
1498cc
1497cc
1248cc
Power
117hp at 3750rpm
100hp at 3750rpm
110hp at 3750rpm
90hp at 4000rpm
Torque
300Nm at 1500rpm
205Nm at 1750rpm
260Nm at 1500rpm
200Nm at 1750rpm
Gearbox
6-speed MT
5-speed MT
6-speed MT
5-speed MT
Fuel economy (city/highway)
14.4/17.9kpl
13.3/18.6kpl
14/18kpl
15.3/17.9kpl
0-20kph
1.09s
1.34s
1.09s
1.08s
0-40kph
2.79s
2.89s
3.21s
2.71s
0-60kph
4.91s
5.59s
5.77s
4.89s
0-80kph
7.66s
8.91s
9.26s
8.57s
0-100kph
11.85s
12.74s
13.68s
12.96s
0-120kph
17.42s
18.78s
19.04s
19.85s
0-140kph
26.31s
27.19s
28.17s
29.34s
20-80kph (in third)
9.74s
12.39s
11.02s
11.77s
40-100kph (in fourth)
12.85s
15.33s
12.95s
15.38
DYNAMICS
It's understandable to expect a bit of fun out of your compact SUV in the handling department; after all, mechanically, they're more akin to big hatchbacks than actual off-roaders. They are all based on monocoque chassis and are front-wheel-drive only, but the setup differs from car to car, of course.
Nexon has quite a few ergonomic flaws.
If you want fun handling, you turn to the EcoSport, no questions asked. They've softened the suspension and dulled the steering response a bit compared to the original, but it is still the nicest to steer with the best body control. Heck, if it didn't ride 200mm off the ground, it would be an excellent hot hatch. The best part is, thanks to the 'softening', the ride isn't too bad either, and it's incredibly composed at high speeds; it's only those massive wheels that'll make you feel a bit of the road over sharp ruts.
Ford dials have a big, crisp MID screen.
The XUV300 isn't as well tied down as the others, due to a softer setup. It moves around a fair bit
at speeds and you will feel the odd thunk in the cabin on a sharp speed breaker. What keeps it from being a great drivers' car, however, is the steering which, even in the firmest of its unique selectable modes, feels a bit too light and lifeless. It's great for manoeuvrability in town though.
The Nexon's ride and handling balance is near spot on. The quick and sharp steering is one of the best around and body control is very good too; and once you get going, it can be a lot of fun. Overall ride quality is superb and it might just have the best overall ride of this bunch. And apart from a slight clunkiness at low speeds, bump absorption is truly impressive. It's just that the Nexon doesn't feel as light on its feet and neither is it quick to change direction as the EcoSport.
Rear air-con vent unique to the Nexon.
To its credit, the Vitara Brezza steers better than a lot of new Marutis – particularly ones built on the new Heartect platform, all of which feel very disconnected. The Vitara's wheel has some heft to it and, at the very least, feels consistent. There's very little body roll, too, and that means, overall, it's not too bad a handler. But then you get to a rough road, and you'll find far too much movement in the cabin, and potholes and craters will crash through hard. It stays quite composed at higher speeds, provided the road surface isn't bumpy, but, overall, the ride is just too brittle.
VERDICT
If you saw a pattern forming over the course of this review, you're not alone. Though technically part of the same segment, these cars can be split into two camps based on the way they're specced – particularly the interior and the equipment levels – and this reflects in their prices too. At Rs 11.99 lakh and Rs 11.89 lakh (ex-showroom, Delhi), respectively, the top-spec XUV300 and EcoSport sit in a sub-segment above the top-spec Nexon and Brezza, priced at Rs 10.10 lakh and Rs 10.07 lakh, respectively. What's more, you can knock a further Rs 20,000 off the Tata's price and Rs 15,000 off the Maruti's just by choosing a single-tone paint scheme. So that complicates the result a little bit; let's break it down.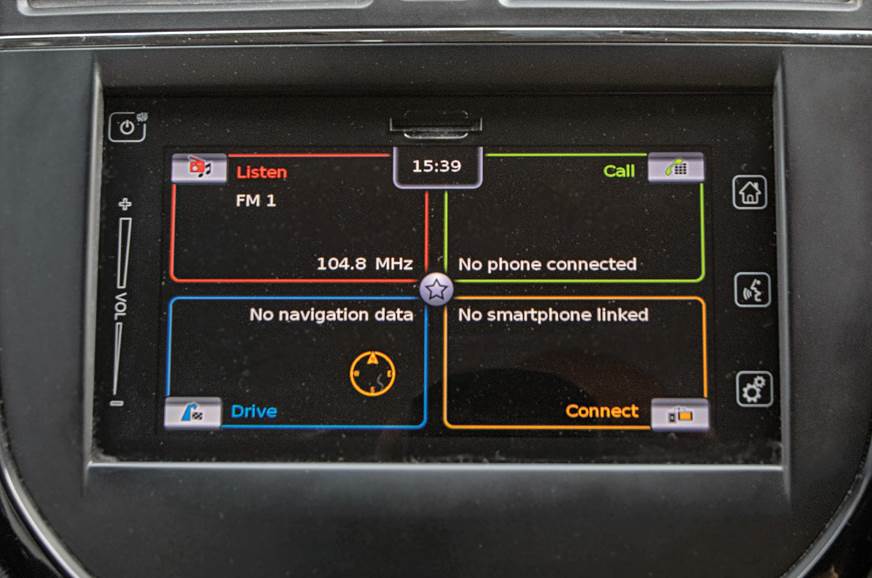 Brezza unit functional but relatively basic.
The Brezza is a jack of all trades, but a master of only a few. One of those is space – be it in the boot or the back seat – so it's very practical. Beyond that, it gets the basics right, but doesn't go out of its way to wow you. You get a decent amount of equipment, good fuel economy and the peace of mind of the Suzuki badge, and while that may be enough for some, they might as well stick with a nice hatchback. It just doesn't feel special in any way, the ageing engine marks it down and when you stretch for an SUV, you expect a bit more.
The striking-looking Nexon makes a far greater effort to win your heart, and not just your mind. Tata's exterior and interior design these days is really pushing the boundaries; it looks a lot more expensive than it is, and this alone could be a big enough reason to pick it. It sacrifices little by way of practicality in the process, with plenty of space and the best ride quality. The trouble lies in the execution. It's not the friendliest to drive in town, the infotainment system needs work and, while the price is low, so is the equipment level. Still, it feels like a better package than the Brezza, and it's the one we'd pick at this end of the spectrum.
The EcoSport is aggressive-looking on the outside, sporty on the inside, equipment levels are high, and that's all before you prod the starter button. If you enjoy driving, this is the one you'll really want, as it has a strong engine and the sharpest dynamics, with very little detriment to comfort. However, it just doesn't work well enough as a family car, as the back seat simply isn't as spacious as any of the others, and the boot isn't the most usable either. It's expensive too, and granted, so is the XUV300, but in the Mahindra you feel like you're getting more for your money.
Apart from a woefully small boot, there's little else to seriously mark the XUV300 down on – in fact, it is class-leading in almost every way. The strongest performance, the longest equipment list and loads of segment-firsts make it, objectively, the best car here, but then it all comes at a price that parks it precariously close to the Hyundai Creta. Could it possibly be worth that much?
In the lower, more practicality-oriented half of this test, the Nexon scores higher than the Brezza, while in the upper half, you pay more but you get more, and here, the XUV300 beats the EcoSport. So, it really boils down to one question: Should you make the two-lakh-rupee jump?
If your budget is extremely tight, you could still go with the Nexon, which gets you a lot of feel-good factor for the money, but ultimately, it's still the Mahindra that wins this test; just not this W8 (O) variant, because it's simply too expensive. For a whole Rs 1.19 lakh less, we'd recommend the W8, which loses some of those segment-first features, but still remains a stronger package than the rest. So yes, the XUV300 is the best car in this class, and you don't even have to stretch your budget as far as you might think.
Price & verdict
XUV300 Diesel W8(O)
EcoSport TDCi S
Nexon Revotorq XZ+
Vitara Brezza ZDi+
Price
Rs 11.99 lakh
Rs 11.89 lakh
Rs 10.10 lakh (dual-tone)
Rs 10.07 lakh (dual-tone)
Rating
8/10
8/10
8/10
7/10
Verdict
Expensive, but raises the bar in almost every way.
Still the drivers' choice but is lacking in the back seat.
An attractive offering at an even more attractive price.
Gets the basics right but does nothing to wow you.