With three rows of seating and similar price tags, the Hyundai Alcazar and Tata Safari can be deemed natural rivals. But as we find out, each appeals for very different reasons.
If you've had your heart set on the Tata Safari but are having second thoughts on seeing the Hyundai Alcazar, this one's for you. Yes, we will bring the entire three-row SUV gang together, including the MG Hector Plus, once the Mahindra XUV700 goes on sale, but the focus here is on the star performers of the year so far. At last count, Tata had produced its 10,000th Safari while Hyundai had received over 11,000 bookings for its new Alcazar.
The Safari and Alcazar promise to offer the same virtues as the Tata Harrier and Hyundai Creta that they're respectively derived from, with the added practicality of a third row of seats. By extension, that means these are two very different takes on the three-row SUV formula.
Size Wise
You've seen the Tata Safari and Hyundai Alcazar in detail already, so we'll focus on the key points of difference. And the one that's most obvious is the difference in size. The Tata Safari, which is a full 161mm longer, 104mm wider and 111mm taller than the Alcazar, will immediately appeal to buyers who like their SUVs big and bold. The higher bonnet line, chunkier tyres and upright tail only add to the Tata's road presence. The Alcazar might not have the visual mass of a Safari but it is quite sizeable in its own right and even boasts of the marginally longer wheelbase.
The Alcazar also has some show value, thanks to the Hyundai Palisade-like large, studded grille, but the tail-end styling is best described as anonymous.
Dimensions
Hyundai Alcazar 1.5D AT Signature(O)
Tata Safari 2.0D XZA+
Length
4500mm
4661mm
Width
1790mm
1894mm
Height
1675mm
1786mm
Wheelbase
2760mm
2741mm
Ground clearance
200mm (unladen)
205mm (unladen)
Boot volume
180 litres
73 litres
Tyre size
215/55 R18
235/60 R18
The Cockpits
Shifting focus inside, there's lots and lots to talk off so we'll go row by row, starting with the Safari. The Tata's cabin is really well turned out and has its stylish details. The dash is neat and you'll like how the metal look works with the wood and the gloss plastics on the centre console. The defining factor in a Safari, however, is how large it is. You feel like you're sitting in a big SUV and there's a greater distance to your co-driver, which is a boon in our socially distanced times. But for all its space, the Safari has its share of lesser points. The 8.8-inch touchscreen looks small and isn't the most responsive, and the interior colour scheme is a point of contention too – the light upholstery is a pain to keep clean.
Safari interior is well turned out and airy. High-set seating gives commanding driving position.
You don't get the same sense of space in an Alcazar, but its cabin immediately puts you at ease. The dash is very user-friendly, with everything in clear sight and easy to reach. The brown on black cabin theme looks premium too, though there aren't any soft-touch materials. But what really makes the difference in the Alcazar's cabin are the feel-good features. The Alcazar gets premium digital dials with three customisable displays, and the screen also relays feed from the very handy blind-view monitors positioned at the wing mirrors. Also slick is the 10.25-inch touchscreen and there's also a 360-degree camera that comes really handy.
Alcazar dash is very user-friendly. Large touchscreen and full-digital dials enhance the overall look inside too.
Front seat ventilation, an on-board air purifier, wireless charger, and paddleshifters are some of the other goodies exclusive to the Alcazar. The gadgets and gizmos add up to a lot and make the Hyundai's interior look and feel a lot more advanced, which is telling given the Safari has only been around for a few months.
Alcazar's blind spot camera display is within the instrument cluster.
The Safari does pack in plenty too, like a panoramic sunroof and powered driver's seat. It's just that the Alcazar offers all that you get on the Tata and then a whole lot more. In terms of safety equipment, rear disc brakes are standard on both, while top-spec versions of both models get six airbags, electronic stability control and ISOFIX child-seat mounts.
Safari is down on frills but gets modern-day essentials like a panoramic sunroof.
People Movers
Before we talk middle-row comfort, it's important to highlight that both SUVs can be had in 7-seat configurations that will appeal to large families. Notably, the Safari, with its wider cabin, is comfier when you have to sit three abreast. In focus here, however, are the 6-seat versions whose individual middle-row chairs will appeal to chauffeur-driven buyers.
Alcazar has the nicer middle-row seats. It's got more features at the back too.
There are some clear differences from the moment you open the rear doors. The Hyundai Alcazar doesn't sit all that high off the ground, to begin with, and there's a footboard, too, to ease the journey inside. Large windows, generous legroom (with the middle-row seats slid all the way back) and well padded seats with recline make this a comfortable place to be in. Unique to the Alcazar is a fixed centre console between the middle-row seats. While not an ideal armrest (your elbow will be unsupported at the seat's rearmost position), the console features a useful wireless phone charging bay and offers some storage too. Other amenities to make life comfy at the back and unique to the Alcazar are retractable sunshades and fold-out trays with a recess for your iPad.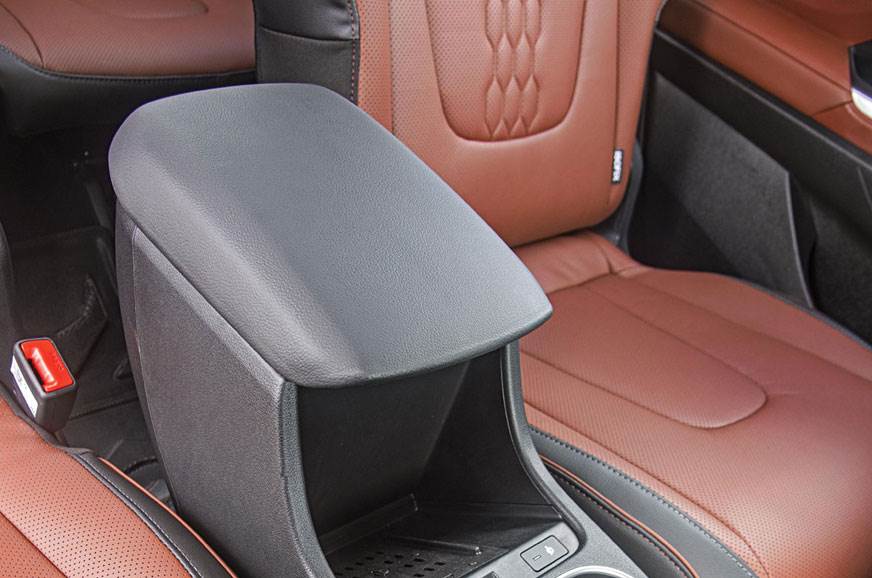 Alcazar's fixed rear console serves as an armrest. Elbow support could be better.
Shift from an Alcazar into a Safari and you'll note how much higher the Tata sits. There's no footboard, making it quite a bit of a step up into the Safari's cabin. Once settled in, though, there's lots to like.
You get more room to sprawl out in a Safari. Seats should've been larger though.
For starters, the stadium seating, with the middle-row positioned slightly higher than the one up front, equals great side and frontal visibility. The Tata also offers that little bit more legroom as standard, and then there's the option to free up even more space. Boss Mode allows you to slide forward a vacant co-driver's seat from the back so you can really sprawl out in the Safari. It's a pity that the Safari's seats are not the widest in the business, which is something larger framed individuals will note. Also, the flip-up armrest isn't all that well-positioned, so you can't find that perfect seating position in the Safari. There's no wireless charging at the back but what's irritating is that the USB charging slots are positioned low down and out of sight.
Thanks to Safari's stadium seating, occupants in all rows get a great view out.
Where the Safari has the clear advantage is when talking of third-row space. In a 6-seat Safari, last-row occupants will need to work their way through the narrow passage between the middle-row chairs, but that cumbersome journey in is worth it. It's not hard to find a happy legroom compromise with the middle-row passenger and what's really impressive is that, with a bit of slouching, even six-footers can sit here in reasonable comfort. The high-set vents do obstruct visibility a bit at the very back, but the rearmost windows are still larger than those in the Alcazar. Also, because the vents sit high up, air-con effectiveness is impressive.
The Safari scores big for its third row. Even large adults can sit in comfort here.
The 6-seat Alcazar, with its tumble-fold middle-row seats, offers far better access to the back, but you'll need to carefully plan who gets to sit there. Space is adequate for shorter occupants but large adults will be tight on space, even with the middle-row seats at a centre position. The knees-up seating isn't great either, relegating the Alcazar's third row for occasional use only.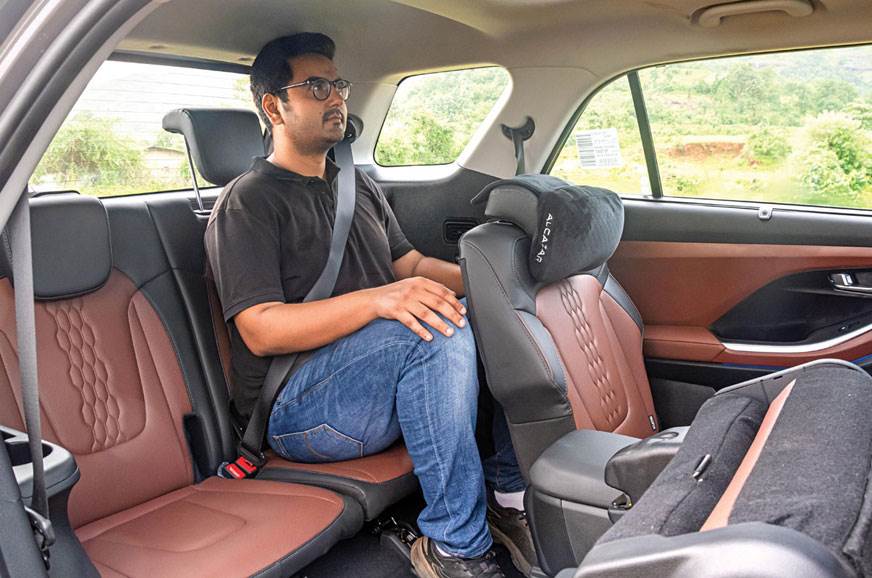 Alcazar's third row isn't great. Space is tight and seating position is awkward.
Both SUVs miss out on a powered tailgate, but to the Alcazar's credit, its tailgate is easy to open and also reveals a larger 180-litre luggage area with all seats up. The third-row backrest can also be folded absolutely flat to create more luggage room. Opening the Safari's heavy tailgate requires effort and, disappointingly, the 73 litres of luggage room with all seats up is only sufficient for a few handbags. Also, the third-row backrests do fold but don't sit absolutely flush with the floor.
What you get for your money
Hyundai Alcazar 1.5D AT Signature(O)
Tata Safari 2.0D XZA+
Price (ex-showroom, Delhi)
Rs 19.99 lakh
Rs 21.81 lakh
EQUIPMENT CHECKLIST
Airbags
6
6
ESC
Yes
Yes
Parking sensors/camera
Front and rear/360-degree
Rear/rear
Blind view monitor
Yes
No
All 4 disc brakes
Yes
Yes
Ventilated front seats
Yes
No
Powered driver's seat
8-way
6-way
Panoramic sunroof
Yes
Yes
Digital dials
Full
Partial
Touchscreen
10.25-inch
8.8-inch
Android Auto/Apple CarPlay
Yes/Yes
Yes/Yes
Wireless phone charger
Front and rear
No
Rear window sunshades
Yes
No
Boss Mode
No
Yes
Drive The Tribe
Before we get moving, it's important to talk engines and gearboxes. The Tata Safari is available solely with a 2.0-litre diesel engine that makes 170hp and 350Nm. You can have the engine with a 6-speed manual, though it's the far superior and, ironically, Hyundai-sourced, 6-speed automatic that's worth spending extra for. You get more choice in the Alcazar range, including the option of a 2.0-litre petrol engine with manual and auto gearbox options. The petrol engine's 159hp is impressive but the relatively low 14.2kpl official fuel-economy figure for the automatic could be a deterrent for buyers with lots of running. This set of buyers will find more appeal in the Alcazar diesel-auto and its 18.1kpl efficiency figure. For this comparison, we are considering the diesel-automatic versions of both models. The Alcazar's 115hp and 250Nm, 1.5-litre diesel engine is no match for the Safari's on power and torque, but then the Hyundai is also around 400kg lighter than the Tata.
Engine specifications
Hyundai Alcazar 1.5D AT Signature(O)
Tata Safari 2.0D XZA+
Engine
4 cyls, 1493cc, turbo-diesel
4 cyls, 1956cc, turbo-diesel
Power
115hp at 4000rpm
170hp at 3750rpm
Torque
250Nm at 1500-2750rpm
350Nm at 1750-2500rpm
Gearbox
6-speed auto
6-speed auto
Kerb weight
1435kg
1825kg
Power to weight ratio
80.14hp per tonne
93.15hp per tonne
Torque to weight ratio
174.22Nm per tonne
191.78Nm per tonne
Let's move away from facts and figures to on-road feel. Scenario one is driving in town, where the Alcazar quickly establishes itself as the city slicker. You really won't have an issue with power, and there's sufficient performance for average city duties. The light steering, good manoeuvrability and great all-round visibility means you always feel very comfortable in your surroundings. The blind-view monitor helps further, and the 360-degree camera and front proximity sensors make tight parkings a whole lot easier. In the same city setting, the Safari will offer a very different experience at the wheel. If you like to tower over other road users, you'll immediately take to the Safari that has this authoritative "don't mess with me" vibe about it. On the flip side, the Safari also feels like the large vehicle that it is. You always have to be mindful of its size, particularly at narrow toll booths, the steering is heavier and U-turns require that much more effort. Parking a Safari isn't as easy either, and when you do have to reverse in, you'll wish the camera was of higher resolution. The Safari also has the busier low-speed ride, and there's some side to side movement on speed breakers too. On the move, though, the Safari does feel nice and light on its feet.
Highway Star
Exiting city limits brings us to scenario two – outstation journeys. And it's here that the Safari comes into its own. Our performance tests conducted with two passengers onboard reveal the Safari to be the marginally quicker SUV. What the numbers don't tell you is just how effortless the Tata feels while at it. It feels like the larger-hearted SUV with more pulling power and the difference is most apparent when driving with a full house of passengers. You don't have to press down any harder on the accelerator and there's ready power when you need it. Sport driving mode only adds a spring in the Safari's step.
If easy cruising ability is all that you want from your SUV, the Alcazar diesel does its job well enough. But ask any more of the engine and you'll know that the Alcazar's is slightly out of its depth. Quick overtakings, for one, are not its forte. Load the Alcazar up with passengers and you can also tell that the powertrain has suddenly got a lot more work to do. The engine sounds busier and the gearbox will keep going up and down the gears to keep it in the meat of the powerband. And given the nature of this engine, you won't be reaching out to the paddleshifters all that often either.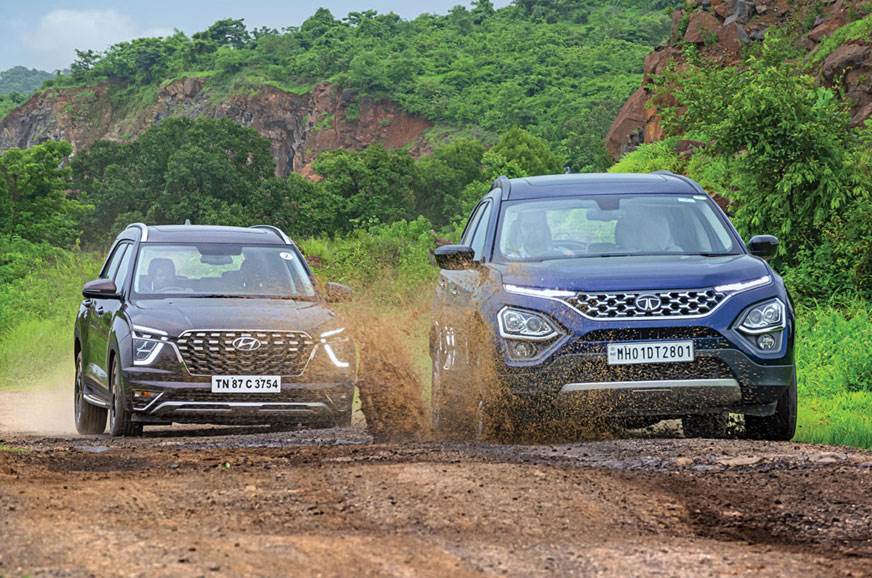 Both SUVs have their highlights in the areas of ride and handling. You'll like how obediently the Alcazar responds to steering inputs, and its predictable handling is likeable. There's also less up and down movement in the lower Alcazar and this is something your second- and third-row passengers will particularly appreciate. But go over a bad patch of road in the Alcazar and you will feel a judder in the cabin. The shorter sidewalls on the Hyundai's tyres are to blame here.
In the Safari, it's the steering that takes getting used to. There is some road shock that filters through to the steering wheel, and at high speeds there's also an inconsistency at the steering. It's not the most responsive at the straight-ahead position but turn a bit more and it suddenly darts in; this can catch you off guard. On the plus side, you won't need to make an evasive manoeuvre to avoid a bad patch of road. The Tata Safari feels absolutely unfazed by broken patches of road taken at high speeds. It drives with an authority and where you'd have to brace for impact in an Alcazar, you can just power through in a Safari.
Performance
Hyundai Alcazar 1.5D AT
Tata Safari 2.0D AT
0-20kph
1.09 sec
1.29 sec
0-40kph
2.80 sec
3.13 sec
0-60kph
5.58 sec
5.19 sec
0-80kph
8.90 sec
8.24 sec
0-100kph
13.08 sec
12.09 sec
0-120kph
19.10 sec
17.53 sec
0-140kph
28.61 sec
24.76 sec
ACCELERATION (IN GEAR)
20-80kph (in kickdown)
7.36 sec
7.10 sec
40-100kph (in kickdown)
10.22 sec
9.03 sec
And after a long journey when you find that the road leading to your farmhouse has disappeared, it's the Safari you'd want to be in. It feels tough and built to take a lot of abuse. Those Land Rover genes come shining through in the rough. The Alcazar feels like an outsider in these settings and doesn't give you the same confidence as the Safari. Interestingly, there's not much difference in terms of ground clearance, with the Alcazar's 200mm just a shade less than the Safari's 205mm figure. Both SUVs get traction modes and hill start assist, and the Tata even features hill descent control; but don't expect to or try to go too far off-road in either of these front-wheel-drive models.
Winner Takes All?
Which of these three row SUVs suits you better ultimately depends on your usage. If the bulk of your driving is in town and the third row will only be put to use on occasion and for short stints, the Hyundai Alcazar will fit your requirements better. Sure, the diesel engine isn't punchy but the Alcazar's light controls and smaller dimensions make it friendlier to drive on congested roads, the easier ingress and egress counts for a lot, and the goodies also make you feel your Rs 19.99 lakh (ex-showroom) have been well spent.
6-seat versions of Alcazar and Safari are built to lure chauffeur-driven owners.
On the other hand, if your calendar is full of road trips with the entire family or a lot of your running will be out on the highway, the Safari that, in range-topping XZA+ form, costs Rs 21.81 lakh is the one for you. You'll have to settle for fewer features but the Tata's got the far better third row and the 2.0-litre diesel engine is up to the job of hauling six or seven passengers with ease. The general, tough demeanour also gives the Tata a very distinct personality.
Verdict
Hyundai Alcazar 1.5D AT Signature(O)
Tata Safari 2.0D XZA+
Verdict
Appeals for feature-rich cabin and city-friendly nature. Third row only for occasional use.
The one to buy if you use the third row often. Strong engine and tough build are highlights.
Rating
8/10
8/10
Price (ex-showroom, Delhi)
Rs 19.99 lakh
Rs 21.81 lakh