The facelifted Hyundai Elantra is here with a BS6-spec petrol engine and we pit it against the Honda Civic and Skoda Octavia to see how it stacks up.
It's not been all that long since we compared the Honda Civic and Skoda Octavia. But in that time, Hyundai brought out an updated Elantra. It's got a new look, more features and is (for the moment, at least) only available with a BS6 emission norms-compliant petrol engine. What we're interested to know is what the new Elantra's good at, where it fits in, and if it could just be the executive sedan to buy?
Sharp suits
There's very little difference between the three cars in size but you sure won't confuse one for the other in the way they look. The updated Elantra retains the original's swoopy shape, but the detailing is now all about sharp cuts and angular forms. Triangular headlights, a hexagonal grille and the sunken fog lights (triangular again) make the facelifted Elantra look like a whole different car. The tail is redone too – the new tail-lamps get cool LED detailing, the boot lid is different, and even the rear bumper that now hosts the number plate, gets a refresh with a faux diffuser low down for a sporty look. The Elantra sure has its interesting details but more imaginatively-styled and larger 17-inch rims would be part of our wish list.
No such complaints about the Civic; it's easily the one that turns the most heads. While its low bonnet, delicate surfacing and arced roof are talking points in their own right, it's the fastback-like tail that elevates the design to another plane. Other things, like the detailing on the lights and wheels, only further the Civic's exotic appeal.
The Skoda Octavia clearly looks like the European car of the trio. It lacks the flamboyance of its rivals but there will be many who will take to its clean-cut, understated form. Styling is neat, the subtle detailing is elegant and even six years on, the shape looks classy. Nicer wheels would do the trick on the Octavia too, don't you think?
The office
Open the updated Elantra's doors and the first impression is of a more inviting cabin. The new dual-tone black-on-beige interior theme looks richer than the earlier car's all-black cockpit, and as an added plus, the lighter materials also give a greater sense of space. Also adding a bit more flavour to the cabin is the sportier new steering wheel and rich metallic inserts on the air-con vents. The faux carbon-fibre detailing on the dials and instrument surround isn't in keeping with the car's persona, though. Also new to the Elantra is an 8.0-inch touchscreen that comes with Hyundai's Blue Link eSIM-based connectivity tech. It's a great feature to have if you want to keep an eye on your car's whereabouts and chauffeur's driving behaviour, but we suspect the option to remotely start and pre-cool the car is what buyers will boast about most. And, as before, the ventilated front seats have your back on warm days.
New dual-tone theme and larger screen the biggest changes in the Elantra cabin.
The Civic offers a decidedly sportier driver environment. It's a drop down on to the well-cushioned driver's seat but the excellent view out of the windscreen, the perfect position of the pedals, steering and gear lever, and the dashboard that seemingly wraps itself around you, all make you immediately feel at one with the car. The three-part dials are also special but the 7.0-inch touchscreen is a bit of a miss as its graphics appears a bit last-gen.
Civic's driver environment is the sportiest. Driving position is spot on.
You sit higher up in the Octavia and, even from behind the wheel, the overall sensation is of being in the largest of the three cars. Like its exterior, the interior too is elegant, if a bit business-like in look. That said, the Octavia's cabin does go one-up on rivals' with more generous use of soft-touch materials and generally higher levels of fit and finish, including felt-lined door pockets. And as much of a fingerprint magnet it is, the Octavia's 8.0-inch touchscreen is also the nicest to use. The Audi-like Virtual Cockpit digital instruments on top-spec L&K cars look rich too.
Octavia's dashboard is simple in look, but excellent quality of materials uplift the cabin ambience.
Talking features, the pricey Octavia L&K is the only one with auto parking and a powered front passenger seat, though lesser versions still get you all the essentials you'll need. The Civic's electronic parking brake, and Lane Watch system that relays feed from a mirror-mounted camera of far-side blind spots are handy inclusions. Features exclusive to the Elantra include its ventilated front seats, a hands-free boot release (it's very temperamental) and wireless charging.
What you get for your money
Hyundai Elantra 2.0 VTVT SX(O) AT
Honda Civic 1.8 ZX CVT
Skoda Octavia 1.8 TSI L&K
LED headlight
Yes
Yes
Yes
Powered seats
Driver
Driver
Driver/co-driver
Ventilated front seats
Yes
No
No
Digital dials
No
Yes
Yes
Electric parking brake
No
Yes
No
Paddleshifters
No
Yes
Yes
Sunroof
Yes
Yes
Yes
Touchscreen
8.0-inch
7.0-inch
8.0-inch
Apple CarPlay/ Android Auto
Yes/Yes
Yes/Yes
Yes/Yes
Connected tech
Yes
No
No
Wireless phone charger
Yes
No
No
Hands-free boot release
Yes
No
No
Parking sensors
Front/Rear
Rear
Front/Rear
Camera
Rear
Left and Rear
Rear
Auto parking
No
No
Yes
Airbags
6
6
8
Business time
Upgrading a BS4 petrol engine to BS6 spec includes the fitment of exhaust after-treatment hardware and a process of recalibration that typically results in a drop in power and economy. So it's interesting to note that the Elantra's now-BS6-compliant 2.0-litre petrol engine makes the same 152hp and 192Nm as before. Fuel economy for the 6-speed automatic transmission-equipped version (featured here) is at an identical 14.6kpl too. What has changed is the engine's power characteristic. That overly enthusiastic bottom-end has made way for a more linear build-up of power, and as an added plus, engine refinement has improved too; you hear much less from under the bonnet. In effect, what you get is a friendlier and more relaxing car to drive in town. However, in the transition to BS6, the Elantra has lost some of its pace. Tested on BS4 fuel, the updated Elantra proved to be half a second slower to the ton with a time of 10.94sec, and also a tad slower in kickdown acceleration. Drive modes, including a new adaptive Smart mode, help fine-tune powertrain characteristics. In other areas, the Elantra feels the same as before. There is a numbness to the steering, so it's not a particularly exciting car to drive.
Merely looking at the Civic's slithery shape, you'd expect it to be the sportiest car to drive. And to some extent, it is. On a windy road, you'll love the slickness with which the Honda changes direction. Turn-in is quick and there's a great feeling of connect at the steering. But what spoils it is the CVT gearbox. Yes, the unit is diligent in town, and keeps the Civic running at its efficient best, but, on occasion, when you do press down hard on the accelerator, there's more noise than action, and this makes you feel like a spectator in the experience. Paddleshifters help but there's only so much to gain shuffling through the seven steps of the CVT. The Civic's 1.8-litre engine makes the least power and torque - 141hp and 174Nm – too, but you'll appreciate the VTEC unit's ready power delivery and keen low-speed responses.
A 180hp/250Nm, 1.8-litre, direct-injection turbocharged engine, paired to a 7-speed dual-clutch auto, means the Skoda Octavia has the most impressive ingredients here. And it makes good on the promise of its sophisticated mechanicals with the most rounded drive. You get a genteel experience in the urban grind but should you want any more from the Octy, the engine-gearbox combo is game to play. The gearbox will drop down as many gears as necessary to get you into the meat of the powerband and what follows is a very satisfying pull to the redline. The Octavia really is in a class of its own when talking performance, and the numbers tell you as much. It does the 0-100kph dash in 8.01sec, bettering the Elantra and Civic's time of 10.94sec and 11.48sec, respectively. There's virtually no comparison when talking kickdown acceleration either. As for handling, the Octy goes about the business of stitching corners earnestly even if it's not quite as agile or involving as a Civic.
Performance
Hyundai Elantra 2.0 VTVT SX(O) AT
Honda Civic 1.8 ZX CVT
Skoda Octavia 1.8 TSI L&K
0-20kph
1.40 sec
1.64 sec
1.61 sec
0-40kph
2.98 sec
3.70 sec
2.79 sec
0-60kph
5.09 sec
5.80 sec
4.12 sec
0-80kph
7.47 sec
8.30 sec
5.85 sec
0-100kph
10.94 sec
11.48 sec
8.01 sec
0-120kph
14.77 sec
15.68 sec
10.79 sec
0-140kph
20.13 sec
21.46 sec
14.16 sec
0-160kph
26.57 sec
29.98 sec
18.38 sec
20-80kph (in kickdown)
6.03 sec
6.68 sec
4.95 sec
40-100kph (in kickdown)
8.07 sec
9.04 sec
5.53 sec
Sit back and relax
Hyundai hasn't changed the Elantra's rear seat but the lighter colours in the cabin make this section feel airier than before. Headroom could be an issue for tall occupants but, like the other two cars, the Elantra offers a good deal of legroom. It is also the most welcoming for a middle passenger thanks to the low central tunnel and an adjustable centre headrest. The chauffeur-driven will like the Elantra's absorbent low-speed ride but large potholes tend to thud through the cabin. At high speeds, there's also more vertical movement than you'd like.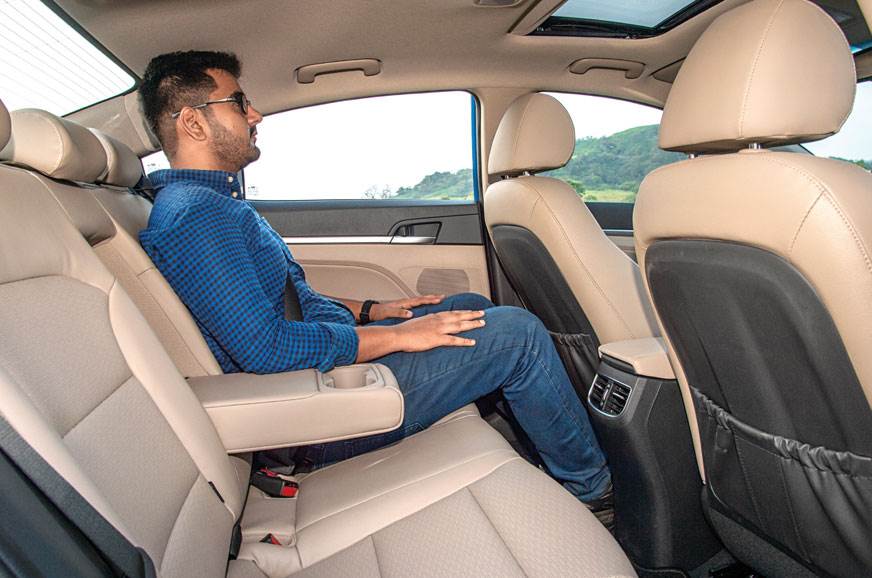 Lighter theme makes Elantra feel airier now.
It's the low-slung Civic that feels the best tied down at high speeds. Even low-speed ride is impressive, despite the suspension setup being on the stiffer side. And those nasty screeches caused by the old Civic's underbody making contact with big speed-breakers are also a thing of the past; this is thanks to the generous ground clearance on the new car. However, the cabin isn't exactly calm, with plenty of road noise seeping in. What could also be a pain point for some, quite literally so, is the low-set rear seat. It's even lower than the Elantra's, so getting in and out of a Civic isn't the easiest of exercises. That said, the Honda's softly cushioned rear seat is really comfy and is the most supportive in this trio. If only the centre armrest wasn't positioned so awkwardly low. And why no power outlets at the back, Honda?
Civic seat is low but really well cushioned.
The Octavia might not be any larger than the Elantra or Civic, but the Skoda's large windows and higher-set seating sure give the impression of it having the most space. Headroom is the most generous in the back of the Octavia but the upright seat does cost the Skoda some vital points. You also feel a bit more of the road surface in an Octavia than you would in, say a Civic; it's not enough to warrant complaint though.
Octy feels roomiest but seat is upright.
Executive decision
Priced at Rs 20.39 lakh (ex-showroom, Delhi), the range-topping Hyundai Elantra petrol-automatic is the most affordable car here. But in a segment where budgets tend to be flexible, the slight price advantage isn't a decider. The new-look Elantra is pleasant in most respects, but it's not a car that bowls you over for any one thing in particular.
The sinuous Civic, on the other hand, has magnetic appeal; you'll want one solely for the way it looks. But spend time in one and you can't help but think how much nicer the Honda would have been with a more eager engine or even just a better gearbox. All said, it's a good executive sedan to buy for Rs 21.24 lakh, but not the best executive sedan to buy.
Once again, it's the Skoda Octavia that holds its own. Yes, the fully loaded L&K is pricey, at Rs 23.59 lakh, but you can save a packet by opting for the Style variant that costs Rs 20.59 lakh. As a product, what has always and continues to work in the Octy's favour is its combination of an exceptional powertrain, a rich and comfortable cabin and practicality (it's got a 590-litre boot). The thing is, the current-gen Octavia is in its run-out phase and will bow out before April 1, 2020, when the BS6 norms kick in; the next-gen model comes to India in late 2020. While this could be a deal-breaker for many, the right way to see the Octy's impending departure is as an opportunity to push hard for big discounts. Already offered with a six-year warranty, an Octavia with a big saving sure sounds like a sweet deal.
Specifications
Hyundai Elantra 2.0 VTVT SX(O) AT
Honda Civic 1.8 ZX CVT
Skoda Octavia 1.8 TSI L&K
Length
4620mm
4656mm
4670mm
Width
1800mm
1799mm
1814mm
Height
1465mm
1433mm
1476mm
Wheelbase
2700mm
2700mm
2688mm
Ground Clearance (unladen)
165mm
171mm
155mm
Engine
4-cyl, 1999cc, petrol
4-cyl, 1799cc, petrol
4-cyl, 1798cc, turbo-petrol
Power
152hp at 6200rpm
141hp at 6500rpm
180hp at 5100-6200rpm
Torque
192Nm at 4000rpm
174Nm at 4300rpm
250Nm at 1250-5000rpm
Gearbox
6-speed auto
7-step CVT
7-speed dual-clutch auto
Kerb weight
1338kg
1300kg
1376kg
Boot capacity
458 litres
430 litres
590 litres
Fuel economy (ARAI)
14.6kpl
16.5kpl
15.1kpl
Verdict
Hyundai Elantra 2.0 VTVT SX(O) AT
Honda Civic 1.8 ZX CVT
Skoda Octavia 1.8 TSI L&K
Verdict
Quieter and smoother but not exceptional in any one area.
Exciting to look at, sporty to be in, uninspiring to drive.
Still the most rounded executive sedan you can buy.
Rating
7/10
8/10
9/10
Price (ex-showroom, Delhi)
Rs 20.39 lakh
Rs 21.24 lakh
Rs 23.59 lakh
Hyundai Exter vs Tata Punch comparison video
30271 Views|29 days ago
Tarun Garg on Hyundai Exter, safety features, turbo engin...
5056 Views|2 months ago