Now that they're punching out over 600 horses each, AWD was the next logical step for these bitter German rivals. We hope that they've lost none of their edge in the process.
The anticipation, as you might imagine, is eating me up inside. I've driven the new M5 before, and I've driven the new E 63 S too, but tomorrow I'm going to drive them both, side by side. And while previously I'd only tried the Merc on a track and the Bimmer on the road, tomorrow I'll be doing both, with both! I probably haven't been this excited about a comparison test since… well, since we compared the previous M5 and E 63 back in 2013. I should try and get some sleep.
BEST OF LUXE
It's before dawn when this convoy of two creeps out of the hotel parking lot and onto the Chennai-Bengaluru highway. The big, wing-backed driver's seat of the BMW has me ensconced like a wicket-keeper's glove and it's quite incredible how they've managed to make seats that are snug but so comfortable. And you can adjust them in a huge variety of ways, including shoulder support. The E 63 S we have with us is fitted with optional sportier seats (from the AMG GT R, no less), and while they too offer a fair bit of adjustment (as well as heating and cooling) they are a bit too firm for my liking; I'm sure the standard ones are better.
It's worth noting, too, that both these cars are specced pretty much as high as it can get for an E-class and a 5-series, with many items you wouldn't find on the standard versions sold in India. They both have super high-end audio systems, fighter-jet-like head-up displays and sportier steering wheels. This is also the only E-class in India to get the fully digital instrument cluster, but that's not the only thing different about its spec.
Unlike the common or garden-variety E-class sedan you can otherwise buy, this one is the standard-wheelbase car, not the long-wheelbase version. While that might sound like the Merc just lost a point in this test, remember – this one is for driving, not being driven around in. Still, when I did hop in the back seat last evening, I found it to be more than spacious and comfortable enough – although, not quite as comfortable as the M5's.
And comfort is something I'm trying to assess from the driver's seat too. As I clip a concealed pothole with the M5's left-front 275/35 R20 tyre, I'm curious – which is the more comfortable one? Frankly, the car handled it quite brilliantly. Yes, I have the adaptive dampers in Comfort mode, but despite the ultra low pro rubber, I could be fooled into thinking I am in no more than a 530d. It handles a rutted road with only a bit of extra pitter-patter.
This is the perfect time to switch cars, actually, because here's where the E 63 S has an ace up its sleeve – air suspension. I thought they were mad when I first heard about this, because air suspension – especially Mercedes air suspension – is known to be super soft and floaty. Sure, that's what you want in a long-wheelbase E-class or S-class, but what place does such a comfort-oriented (and expensive) feature have in a sports sedan? As I'm increasingly finding out though, it's perfect for our roads. Clearly this AMG air suspension wasn't made by the same folk who make the ones in the limousines.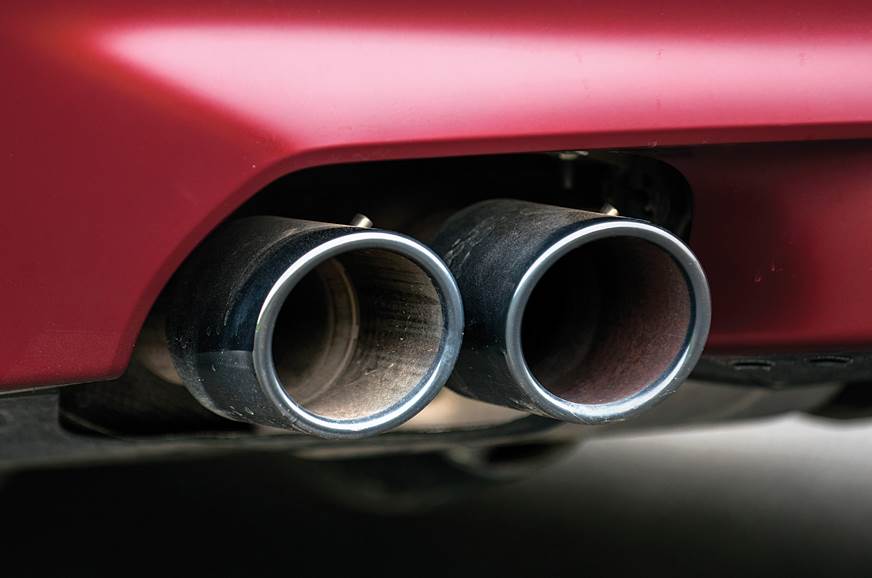 There's none of that bounciness you might expect would come, quite literally, out of thin air, but yet the setup affords the E 63 S – also on 20-inch wheels, also in Comfort mode – a ride quality that's just a little more pliant than the M5's. Even that slight edginess over bumps is nicely ironed out, and while the BMW feels comfortable, this one is bordering on plush. I do worry a little about the implications of this setup on the track, though, but that's a doubt for a few hours from now. The air suspension also comes with a lift function that's meant to raise the ride height – but, frankly, we couldn't tell the difference when the system was engaged.
Dimensions
BMW M5
Mercedes-AMG E 63 S
Length
4965mm
4988mm
Width
1903mm
1907mm
Height
1473mm
1463mm
Wheelbase
2982mm
2939mm
Kerb weight
1855kg
1990kg
Tyres (f/r)
275/35 R20 / 285/35 R20
265/35 ZR20 / 295/30 ZR20
AGGRESSORS
The highway leads us to the Fairfield hotel, which has let us use its lawns for a few photographs, and as I back the white E 63 in alongside the magenta M5, I realise I haven't yet decided which I like the look of more. Over the last few months, I've heard a bunch of opinions. Why aren't the wheel arches more flared up? It should have had a different grille. What is that ridiculous colour on the BMW? I doubt I'd be able to tell this was the AMG version. Overall, the verdict has been that they don't have the show to match the go. But isn't that sort of the point?
The AMG's barking V8 definitely makes the better noise here.
At first glance (provided you show restraint with your choice of paint), either of these could be mistaken for the regular, four- or six-cylinder version that costs a third of the price. It's only those in the know that will be able to spot the signature tells. Quad tailpipes – trapezoidal for the AMG, round for the M – rear diffusers, bigger air inlets for the radiators in the front bumpers, venting gills in the front fenders, bulging striations on the bonnet, and the aforementioned 20-inch wheels, revealing yellow brake calipers that denote the optional carbon-ceramic brakes.
I'm a little torn, frankly, but I think I'm more inclined toward the M5. While the AMG's front bumpers give it a nice sense of width, it's the Bimmer's overall treatment that feels a bit more aggressive, all without taking away from that 'sleeper' appeal. But hey, different strokes for different folks.
The AMG has 850Nm, a full 100Nm more torque than you get in the M5, makes getting the tail out hilariously easy in RWD only 'Drift Mode'.
The idea is that the performance is not there to be seen, it's to be felt, and so, with me back in the snug embrace of the M5's driver's seat, we burble back onto the street and soon find ourselves on the wide, smooth, flat, and all-round rather excellent Outer Ring Road (ORR) that surrounds Chennai. Time to clear some throats.
The M5 takes off down the six-laner like a scud missile, the E 63 a constant presence in its rear-view mirror. When turbocharging was new to performance engines, we loathed that 'hump' you had to get over before things got going. The M5, it seems, is well and truly past that. Between the quick-acting eight-speed auto and the dual twin-scroll turbos, it no sooner than you've touched the accelerator pedal, it flies to its redline. Sure, there's a sense of forced induction, but it revs so freely, some might be fooled. In fact, it's starting to remind me of the M engines of old.
The M5 weighs 1,855kg. It's not what you'd call lightweight but it's still a whole 135kg lighter than the E 63 S, and you can feel some of that when changing direction.
The AMG is a classic AMG, which is to say, for all its new tech, it's got an old-school, almost muscle-car-like vibe to the way it does its thing. Compared to the M5, the boost comes in thicker and stronger in one solid headbutt. It feels like it gets through its powerband sooner too, but you won't care, so strong is the hit of torque. And strong it is too – with 100Nm more than the M5! But then, the M5 does have a 135kg weight advantage, so perhaps it evens out? I can't be sure; they're both so flippin' quick!
What I can be sure of, though, despite being in the M5 while it's howling its guts out at 6,000rpm, is that the E 63 sounds better. No amount of downsizing and turbocharging has been able to rob the AMG of its beautiful baritone drawl, and though the BMW sounds bewitching on its own, the Merc will give you instant and constant goosebumps.
Powertrain & performance
BMW M5
Mercedes-AMG E 63 S
Engine
V8, 4395cc, twin-turbo petrol
V8, 3982cc, twin-turbo petrol
Power
600hp at 5600-6700rpm
612hp at 5750-6500rpm
Torque
750Nm at 1800-5600rpm
850Nm at 2500-4500rpm
Gearbox
8-speed auto, AWD
9-speed auto, AWD
Power-to-weight ratio
323.45hp/tonne
307.53hp/tonne
Torque-to-weight ratio
404.31Nm/tonne
427.14Nm/tonne
0-100kph (claimed)
3.4sec
3.4sec
Top speed (limited)
250kph (305kph optional)
250kph (300kph optional)
CLOSED CIRCUIT
Now for the elephant in the room. When you think 'all-wheel-drive super-sedan', what's the first brand that comes to mind? Audi Sport, of course. Brutally quick from a standstill or while on the go, they tend to be clinical in their power delivery, and a bit wooden in the handling department. A huge contrast to the frisky, oversteer-happy, rear-wheel-drive M5 and E 63 of the previous generation. Those cars may not have been able to crack 0-100kph as quick as the Quattro-equipped RS6 and RS7, but the M and AMG's more communicative steering, playful handling and better balance made them the better sports sedans in our books.
Narain found the M5 quick, but fidgety; more compliant E 63 put power down easier.
So, by fitting these new versions with AWD, have they gone and thrown out everything that made them great? Well, we've just pulled into the Madras Motor Racing Track (MMRT), which is ours for the rest of the day, and that's exactly what we're going to find out. And fittingly for testing the effectiveness of all-wheel drive, the track is damp from a shower that just went by. Lovely.
Even if you approach a corner relatively gently, it's such a wonderfully reassuring feeling to have some of the torque load taken over by the front wheels. I'm having flashbacks to five years ago, when a damp road in the last E 63 meant I'd soon be facing the wrong way. This is just so much easier! I'm now confident enough to raise my limits and carry more speed into and out of corners. On the road, the Merc's steering feels heavy, but that heft is much appreciated out here on the track, and like with the standard car, there's a quickness too it that makes short work of the car's size.
Setting up cameras, telemetry and driving modes; E's Drift Mode not easy to find.
The M5 is no slouch, mind you. The steering is a tad lighter, and perhaps not as sharp as the AMG's, but it still gives you a whole lot of feedback, and here too, there's a sense of security as I feather the wheel, rumbling rapidly over some of the sharper chicanes. But I do feel I'm working a bit harder here; there's a degree of understeer dialled into the chassis which you need to aggressively neutralise with a heavy jab of the throttle. It needs more corrections at the wheel and doesn't feel as fluent as the E 63.
Luckily, someone else feels the same way I do, and he's a racing driver. Since we're here for our annual Track Day and Narain Karthikeyan's had a go in these two, I'm, of course, curious about his feedback. "The roles seem a bit reversed," he says. "On the track, the M5 is very skittish to drive; the E 63 is much more compliant on the bumps." He's right, and the proof of that, if you flip some pages ahead, is in the lap times.
And then it hit me – the air suspension, of course! Who would have thought such a setup would be beneficial on a track? But on the MMRT at least, which isn't F1-spec flat and smooth and has always had bumps and ripples (because of shifting black cotton soil underneath), the added compliance from the suspension allowed it to put down its power better!
The real beauty, however, is that neither of these cars feels overtly four-wheel drive, like Audis tend to. They still feel heavily rear-biased and the sensation is more of pushing from the back, than pulling from the front. In fact, you'll find, in both these cars, a 'safe' 4WD mode for everyday use, and a sportier one for times like these. Frankly, the latter is the fastest way to get either of these cars around a track, but if, understandably, lap times aren't your biggest concern, and what you want instead is a bit of childish fun…
HOOLIGANS
All systems to Sport+, gearbox at Level 3 ferocity, ESC button for five seconds until it goes completely off, choose 2WD and you're set. The process for disabling the front driveshafts in the M5 is relatively simple and to make it even simpler for the next time – be sure to save it to one of the red M shortcut buttons on the steering wheel, for one-touch access. In the E 63 S, it's more of a secret handshake that only those in the know can do. Put the car into Race mode, push the gearbox button to engage manual mode, hold the ESC button for five seconds to disengage it, pull both paddles together to engage 'Drift Mode' (AMG doesn't mince its words) and pull the right paddle to confirm you've really gone mad.
Merc still hasn't cracked intuitive infotainment controls.
And with that, both cars have reverted to their former, rear-driven selves. In these modes, even a monkey could do a burnout; in fact, it's almost tricky to do a full-power launch in either of them without leaving behind a long trail of elevensies. Similarly, hoof the accelerator pedal into a corner, and either of these cars will happily break into a potentially elegant slide. In the AMG, with that 850Nm of torque, it's blissfully easy to do; in the M5 you have to work a little harder – carry a bit more speed. On the other hand, you could potentially still put down power effectively and set a quick lap in the 2WD M5, but in 'Drift Mode', the AMG is just all over the place.
POWER SHIFT
The sun's going away and it seems the rain's coming back, so it's time to call it an evening and roll back into the pits. What a day! Just the fact we've had a whole day with these two is reason enough to celebrate, but somehow, that excitement from the night before has turned to frustration, because now I have to pick a winner, and I don't want to. These cars are both just so complete – comfortable, techie, powerful, quick, sharp handlers and a feast for the senses; they're easy to fall for. Full disclosure, I've always had a soft spot for M5s, mostly since they are the origin of the species and all that. And for years they've paved the way and led the charge for this segment, with class-leading numbers, sportscar-shaming dynamics and that all-important feel-good factor. And this new F90 M5 does all of that – it is ferociously competent and enjoyable to boot. But everything it does, the W123 E 63 S does just a few degrees better. Power, torque, noise, ride, handling and, ultimately, a lap of the track too. You wouldn't be wrong to choose the M, but you'd be right to pick the AMG.
New BMW 5-series image gallery
9789 Views|4 months ago
2021 BMW 5 Series facelift image gallery
12134 Views|3 years ago