Our first impressions of the India-bound Ducati Monster 795.
Almost a quarter of a million Monsters have sold around the world since its 1993 introduction. So, how many of the next quarter of a million Monsters are to be powered by Ducati's new Monster 795 for Asia? A quick ride brings us closer to the answer.
Ducati isn't beating around the bush. The Monster might be the most affordable Ducati in Asian markets by a fair margin, but it's still no less a Ducati by any yardstick. Instantly recognisable as a Monster, the 795 is manufactured in Bologna and assembled in Thailand, with stringent quality control ensuring it lives up to Ducati's standards of quality and fit-finish.
The 795 is a hybrid; a combination of two existing Monsters. The chassis of the entry level 696 offers convenience for shorter riders thanks to a lower seat height. Repositioned handlebars (sourced from India!) ease the forward lean ergonomics and the foot pegs are likewise repositioned. At the heart of the iconic motorcycle sits the 803cc, Desmodromic valve-train equipped motor from the Monster 796. Ducati knows this combination is best suited for Asians and Indians. A double sided alloy swingarm helps keep costs competitive.
The lower seat makes shorter riders feel at home immediately, and the bike is furthermore manageable thanks to its 167kg weight. Wide handlebars provide good leverage, and the V-twin engine outputs a familiar Ducati throb with strong midrange grunt on tap. The Monster blasts to an indicated 94kph in first gear, 138kph throttle pinned to the stop in second while third is good for near 180kph. There's no shortage of performance from this 87bhp powerplant. And the wholesome package of superb dynamics and potent brakes makes it effortless tapping into and getting to grips with the Ducati's sporty genes on the right road.
The Monster 795 aims to be exciting and practical. While handling is light and easy, the engine sometimes feels snatchy at low speeds, and prefers being left on the boil. And this could be a bit of an issue if you want your Monster to commute to work in Mumbai city traffic every day. Keep its engine revving high on the highways and now you've got a better idea of where the 795 can truly excel. Ride quality is pliant and capable of soaking in the bumps with a sporty firmness. Despite its altered seating position however, the Monster is still not the most ideal long distance touring motorcycle, as its stance remains sporty and can extract a toll on an unfit lower back.
No, it may not feel quite at home in every surrounding, but the Monster 795 has its heart in the right place. Performance, styling and the India introductory Rs 5.99 lakh price tag make it pretty tempting. We hear this is just the first salvo fired towards India from Bologna, and simply can't wait for what's next.
Ducati Streetfighter V2 video review
4860 Views|4 months ago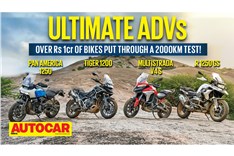 BMW vs Ducati vs Harley vs Triumph - 2000km ADV road trip...
6222 Views|8 months ago
2022 Ducati DesertX video review
8463 Views|9 months ago