Here's what it feels like to ride a motorcycle wrapped around the world's largest air-cooled boxer-twin engine.
We are probably less than a decade away from seeing motorcycle companies struggle to individualise the experience their battery-powered machines offer. Now is when you would think these corporations would ease us into it, by slowly cutting away the character of motorcycles of the past. BMW, however, appears to have no such intentions. I can't tell you whether this is a last hurrah or if it's just German humour, but the R18 delivers an internal-combustion experience you'll never forget.
What helps it do so is that massive engine it isn't shy of flaunting. We don't usually begin our reviews by jumping right to the engine, but it would almost be offensive if we didn't on this occasion. BMW's relationship with boxer engines is a lengthy one, in fact, it powered one of their first motorcycles nearly a century ago. It's also the same layout you'll find on the company's popular big GS. The large-ribbed cylinders you see on this bike, however, are 901cc, each! That makes it much bigger than the GS' motor and the highest capacity twin-cylinder boxer engine on a production motorcycle.
CHARM
As a result, it delivers an experience that hasn't been felt before. Thumb the starter and it fires up with a strong rock in the direction of the spin of its longitudinally mounted crankshaft. Combine that with the smooth rumble and you have an engine that feels vivacious. The intensity of the rock and rumble only increases as you twist the throttle, promising to wake you up from even your deepest slumber.
On the move, in typical boxer fashion, it's smooth as can be but there's just the right amount of pulses coming through under the acceleration. Despite its gigantic size, this engine is no powerhouse. It only puts out 91hp which doesn't feel like a lot on a bike this heavy. But what this engine aces at is making loads of torque – 158Nm to be precise, almost all of which comes in as early as 2,000rpm. It also doesn't complain as much as a V-twin at low revs and you can lug it from as low as 1,300rpm without protest.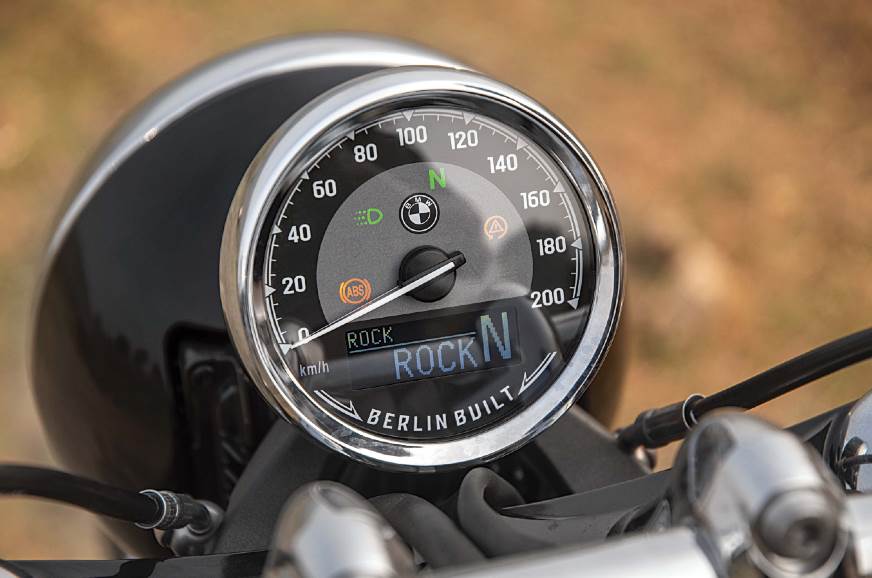 BMW had some fun while naming the ride modes.
This is why it shouldn't come as a surprise when I say that the R18 accelerates quite briskly, and it'll max out its 200kph speedo rather quickly. On the other hand, it'll also do around 60kph in 6th gear at idling RPM (950rpm) and cruise at 100kph at just around 2,000rpm. Playing with the throttle in its most aggressive riding mode, Rock, is quite a lot of fun. The tidal wave of torque comes in with a deep rumble and the way the bike surges forward is quite an incredible experience. Roll mode is much more mellow and Rain mode felt far too dull, even in heavy traffic.
SURPRISE
Despite weighing as much as the average scooter, at 110kg, the engine's weight is quite well masked, owing to how low it's positioned. As for the bike, it weighs 345kg and that kind of mass cannot be hidden. The weight becomes apparent while manoeuvring the bike at low speeds. Thankfully, the clutch is reasonably light, which helps a lot. What would have eased negotiating this behemoth even more would be the optional reverse gear, but it isn't available on the R18 in India.
The bike isn't as cumbersome in traffic as you would think. The huge cylinder heads stick out no further than the handlebar, and as long as you keep that in mind, it's smooth sailing. Crawling through traffic on a bike this size also means heat, but again, the R18 doesn't do too badly in this aspect – it's far better than the big V-twin American cruisers. That said, an hour-long traffic jam will heat up the dry clutch quite a bit and we noticed some clutch slip in these situations.
Hit an open stretch and you'll get used to the weight in a matter of minutes. At highway speeds, the R18 will make nearly every move you want it to. The bike changes lanes effortlessly and long, sweeping corners are properly enjoyable, with the only limiting factor being the low foot pegs – they scrape the tarmac about as easily as on a big Harley. The sticky Michelins and the suspension that's slightly on the firmer side only aid its handling abilities, and it's only in really tight corners that you notice the 1,731mm wheelbase becomes a limitation.
The suspension on this bike has 120mm travel at the front and 90mm at the rear; while that's not a lot we found ourselves bottoming it out only once. In that instance, I felt every inch of that pothole in my lower back, but over smaller potholes and rough roads in general, the ride's actually decent. What came as a pleasant surprise was the R18's ability to clear speed breakers, with it getting really close to large ones but not scraping. As for the four-piston brakes being used at both ends, they have a dull initial bite, but easily bring this giant to a halt.
The rubber foot pegs look low cost and out of place.
Something that will be a deal-breaker for traditionalists are the R18's ergonomics. While the wide handlebar and stubby 690mm seat height will fit the bill, your legs aren't positioned where they ideally should be on a cruiser. Limited by the engine coming in the way, BMW had to put the foot pegs as forward as they could, which, in this case, is almost under the cylinders. While we're not fans of the feet-forward riding position on our roads, the R18's position is quite comfy. However, if you want to stretch your feet forward, there really isn't much you can do.
DESIRE
It's not only the riding position that fades away the R18's cruiser dreams, the bike is also missing cruise control as an option in India. A feature like that is a must, especially, if BMW is gunning for the big dogs from USA. What the BMW is equipped with though is keyless ignition, switchable traction control, three riding modes and a digi-analogue gauge that's quite informative.
Moving on to something I've kept for the end, the styling. BMW has stayed true to the original 1936 R5, which has been the inspiration for the R18. The round headlight, mirrors and instrument cluster, along with the raked front end with girthy fork covers are just some of the elements that pay a fitting tribute to the original.
Look at the bike from the side and you'll notice it flows downwards gracefully, with the teardrop shaped tank only complementing this design element. BMW has also done a phenomenal job hiding the catalytic converters in the twin fishtail exhaust pipes, which look like works of art. The rear, meanwhile, is as simple as can be, with the tail-light integrated into the turn indicators and a small BMW emblem. There's no denying that the R18 is an incredible looking machine, but there are few angles from where the proportions don't look the best – one of which is the rear fender, which looks a bit wider than necessary.
The bike we rode is the 'First Edition' and, at Rs 22.55 lakh, it costs Rs 2.65 lakh more than the standard variant. The additional cash gets you the white pinstripes, additional chrome elements and a few other bits and bobs. BMW also offers an incredibly vast list of accessories to further customise the bike.
If you have your mind set on the R18, there's nothing that should stop you from having it in your garage. It's quite a different experience from the typical big V-twin cruisers – in many ways it's nicer as well. There's also not much else that can offer the character and soul this motorcycle has, which in a few years will probably be hard to come by.