A pair of new mid-level adventure tourers aims to put Benelli back in the game. We ride them.
A quick glance in the direction of the 502 and the 502X (the latter being the off-road biased variant) reveals some substantial developments in the way Benelli now designs its motorcycles. Unlike some of the older-gen Benellis that have been on sale in India, the TRK 502 seems to have been designed with an eye for detail and none of it is, to say the least, scandalous or tacky. There are details, such as the abundant use of metal even where other manufacturers opt for plastics showcase Benelli's emphasis on a quality long-term experience, although not all of it may necessarily good-natured. More on that later. First off, this is a huge motorcycle. If Benelli (or anyone else, for that matter) told me this was a 1200, I'd believe it right away. A look at the specifications reveals it is taller, longer and heavier than its nearest rival (in terms of engine spec), the Kawasaki Versys 650. Our specifications comparison of the TRK 502 with the Versys X300, Versys 650 and SWM Superdual T will give you a detailed look into it, so I'll move on to the most important aspects.
X AND WHY?
Both variants get a 20-litre tank, a 1505mm wheelbase, and as per Benelli, a 235 kg kerb weight – we suspect the 502X is heavier, but until Benelli confirms, this remains the official version. The standard 502 is the road-focused version and is the cheaper of the two. It gets 17-inch alloys at either end with Pirelli Angel ST tyres (120/70-17 front, 160/60-17 rear), two 320mm discs up front and a 260mm disc at the rear, dual-channel ABS and a 50mm USD fork. The X features nearly the same spec, but there are distinctions. Firstly, it features a 19-inch front wheel and a 17-inch rear (both of the wire-spoke variety), with Metzeler Tourance tyres (110/80-19 front, 150/70-17 rear) which aim to allow for a fair bit of soft-roading. These tyres do come embossed with a 'Tubeless' sign on the sidewalls but the wire-spoke rims don't appear to be the type to support tubeless rubber – we'll have to pull one apart to tell you. The brake discs are the same size but, oddly, only the 502X features petal-shaped front discs. Strangely, the 502X calliper isn't radially mounted as you'd find on the base 502. The X also features a full-sized exhaust end-can as opposed to the underbelly unit on the 502 – the X's unit sounds mildly bassier, but offers no apparent performance benefits; it sure adds to the bulk, which further raises our doubts on Benelli's claims about a uniform 235kg kerb weight. Regardless, what we can confirm is that the Kawasaki Versys weighs 216 kg, which makes it 19 kilos lighter than the lightest of the TRK 502s.
Thankfully, this weight is off-set by the relatively friendly seat height – 800mm on the 502 and 840mm on the X (same as on the Versys 650). Riders under 5'10 will struggle more than taller ones at low speeds and this applies strongly to the X, especially off the road. Getting it off the stand takes some effort although the centre stand (only on the X; the 502's underbelly exhaust makes it impossible) is designed to make its deployment very easy. With both wheels on the ground, my attention shifted focus to the interface which evoked mixed emotions. I like that the fairly tall windscreen is mounted on a rigid metal frame – it's less likely to rattle than a plastic-mounted unit over the period of ownership – but then the entire fairing is mounted on a sizeable metal frame as well, which is undoubtedly contributing to all that weight. A closer look revealed that some of the fairing's internals haven't been mounted with cushioning washers (rubber or otherwise), which means hard or long-enough time spent on Indian roads may result in some panels cracking or rattling incessantly. If you have owned a certain 223cc motorcycle at some point, you will know exactly what this is about.
The instrument console looks neatly finished, though, with the plastic surround (what? Not metal?!) keeping the rider's view uncluttered. Instrumentation isn't over-the-top but provides enough, with an analogue tachometer and a rectangular screen with a speedometer, odometer, two trip meters, a fuel level indicator, a clock, gear-position indicator and engine temperature being neatly displayed. Could have been fancier, I'd say, but nothing to strongly dislike for sure. What doesn't feel very premium is that the speedo takes a while to settle on zero if you slow to a halt in a hurry. The switchgear, also isn't quite premium. It works and is laid-out in an uncomplicated manner, but in an age when sub-200cc motorcycles offer even back-lit switches, a Rs 5 lakh motorcycle should not make do with dated-looking stuff. The ABS switch is mounted on the mirror stalk mount and looks like an afterthought but, on the good side, everything does fall to your opposable thumbs quite easily. The front brake lever is an adjustable unit although I see nobody being able to use it on setting 1 or 2. But that's nitpicking, so let's move on.
LET'S GET GOING
One aspect a lot of you must be curious to know is what the TRK 502 sounds like. Yes, it does replicate the TNT 300/302 R's inline-four-mimicking bassy howl despite being a twin. I still don't know how Benelli does this but this secret sauce certainly endears its bikes to a large section of its buyers and the TRK's soundtrack will certainly garner a fan-following. I'm on the 502 at first and I can't help notice how good the seat is. It's big but also well-padded, and it proved to be fantastic on the 900km ride back to base the next day. Moving on, a few needless blips of the throttle to clear its throat done with, I snick it (rather effortlessly) into first and we're rolling. There's no immediate surge of power and by the look (and sound of it), there's nothing substantial it has to offer at low revs. We're on tricky surfaces (especially for a first encounter) and I can't help noticing how top-heavy the TRK feels. Later the next day, even with the fuel tank nearly drained out, it still felt a bit top-heavy.
The 500cc, parallel-twin motor makes 47.5hp at 8,500 rpm and 46Nm at 6,000rpm, figures that are decent but in no way overwhelming. However, the 202.1hp/tonne power-to-weight configuration gives away the TRK's game early on – there's no fireworks to see here, you can be sure of it. Power delivery is linear, though, and while the throttle itself isn't particularly light, it works well in a highway environment. All six gears slot in with a refined precision that feels up-to-date and the clutch lever, despite its lack of adjustability, offers balanced progression while not feeling excessively heavy. Also noticeable is the lack of significant vibrations at low speeds and revs, although this changes once the tacho needle sweeps past 6,000rpm. The fat chunk of rubber on the serrated footpegs makes sense, because it was possibly devised not only for comfort but also to camouflage said vibes. The handlebar gets mildly buzzy, too, and you feel the vibrations strongest at the seat and tank. None of this is strong enough to put you off riding, but it is in plain sight.
ON THE ROAD
The one thing you notice in an instant is the sharp turn-in the 502 offers. Benelli doesn't specify it but the steering rake is certainly set at quite an acute angle, possibly to offset the heavy kerb weight, top-heavy configuration and the long wheelbase. Without that sort of rake, the TRK 502 would have felt like a proper slouch. This isn't squarely a negative aspect but instead redirects to the sentiment of Benelli having evolved as a motorcycle manufacturer. It now knows better, and even if perfection may be a long way down the road, it's a sign that Benelli is moving in the right direction. If that's not enough, Benelli has done well in the suspension department as well. That 50mm fork may look like overkill but it offers great comfort without being too soft and the monoshock (preload and rebound adjustable) remained consistently good through a variety of roads ranging from non-existent stretches to B-roads and flat blacktops. On another note, the TRK is surprisingly easy to manoeuvre in traffic (with no real heat emerging, or being deflected to the rider's legs) although, with the wide standard crash guards and even wider optional panniers on, it took up nearly as much lane width as a car!
In total honesty, the TRK is a bit boring to ride slowly. There's no mechanical takeaway at low revs and you'll certainly have more fun doing country roads on bikes like the KTM 390 Duke or the Royal Enfield Interceptor 650. In fact, even on a wide-open four-lane, the TRK is no faster than a 390 Duke (the latter is possibly faster in real-world conditions) but the difference lies in the way its speeds are implied – the TRK is comfortable, cocooning sort of machine and all that wind-protection certainly helps slow down the sensation of high-speed travel. The 100kph mark comes up at 5,000rpm in 6th gear and every 20kph extra after that point comes at a 2,000rpm leap. I didn't say this out aloud (ahem!) but the TRK 502 is at ease sitting at 140 kph (7,000rpm) with room for probably 30kph more. I know, this is still KTM/Royal Enfield territory but neither of those offer the sort of long-haul travel comfort, especially if you also include a pillion into the mix, so it's justified to isolate the TRK from those over-achieving go-getters we all rather like.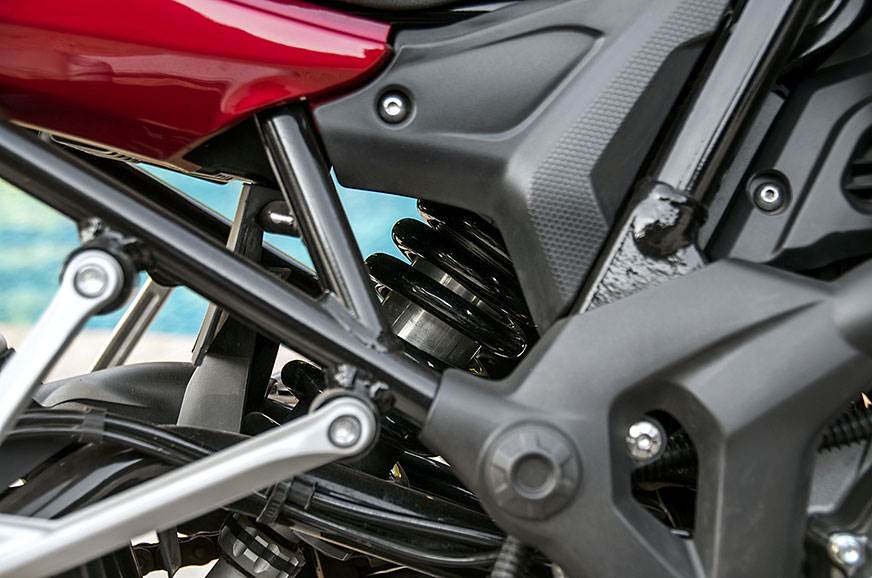 Having said that, while the TRK 502 functions very effectively as a mid-level highway hauler, it offers no emotional takeaway. There's nothing that'll make you want to ride it for the heck of it, nothing that will see you devise clever excuses to go for a ride. When you commit to a long ride, it'll take you there, but it feels a bit appliance-like. On that long ride home after the first ride event, the TRK 502 gained my trust in its ability to gobble up long distances quickly, but I was equally sure I wouldn't be tempted to take a longer-than-necessary route home. This may be subjective and it certainly doesn't make the 502 a bad motorcycle, especially at that price point, but unlike on, say, the Interceptor 650, I wasn't busy making future riding plans with it while chomping down a hundred kilometres every hour at night. This reminds me to make a quick mention of the headlight, which provides an excellent beam and spread although it could have been brighter. Nothing beats a set of auxiliary lamps, I suppose.
OFF THE ROAD
The 502X is dynamically lesser generous than the standard 502 but some of you may like it more because of that additional possibility it presents – of venturing off the road, that is. This is not a motorcycle you'd necessarily want to thrash over a dirt trail but soft-roading is possible. It's on the X that its huge-ness really does become challenging, however. Thankfully, the TRK does offer visibly generous lock-to-lock steering movement so really tight u-turns (in case you find a bison dawdling in your path or, worse, in your direction) are easy to execute. It also absorbs rough roads quite well and with ample ground clearance on offer (190mm on the standard 502, 220mm on the X), you have nothing to worry about.
I wouldn't be too confident wading through a river on it, though (unlike on something more manageable, like the SWM Superdual T), and what also snips away at your confidence is the top edge of the fuel tank, which is exactly where you'd want to grip the tank. As a result, you are left managing the weight with either the steering or with your feet, and both result in instability and fatigue, which is not very nice. Another thing to consider is the braking. The bite and performance offered is actually terrific (on both variants) but it lacks in feel and progression . More than one of our abused test bikes also featured a judder every time we went anywhere near the front brake (I'll put it down to a bent rim for now) and this didn't make life much better.
All that weight also means you have to be extremely cautious at low speeds and, from experience, I can tell you that over soft surfaces (especially ones you don't anticipate), the TRK can do a dramatic jig at the front-end; good reflexes will go a long way into keeping you rubber-side down. Speaking of which, it's certainly not the wisest idea to drop a TRK 502 because picking it up from its side is a hard task. I found out the hard way (just a parking incident, at 0kph – honest!) and could only pick it up with the assistance of a colleague. Thankfully, crash protection is standard on both variants of the 502, so the only thing that'll hurt is your arms and back – from lifting it, that is.
IF YOU HAVE TO PICK ONE
Between the two, I'd still pick the more expensive (by Rs 40,000) 502X because it, at least, is a little more welcoming of more than purely road riding and because it looks more globetrotting-ready with those wheels. However, if you are absolutely confident of never leaving tarmac roads, then the standard 502 makes more sense, especially because we can confirm it comes with tubeless tyres! Benelli also offers a set of three panniers for about Rs 70,000 which are spacious and add to the purposeful styling, but reputable Indian gear manufacturers such as Dirtsack offer identical luggage options for nearly half the price – thank us later!
Going beyond just the objectivity of the TRK 502s, there is also a certain social stigma amongst evolved motorcyclists about associating with Benelli, but that may slowly change. With 16 dealerships in place and expansion operations underway, and with motorcycles like the Leoncino 500 on their way to India, Benelli is attempting to broaden its appeal, from a sub-premium Tier 2/3 brand, to include Tier 1 cities as well. In that sense, the TRK 502 is a good step (if not a compelling one, perhaps) and certainly not one we'd condemn, unlike some of Benelli's previous motorcycles. So, if you and your pillion ride long distances regularly and want to do so at speed and in comfort, without spending the Rs 1.7 lakh extra that the Versys demands, the TRK 502 is a good place to begin until you save up for, let's say, a Triumph Tiger or a Ducati Multistrada 1260.
Also see:
Benelli TRK 251 video review
8216 Views|1 year ago
2021 Benelli 502C video review
16375 Views|2 years ago