The 450X is the best electric scooter we've ridden in India, but the premium pricing is not for everyone.
Underneath the bodywork is where you'll notice the majority of changes the X brought over the old 450. The installed battery capacity is 2.9kWh (up from 2.71kWh) and it proves itself with the most range we've ever got out of an electric two-wheeler in India. In its most efficient mode, Eco, it did 80.1km which is right in the ballpark of what the company claims. In the performance-oriented Warp mode though, that figure drops to 50.9km, which is still quite impressive once you hear its acceleration times.
The retuned motor also develops a peak output of 6kW (up from 5.4kW). More importantly, the peak torque has gone up from 20.5Nm to 26Nm. What these figures translate to is a super quick 0-60kph acceleration time of 7.36sec and speedo-indicated top speed of around 90kph, making it the quickest accelerating scooter on sale in India.
Aluminium components like the mirrors look and feel expensive.
What impresses even more though is how the Ather delivers its power in Warp mode – it's instantaneous and, surprisingly, quite exhilarating. The sci-fi spaceship-like whine from the motor only adds to the drama. While Sport mode is also quite engaging, it distinguishes itself with slightly less aggressive throttle response, whereas Ride and Eco modes reduce the urgency even further. Ride also limits the scooter to around 60kph, while Eco will max out at around 50kph. The 450X is faster than many other Chinese-origin electric scooters even in its slowest mode and packs much better real-world range as well.
Ather 450X Gen 3 video review
8713 Views|6 months ago
Yamaha Aerox 155 vs Ather 450X drag race video
15109 Views|11 months ago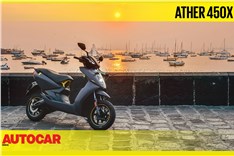 Ather 450X road test video
12260 Views|1 year ago