The 450X is the best electric scooter we've ridden in India, but the premium pricing is not for everyone.
Ather has also updated the display on the 450X and it now uses an Android-based OS and gets Bluetooth connectivity, enabling call- and music- related information. Unlike the first-gen scooter, this responds to the touch even with riding gloves on. The scooter also features a 4G eSIM that enables the onboard Google Maps and automatic software updates. However, the display software isn't perfect and we faced a few glitches – at times, it would fail to recognise the scooter was at standstill, due to which it wouldn't allow us to access all the functions. A couple of times, the system also abruptly rebooted for no apparent reason.
The display also shows the remaining charge time on the screen if you give it a tap even when the key is out, which is quite useful. Speaking of the charge time, the 450X took around four hours to charge with the portable charger, and is said to take the same amount of time via the Dot charger. The Dot charger is a wall-mounted unit that can be opted for instead of the portable unit at the time of purchase. It's a more permanent solution for a garage space. If you want the portable charger in addition to the Dot or vice-versa, it costs Rs 11,000!
Both these chargers don't offer the fast charging function and that can only be done via the Ather Grid public charging network. Plugged in at almost zero, we got a fast charge time of around 1.5 hours. The Grid is free till March 31, 2021; the cost per charge after that is yet to be decided. If you are wondering why Ather won't allow you to fast charge it at home, it's because doing it frequently can adversely affect the battery.
The large screen and Google Maps support make navigation a breeze.
Ather 450X Gen 3 video review
8713 Views|6 months ago
Yamaha Aerox 155 vs Ather 450X drag race video
15109 Views|11 months ago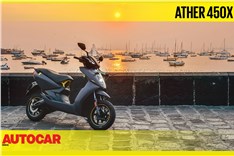 Ather 450X road test video
12260 Views|1 year ago