Is there any real meaning to the MT-15 or is it just an R15 in skimpy clothing? We ride it to find an answer.
Expectations can be agonising, and there's no better living, breathing proof of that than Yamaha's relationship with the Indian audience. Having been selectively generous with India in terms of truly delicious motorcycles such as the RD350, RX100, RX-Z, R15 and the R3, Yamaha has made a pattern out of making us wait for painfully long durations before letting up. Of course, the waiting periods have been littered with some uninspiring entries (let's just not name them) despite which, a new Yamaha generally gets people very excited. The MT-15 is one of those motorcycles.
Over the last few months, those of us with the gift of the world wide web have read everything we could have on the MT-15 and, more recently, we also discovered that this popular Asian motorcycle was going to get a bit Indianised. Has the conversion been judicious, though? More importantly, have these timely changes made the MT-15 any more relevant in the Indian context or, instead, have they taken too much away from the original brief? I'm as keen as you are to find out.
LOOK BEFORE YOU LEAP
First, let's do a walk-around of this machine. It would be criminal to call it beautiful, but it sure is slim and stealthy, something that may make it a big hit amongst millennials, especially those who may be a bit bored with what the naked KTMs look like. The front-end is rather concept-like, with those slim, white LED DRLs tucked-in like a pair of sinister eyes, and the central square element being the actual projector headlight, and thereon, it's a snazzy design. Surely, the front-end is a bit over-aggressive, but the rest of the motorcycle is, thankfully, calmer on the eyes. I've never been a fan of matte finishes and with the fuel tank being the only bit of painted bodywork (the rest being just matte black plastics), it looks a bit dull. The gloss back version (being the only other option) looks nicer in comparison. Then again, Yamaha knows exactly how to prolong a motorcycle's shelf life by introducing colour schemes and (mostly) appealing decals, so you can be sure about what the MT-15 is destined for. In addition, the extended radiator shrouds and the elaborate underbelly cowl do jazz up the sides and these will prove to be popular canvasses for those of you who have a soft spot for stickers.
Like on the international-spec bike, the Indian MT-15 also features a single-piece seat with a prominent step between rider and pillion. The stubby, minimalist rear end does a clean upward sweep and, overall, the MT-15 makes for an aggressive silhouette. Not hard to spot is the R15-sourced exhaust, although a design such as the MT-15's could have, perhaps, been deserving of an underbelly unit (imagine the weight savings, too!). And now, onto the made-for-India changes. It's not news that the MT-15 lost its USD fork on its way here and that Yamaha has substituted the expensive piece of kit with a conventional fork instead. The swingarm is a box-section affair, again a departure from the more contemporary-looking unit on the international-spec version, and also different are the alloys, which have been borrowed from the R15 V3.0. These are obviously cost-driven measures; the original kit would have driven the prices significantly higher than the already steep Rs 1.36 lakh sticker price it wears. What matters more, though, is if the MT-15 still feels like a premium motorcycle, given that we have no saddle-time on the international version.
SIZING IT UP
When I first hopped on, the MT-15 had me arrested with its cozy dimensions. It's cheerfully light (at 138kg – that's 4kg off the R15) and the riding geometry feels bang-on for a day of urban hustling. It feels slim and the 10-litre tank is easy to grip, although very tall riders (those above 6') or even very large ones (like me) will find it quite cramped given, mainly, how limiting the rider's seat is by virtue of design. The Indian version is 5kg heavier than the international one, but it's not an inconvenience in the least. It feels light as a breeze to lift off the stand and, given the slim tank section, the seat height doesn't seem like a bother either. The seat itself is sporty but not very generous and as I settled in, I was pleased to see very little motorcycle from my point of view – a good sign, in the urban cut and thrust scheme of things. The LCD screen is exactly like on the R15 V3.0 and issues clear readouts, although it could have been a bit more cheerful-looking – but that's very subjective, of course. The switchgear isn't too fancy (the flasher is part of the dipper switch, again) and the non-adjustable levers, twist grips and bar-end weights look all too familiar. Now for the moment of truth.
ACTION!
The MT-15 fires up with the exact same busy thrum as the R15. I'm not expecting any surprises here – 19.3hp is 19.3hp, and it isn't going to make a world of a difference. If anything, you would expect the MT-15 to be slower given that it cannot deliver the aerodynamic efficiency of the R15, although naked motorcycles heighten the sensation of speed and that's exactly what I came to experience. Just like on the R15, the MT-15 also features a 155cc, liquid-cooled, SOHC, four-valve motor featuring Yamaha's clever Variable Valve Actuation (VVA). The VVA system, which we have elaborated on before, essentially impacts performance at either end of the engine's rev range and, in the real world, perks up low-end performance while also aiding tractability past 8,000rpm or so. It proved its mettle on the R15 and there's no reason why it can't, on the MT-15. We'll get there, in a minute.
Typical of a naked motorcycle, the riding stance the MT-15 makes it seem more aggressive when you launch it off the line, although the 14.7Nm of torque coming at 8,500rpm is to be credited for this equally. Yamaha has altered the final drive ratio and the MT-15 also runs a larger (by four teeth) rear sprocket in comparison to the R15. It feels very energetic in the process of acceleration, regardless of what the numbers may be. Across the vast expanse of the BIC, I couldn't help but feel like an inconsequential spec. However, contrary to my pessimistic expectations, the MT-15 engaged me in fluid, upbeat conversation, although it didn't come across as particularly punchy. Sure, I wouldn't sign up to do this every day, but for now, its fun quotient seemed to moderately overshadow the overwhelming setting.
My memory of the R15's being a fantastic engine-gearbox combination remained untainted on the MT-15 and shifting up or down the 'box is a seamless, mechanically precise affair. You can thrust the responsibility of ironing out crudely timed shifts upon the gearbox, and it tackles even the most rudimentary of inputs with perfection. The light clutch lever is another byproduct of the slip-and-assist feature and it will, undoubtedly, be welcomed by traffic regulars (such as... all of us!). Further strengthening this is, of course, the engine's inherent goodness. This is a fast motor that loves its output figures being extracted aggressively, and Yamaha has focused on maintaining a balance between peppiness and tractability. Another good aspect of the MT-15's performance package is the refinement, which remains consistent at all contact points, even in the higher reaches of the rev range. Vibrations can be felt in the extremely higher reaches on the rev range, primarily at the handlebar, but it is to an acceptable level.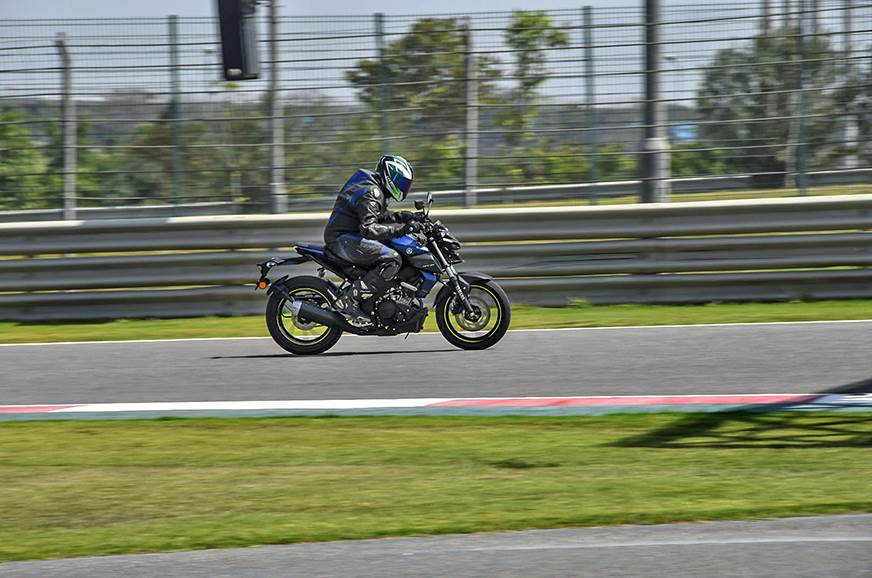 TURN IT UP
In true Yamaha character (for when it has gotten it right), the MT-15 is a terrific handler. Being light and configured to impress in cramped environments, the MT-15 is a delight to steer into corners and it offers a level of flickability that's better than even on the R15. I'm sure the USD fork would have made for even nimbler steering characteristics and that the correlated alterations made, such as the conventional swingarm, may have made it a bit duller than the international-spec version, but viewed in isolation, there's nothing about this motorcycle's dynamics that isn't pleasant. The MRF Zapper tyres (100/80-17 front, 140/70-17 rear) do a fine job of offering grip but better tyres would have added to cornering confidence. In comparison to bikes like the KTM Duke 125/200, Bajaj Pulsar NS200 and the TVS Apache RTR 160/200 4V, the MT-15 has the shortest wheelbase, at 1,335mm, although it is longer than the R15's by 10mm, owing to the swingarm or tyres. This short wheelbase reflects in the MT-15's willingness to change direction at short notice but, thankfully, it isn't volatile. Having said that, the lack of room made it difficult to seamlessly shift weight in the rider's seat, therefore disturbing the bike's stability and trajectory. Where the MT-15 could do with some improvement is in the area of braking, with its 282mm/220mm (front/rear) discs offering good but not dramatic performance. While it offers good progression and decent feel, it just doesn't bite hard enough to inspire confidence, something I remember having brought up even in my first ride review of the R15 V3.0. Overall safety isn't compromised, considering there is a single-channel ABS to bank on, but there's no substitute for a terrific set of brakes to begin with.
MT PROMISES?
The MT-15 does deliver but not too generously. If you really do crave a quality riding experience, with an emphasis on a motorcycle's dynamics and energy, rather than on its output credentials, the MT-15 will impress you. It's a nice motorcycle that gets along with enthusiastic riding easily and, if the looks suit your taste buds, you'll find nothing to be unhappy about. I would love to commute on one and I'm sure it'll jazz up my everyday rides by a notch or two but would I spend that kind of money (Rs 1.36 lakh) on a sporty city bike? Probably not. It's not a wasteful expense, but it certainly is a big ask given that there are other, more tempting motorcycles money can buy. What weakens its case most strongly is the price tag itself, being Rs 3,000 off the R15's, and that's unjustifiable.
To summarise, the MT-15 definitely feels like a superbly potent city bike with a decent highway ability, but the overall qualitative experience it provides still stands to be clouded by practical, economic reasoning. In other words, there will justifiably be loads of you who would rather have the as-well-equipped Bajaj Pulsar NS200 or the TVS Apache RTR 200 4V, bikes that offer more performance for substantially lesser money. That's a hard contest for the MT-15 to win, as nice a motorcycle as it may be. Not exactly an agonising end to expectations, then, but certainly not bulls-eye either.