We ride Triumph's new adventure-capable modern classic. Here's what it's like.
Living a life surrounded by motorcycles, I didn't expect to be awestruck by what is, essentially, just an extension of the Bonneville range. I imagined it'd take a diamond-encrusted, full-faired one-off with a motor from a small Airbus to feel awestruck, but one glance at the Triumph Scrambler 1200s in the flesh told me that moment had arrived. I was, to make an honest admission, a bit intimidated. This motorcycle looks like it was commissioned for a Mad Max movie, after all. My fears, thankfully, were unfounded.
There are two variants of the new Scrambler 1200 for you to pick from, the base XC and the even more off-road focused XE. What you need to know right at the start is that both of these are substantially more expensive bikes than the base Tiger 800 XR. In the UK, the Tiger 800 XR retails for Rs 8.32 lakh while the Scrambler 1200 XC and XE have been launched at Rs 10.41 lakh and Rs 11.13 lakh respectively. In India, the Tiger 800 XR retails for Rs 11.99 lakh, which indicates that the Scrambler 1200 XC could be priced at roughly Rs 14 lakh while the XE could be about Rs 75,000 more expensive, at Rs 14.8 lakh approximately (all prices, ex-showroom), although the latter is unlikely to come to India at all. The XC, meanwhile, will come to India within the first half of 2019.
It's only natural that you are alarmed at this point but I can assure you, without giving away too much lest you get distracted by something else on the Internet, these are way more than just elevated Bonnevilles. There is a serious amount of engineering effort Triumph has invested into creating the Scrambler 1200s and, having just taken my very sweaty helmet and gloves off (it's 9 degrees out here in Faro, Portugal and that should tell you something about how intensely fun the bike is), I can tell you it's fantastic work in a great direction. Triumph's engineering chief Stuart Wood told me the need for such a motorcycle was, very simply, to provide a modern classic that was adventure capable. In addition to that, the Scrambler 1200 completes the graph plotted around the basic Bonneville; there's now this adventure version to pick from, in addition to a racy retro (Thruxton), a full retro (T110/T120), an urban neo-retro (Street Twin/Scramber), a cruiser (Speedmaster), and a bobber (Bobber; no points for imaginative nomenclature).
Now, that I've worked up an appetite of interest, let me jump straight into what these motorcycles are like in the real world. The 1200cc motor is more or less exactly the same as in the Thruxton R, except it's detuned (from 97hp) to produce 89hp. Peak torque is only 2Nm lower, at 110Nm, although on the Scrambler it arrives a full thousand revs lower than on the Thruxton. A 6-speed gearbox is the obvious choice for this sort of motorcycle and it comes equipped with a torque-assist clutch that is low-speed friendly and adds a small amount of slippage when downshifting. This, however, is the least of what went into making the Scrambler 1200. It appears as if Triumph had decided to make the new Scrambler an unapologetic beast, something that could possibly make the rest of the family look a bit, well, dim. This thought struck me when I first swung a leg over the XE, and it did nothing to change my mind over the course of the ride.
Scrambler 1200 specifications
Specifications
Tiger 800 XR
Tiger 800 XCx
Scrambler 1200 XC
Scrambler 1200 XE
Engine
800cc, triple
800cc, triple
1200, inline-twin
1200cc, inline-twin
Power
95hp at 9500 rpm
95hp at 9500 rpm
90hp at 7400 rpm
90hp at 7400 rpm
Torque
79Nm at 8050 rpm
79Nm at 8050 rpm
110Nm at 3950 rpm
110Nm at 3950 rpm
Seat height
810-830mm
840-860mm
840mm
870mm
Dry weight
199kg
205kg
205kg
207kg
Wheelbase
1530mm
1545mm
1530mm
1570mm
Ground clearance
203mm
NA
200mm
NA
Rake/Trail
23.8 deg/86.6mm
23.4 deg/93.5 mm
25.8 deg/121mm
26.9 deg/129.2mm
Brakes (f)
305mm twin disc, 2-piston calipers, ABS
305mm twin disc, 2-piston calipers, ABS
320mm twin disc, 4-piston calipers, ABS
320mm twin disc, 4-piston calipers, ABS
Brakes (r)
255mm disc, single piston caliper, ABS
255mm disc, single piston caliper, ABS
255mm disc, 2-piston caliper, ABS
255mm disc, 2-piston caliper, ABS
Suspension (f)
Showa 43mm USD fork, 180mm travel
WP 43 mm USD fork, 220 mm travel
Showa 45mm USD fork, 200mm travel
Showa 47mm USD fork, 250mm travel
Suspension (r)
Showa monoshock, hydraulic preload adjustable, 170mm travel
WP monoshock, hydraulic preload adjustable, 215mm travel
Ohlins twin-shock with piggyback reservoir, fully adjustable, 200mm travel
Ohlins twin-shock with piggyback reservoir, fully adjustable, 250mm travel
Tyres (f)
100/90-19
90/90-21
90/90-21
90/90-21
Tyres (r)
150/70-17
150/70-17
150/50-17
150/50-17
Fuel capacity
19 litres
19 litres
16 litres
16 litres
Price – UK
£9200/Rs 8.32 lakh
£11,400/Rs 10.21 lakh
£11,500/Rs 10.41 lakh
£12,300/Rs 11.13 lakh
Price – India
Rs 11.99 lakh
Rs 14.03 lakh
Rs 14 lakh, est.
Rs 14.8 lakh, est.
To begin with, there's the 840(XC)/870mm (XE) seat height – that's higher than on any of the Tigers – which will prove challenging for anyone below 5'10". However, as a small mercy, the slim width of the Scrambler may help your feet reach the ground easier. On the lower XC, I (being 5'11) could comfortably get my feet flat on the ground with my legs still a bit bent, but the XE needed a sideways sideways shift in the saddle to be able to achieve the same. The XE also has the higher ground clearance of the two variants. The Scrambler is also heavier than the 199 kg (dry) Tiger 800 XR, with the XC weighing 205kg and the XE, 207kg. At standstill, I could feel the weight as I settled into its ample proportions. From the rider's point of view, you get nearly a bird's eye view of your immediate environment and in the foreground is a polished, sophisticated interface. Taking centrestage is the crisp and swanky tilt-adjustable TFT LCD dial which is crammed with data and sub-menus you could spend hours configuring to your tastes. Thankfully, browsing through the menus is super intuitive. A new optional Bluetooth module allows you to connect your GoPro to the interface, in addition to smartphone enabled turn-by-turn navigation, music and more. The GoPro feature lets you take complete charge of your action cam by using a dedicated button you can click on the go. Triumph lent me a Hero7 Black so I could try one out for myself and while I was initially apprehensive, I did end up having a lot of fun with it.
Do you know what's more fun that that, though? Riding the bike – duh! I can safely say i've ridden nothing like it before and, to put it simply, it is to the Triumph Tiger 800 what the Kawasaki Z1000 is to the ZX-10R. That you are exposed to the elements, unprotected from the impact of taking physics head-on, makes the Scrambler feel nearly twice as powerful as a Tiger. It emits a fair growl as well, and from the instant you thumb the starter, the sensation of unrestrained power envelopes you, although wonderfully, it doesn't leave you in a state of permanent fear. Although i didn't get a chance to try it out first-hand, I suspect it will be just as city-friendly as it was on fast, flowing roads. It cruises at a 100kph in 6th gear at 3200 rpm, at which point it feels barely awake but not in a negative way., That 1200 motor is never devoid of feel and character. Triumph also happens to do power very responsibly, which explains why it draws riders of varying experience levels in such good volumes around the world, and that means the Scrambler is manageable all the way, with no nasty surprises in store. The ride-by-wire throttle is crisp and perfectly responsive, the clutch is well-sprung and all that torque means you really don't have to work hard to start having fun with the Scrambler. And now you can take pictures of it all without taking your hands off the handlebar, to show off.
What you really should do, though, is head into a trail with it. Off the road is where the Scrambler 1200 shines because it's, very simply, designed keeping the toughest, most gruelling environments in mind. Firstly, it's got nearly as much ground clearance (200mm, reportedly) as a Tiger and has the same wheelbase, too; in fact, the XE's longer swingarm (579mm, up from 547mm) has extended its wheelbase, too. It's also designed for more stability than the Tiger, as can be seen in the substantially increased rake and trail configuration, and even the suspension components (despite the rear on the Scrambler being a twin-shock setup) are better in every sense. The need of a twin-shock setup, Wood explained, was necessitated by this bike's Modern Classic classification although rather than approach it as a handicap, Triumph went the extra mile and made it more sophisticated than some monoshocks it offers on other bikes. It also gets top-notch brakes, with two 4-piston calipers up front and the XE variant, which gets an IMU, features cornering ABS as well. As you can imagine, the Scrambler 1200 is out to make a mockery of adventure motorcycles as we know them, and this became immediately more evident to me on Day 1 of the ride, which involved roughly six hours of purely off-road riding. We rode on a partly cloudy day although rain the night before had created some tricky puddles and damp surfaces, and the controllability on offer translates to an engaging but equally forgiving motorcycle.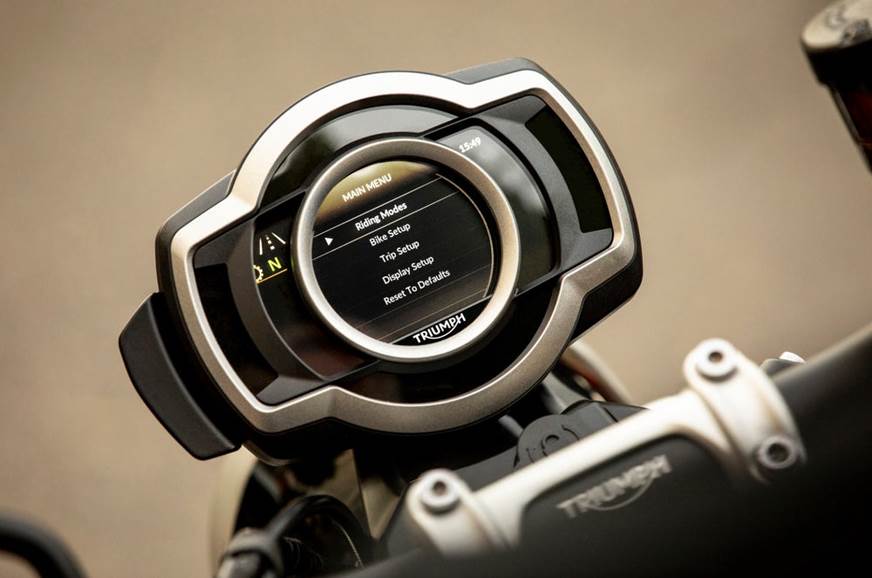 More than the strength of its numbers, it's the approachability of the format that makes the Scrambler 1200 feel tremendously encouraging. Sure, I had a few hairy moments given just how much it allows you to indulge, but ultimately it's designed to be a Land Cruiser in a world of Range Rover Sports, and it shows. The weight has no negative impact on the move and the tall riding stance, too, isn't as much of a challenge as long as you don't create an abrupt loss of momentum. The suspension tackles the worst imaginable abuse with ease and you never, once, feel the need to back off. On the XE, which features an Off-road Pro mode (disengageable on the move, by holding the mode button), you can feel the Scrambler 1200 in its most raw state, given that it disconnects all rider assists and deploys a special throttle map as well. The XE's fatter fork (47mm, the XC gets a 45mm fork) with even longer travel definitely further enhances its off-road seriousness but, unless you're a complete lunatic, you'll be content with what the XC offers. Triumph's good-as-ever engineering contributes immensely, too, because everything feels robust with no creaks or rattles emerging even after a hard day's ride. Having ridden it elaborately over a flat track course, an enduro and motocross track and just a great off-road trail, I can tell you that the Scrambler 1200 is simply tireless in its ability to thrill. It also feels rock-solid all the way and I suppose it will make for the perfect getaway motorcycle on the day that rumoured meteor finally strikes. Also adding to the sensations is the high-set seat, which makes you feel like the Pope, except you can pull wheelies and kick up mud in your followers' faces, something that is not acceptable papal behaviour. What really seals the package are the beautifully configured brakes, which offer a great balance of bite and progression, and their performance adds to the confidence with which you can ride in every environment.
Triumph has, without a doubt, outdone itself in the sheer effort it devoted to creating the Scrambler and in hindsight, I must protest the brand's liberal use of the term 'first in class' through its presentation because, in reality, it's in a class of its own – there's just nothing quite like it out there. Excuse the superlative tone I've assumed but it's genuinely well-deserved because in a world where adventure-tourers are only growing in every imaginable way, Triumph has created a point-and-shoot alternative for those who want no compromises in the business of riding into the wild. While it obviously isn't as plush or cocooning as the full-dressers, it more than makes up by giving you supremely accessible and inherently friendly performance. This is a top-notch motorcycle – you can call it the Street Triple RS of the adventure bike world – with incredible attention to detail and a patient look at the Scrambler leaves no doubt in one's mind about exactly why it's priced the way it is.
Having said that, I couldn't resist the urge to press Triumph for a de-specced XR version. Many of you couldn't care less for GoPro compatibility or a TFT LCD screen, and there are several bits of trim that are rather meticulously detailed; knocking these items off will reflect in the price tag and given how thrilling the Scrambler 1200 is in its very essence, I'm sure a stripped-down version will find takers as well. I'd keep the tubeless tyre-equipped rims, though, because inconvenience is never worth the savings.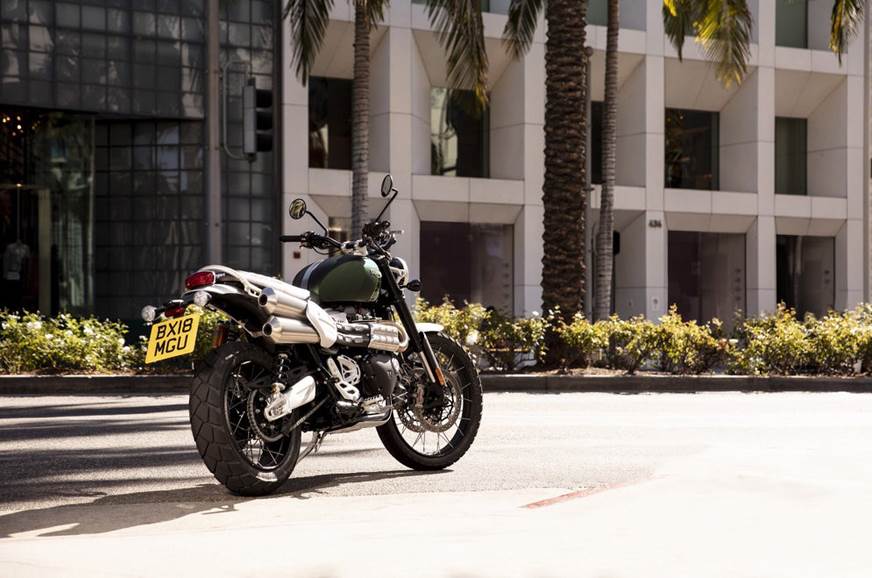 Can it replace the Tiger, though? Not if you're into carrying tonnes of luggage around or have a persistent pillion. The twin-stacked pipes limit the amount of luggage you can mount in comparison to the Tiger, and the thin (but well designed) seat may not be enough for very long stints, especially for a pillion. Having said that, if you're primarily a solo rider, the Scrambler will suffice, in the process giving you a lot to be awestruck about as well. The only grudge I will hold against Triumph, however, is that it hasn't named it the TR6 instead.