The new ZX-6R represents the first Japanese 600cc supersport you can legally get your hands on in India. Does it live up to the expectations?
How long have we dreamed of this one then? The ability to walk into a showroom and legally get your hands on a proper, faired and racy Japanese 600cc supersport? In the recent years, we've been treated to everything – from the world's best litre-class superbikes, to affordable street nakeds, to a huge variety of retro and adventure bikes of all sizes and prices. But aside from the now-defunct Triumph Daytona 675 and the much bigger and more expensive, Panigale 959, the supersport segment has been a frustrating vacuum so far. Well, no more, as today, you can walk into a Kawasaki showroom and get on your hands on a legal 600cc supersport.
The back story
Well, almost. And that's because if you're a stickler for a spec sheet, the Ninja ZX-6R isn't exactly a 600cc machine. To overcome these bikes' tendency for an explosive top end, sitting on top of a dud of a low and mid range, Kawasaki cheekily raised the capacity of their 600 to 636cc a few years ago, and that trend continues with the 2019 model. But much has changed too, as the bike received a big visual makeover and picked up a few features for 2019, in addition to meeting Euro-IV emissions norms.
In its new avatar, the 6R wears a striking and aggressive design, typical of a Kawasaki, and there are some cool touches like the big ram air intake between the headlamps and the layered fairing design. But I'm disappointed by just how similar it looks to the Ninja 400; a bit more individuality would have done it wonders. Still, quality levels are great and there's no hiding the feeling that you're sitting on a big and expensive machine. There's also no hiding that you're on an extremely sporty one too. The riding position is pure racetrack and while the foot pegs aren't as extremely high as on a 10R, the clip-ons are seriously low – to the point that the wrists are lower than the backside. Core strength is key here, and if you don't have enough, a few weeks of riding this bike will change that.
On the road
So nothing new then, you must be thinking. Here's another hot-shot superbike with silly ergonomics that are made infinitely more difficult to live with by our bumpy, staccato riding environment. But hold your horses, because the 6R has a trick up its sleeve, one which meant that after two long days of riding this bike, I wasn't as bitterly disappointed and frustrated as I normally get after riding one of these things on our roads. In fact, I'm already hankering for another hit and the reason I'm not writing this from a chiropractor's waiting room is that the 6R's suspension is surprisingly good. Scratch that, the 6R's suspension is incredibly good, considering the kind of bike this is.
Showa makes some superb suspension, and fully adjustable units by the Japanese brands are quite commonly found at both ends of sports bikes these days, the 6R included. What isn't expected is how forgiving the damping on this bike is on the stock settings. I quickly found myself casually riding through roughly patched tarmac, and sometimes even gravelly, 'under construction' roads without a care. Small potholes are dealt with reasonably well and you only need caution over the deeper ones, primarily to protect the rims, and of course, your lower back.
Fully adjustable suspension by Showa.
Under the brightly coloured skin (the flashy KRT racing scheme is the only option available for now) resides a fat aluminium perimeter frame that hooks up to the rear wheel via an appropriately muscular aluminium swingarm. To say we tested the bike's dynamics to the limit would be a lie – you would need a racetrack to even try, and the rundown state of the road to Lavasa city doesn't come anywhere close. It is, however, a good place to have some fun in the corners and the Ninja is a fantastic ally. Nudge the bars and the speed with which the bike drops into a corner instantly tells you that this machine is built to shred the racetrack. There's no steering damper here, but the only time I felt like I needed one was when accelerating aggressively over a bumpy stretch, and chassis composure is otherwise encouragingly high.
Nissin brakes are great, but rubber hoses may lead to brake fade at the track.
Without pushing the envelope too far, the softer setup works well because you don't have to carry crazy speeds to get the suspension to start working (Panigale V4, I'm looking at you). However, brake a little too hard, or push through a bumpy set of corners and it's clear that the stock setting is a little too under-damped for what you're trying to achieve. At the racetrack, I'm sure you'd need to tweak the adjustment screws to dial some more firmness, but spend some time to find a good setup, and the 6R will be a serious weapon. It's a similar story with the twin-disc Nissin four-pot brakes at the front. Street performance is terrific, but I suspect brake fade will set in after a few laps of hard riding due to the odd choice of going with rubber brake hoses.
The real party piece
As impressive as this bike's dynamics are, what will blow you right away is the engine. The Kawasaki's engine really is a special thing, so much so that not much has changed in the 2019 update. The motor actually lost a tiny amount of power in the conversion to Euro-IV norms, but it still makes a solid 130hp. Like with most supersports, that power lives high in the rev range and the 6R is quite a docile thing at low rpms. Things get interesting at 6,000rpm, seriously fast by 8,000rpm and then an all out, headbanging screamfest upwards of 10,000rpm. Peak power is a potent 130hp that arrives at a thrilling 13,500rpm. But wait, there's more! Keep it nailed in first and the bike will slam into the limiter at about 120kph, with the next five gears arriving in rapid succession. Top speed is said to be somewhere in the region of 260kph.
By nature of its extremely short gearing (the 2019 upgrade received a smaller front sprocket on the final drive, by one tooth, which made things shorter still), the 6R packs the most flexible motor I've seen. So much so, I found myself climbing over tall speed breakers in 6th gear at 20kph without any fuss from the engine. That kind of flexibility vastly improves the bike's street-ability.
Tech spec
For 2019, there's also a new quickshifter, which is impeccably smooth. In fact, it's so good that I immediately started to miss having an auto-blipper for quick and easy downshifts to match. The electronics are otherwise unchanged and the bike continues to offer three stages of traction control, ABS and two power modes. However, what's worth bearing in mind is the conspicuous sticker on the fuel tank that reminds you of this bike's desire for 95 octane.
The ZX-6R isn't the most cutting-edge thing out there, but I find the big analogue tachometer and cable-operated throttle endearing in a rapidly digitising world. That's not to say the bike is weak on kit either, as you get a set of impressive Bridgestone Battlax S22s, a pair of full-LED headlamps, adjustable levers and a proper slipper clutch.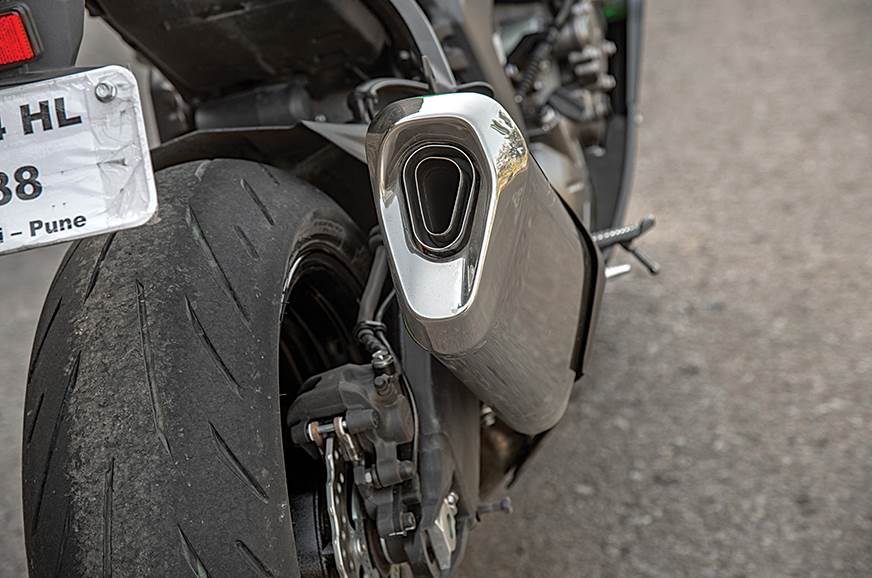 The sweetest of updates the ZX-6R received for 2019 was a sizeable drop in price, and India reaps the benefits of this too. At Rs 10.49 lakh (ex-showroom, India), the 6R is quite nicely priced, given what you get. It even slots below the excellent Triumph Street Triple RS. Then again, you could get the more powerful Ninja 1000 sport tourer for slightly less money. So whether this bike makes sense depends on the experience you're after.
But to sum up, this is a thrilling bike to ride, and while you may well be better off with something more practical for the street (the slightly more expensive Street Triple RS comes to mind) this is certainly one of the nicest fully faired 'superbikes' to ride, and yes, even enjoy on our roads.
2022 Kawasaki Ninja 400 video review
7112 Views|7 months ago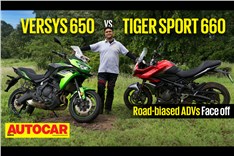 Kawasaki Versys 650 vs Triumph Tiger Sport 660 comparison...
7740 Views|8 months ago