We ride the new Interceptor 650 in India and tell you if it works in our demanding conditions.
It's one thing to ride a motorcycle in some exotic overseas location and quite another to do so in India. Ever since I rode the 650s in California, I couldn't get them out of my head and I was itching to ride them more, especially in familiar home conditions. Well, that itch has now been sufficiently scratched because I have now ridden it in and around Goa for the launch event scheduled for later today. So, given Royal Enfield's declaration that the 650s sold in India and overseas will share an identical spec, does the Interceptor impress just as much here as it did in California? In a word, yes!
One spec means that the Indian 650s use the same chassis, suspension, brakes, tyres and engine tune as the motorcycles we first experienced in America. But Indian conditions are the ultimate litmus test of a motorcycle's chassis set-up, abilities and durability. The first test, though, is the design itself. In a country that clearly loves retro-looking motorcycles (over 70,000 monthly Royal Enfield sales will attest to this) I was keen to see how the Interceptor would be received. The orange colour certainly helped attract attention and most bystanders didn't have a hard time accepting that this was a Royal Enfield - the chunky badges on the fuel tank no doubt help.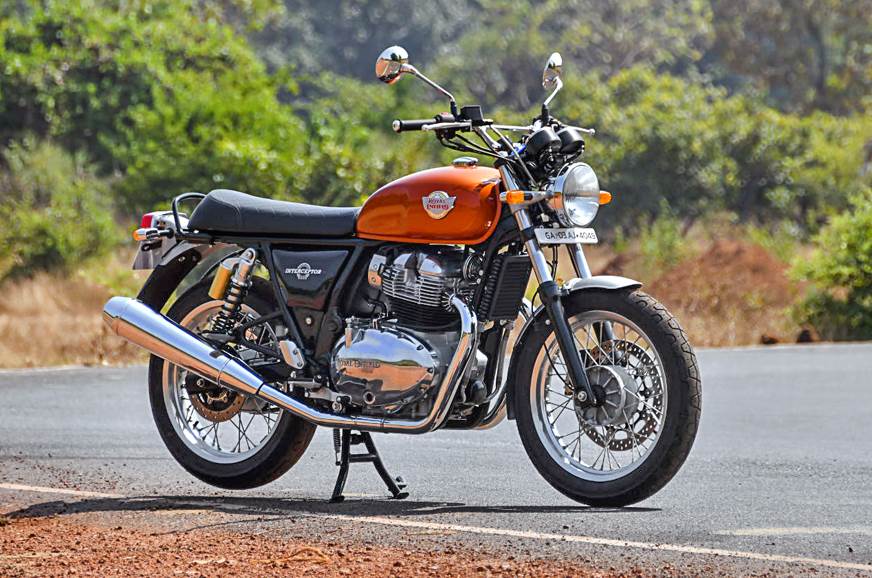 People who walked up almost unanimously appreciated that the quality levels are higher than on any other Royal Enfield, but also pointed out that a few welds here and there could be better, and so could the chrome finish on items like the headlamp and indicators. This is especially the case since the exhaust pipes and engine are actually finished really nicely. As for me, I really like the clean and proportionate design. Lose a few easily removable items like the saree guard, plastic fender extensions and the rear grab rail and I think this is a very handsome motorcycle.
But there's no hiding from the fact that it is also an extremely simple and old school one. The dispersion-style headlamp lens, basic tail lamp and simple, round clocks are unapologetic in their retro approach and I have no problem with this. What I did long for on my ride was a second digital display on the right side instrument pod that could have given me useful information like a gear position indicator and a clock. All told, the Interceptor wears a clean design and quality levels are thoroughly reasonable, especially for the expected price. I was also happy that my bike had no squeaks or rattles to show, despite some nasty broken stretches along the way. That makes a very important first impression.
The most lasting impression, though, and easily my favourite aspect of this motorcycle, is the powertrain. The 648cc parallel twin reignites all those memories - what a lovely engine this is! The motor rumbles to life with a quick press of the starter and quickly settles into an off-beat rumble. On the go, the dual pipes sing a deep and raspy note that I've grown very fond of over the last two days. I wouldn't change it, but an aftermarket exhaust will also certainly make it sound even better. Refinement levels are just as impressive as on the first ride and a 100kph cruise is an absolutely calm affair. If your neck is up to taking on the wind blast, 120-125kph is all-day-doable as well.
A relaxed motor like this is all about the torque, and you can stick the bike in 6th gear at any speed above 50kph and trundle along without a care. Gentle riding is a treat on this bike, but that doesn't mean it's slow by any means.
We recorded a Vbox time of 6.23s in the 0-100kph run, which is about 0.6s slower than a KTM 390 Duke. That's not bad at all, considering that the Interceptor carries roughly 50 kilos more. For you top speed junkies, hitting 170kph on the clocks should be possible given the space.
I'm sure there's an equal number who are concerned about how efficient the bike is. I managed 30.2kpl while cruising between 85 and 100kph on the highway and the worst the bike gave me was 22.4kpl with some aggressive throttle work in city, on the highway and through some broken roads. With that in mind, I'd say you're looking at a realistic overall fuel efficiency of around 24-25kpl.
Making life easy with this bike is a very smooth response when you open the throttle and a reasonably weighted clutch lever. A slip and assist clutch helps smooth out downshifts and the 6-speed gearbox is a proper treat with smooth, precise and clicky shifts. These attributes work together to make the Interceptor quite easy to live with in the city. I haven't been stuck in a typical big-city jam yet, but at urban speeds, the engine does give off a fair amount of heat. However, this is to be expected with a large motor and it doesn't get unbearable. The little black metal guards on the engine fins are very useful because I find that my knees invariably come in contact with the engine when I put my feet down at a traffic light and these guards prevent untoward burns.
One thing you will notice is that the Interceptor feels like quite a substantial machine when you first sit on it. It weighs just over 210kg with a full tank of fuel and you feel that weight when you lift it off the stand. But the sense of weight soon disappears once on the move, where the wide handlebar and the commanding riding position make the bike easy to work with.
The ergonomics are quite nicely sorted, but there a few small issues. For starters, the seat feels too soft and a sore backside sets in after about an hour on the road. I also noticed that my right foot comes in contact with the clutch linkage on the right side engine case, especially when pressing the rear brake. I'm always in full length boots on the bike, so this doesn't bother me, but I imagine it could get quite uncomfortable for the sneaker/slipper wearing brigade.
On the open road, you'll notice that the ride quality feels a little firm. This didn't come as a surprise to me after the international press ride, but I'm happy that the bike never crashes or thuds through potholes. However, something I did find different on our roads is that the rear shocks feel quite soft and can sometimes bottom out when they encounter two or more big successive bumps. The stock preload on the rear shock is set at the lowest level, probably to increase the feeling of a 'soft suspension'. I bumped this up by three clicks and the tendency to bottom out went away, but at the expense of a firmer feeling ride, which is something I'm willing to live with. Even so, when you start to push the bike through a bumpy winding road, the rear shocks still feel more springy than I'd like. But this is something that only shows up when you're really pushing it, carrying over 100kph through sweeping corners and I doubt most owners would push their bikes this hard. I could see myself investing in a set of aftermarket rear shock absorbers in the long run; it should dramatically improve both comfort and dynamics and given the incredibly low asking price of the bike, it shouldn't break the bank completely either. That, and some kind of aftermarket solution to run tubeless tyres are the only major mods I'd find the need to make.
TThe Interceptor is good fun to ride in the corners, too, with plenty of lean angle clearance and good grip from the Pirellis. You can carry a brisk pace, but if you start pushing it like a sportbike it does start to weave and bounce about at the rear, especially on our bumpy roads. But then again, precious few customers are going to do that with their bikes.
Happily, the Interceptor isn't fazed by broken roads, and it chews through the usual ruts and potholes without getting harsh or crashy. Ground clearance is plenty enough and the bike feels rugged, and it stayed rattle free despite a day of properly hard riding. This holds true for the engine and gearbox too; it feels properly tough.
Braking performance is pleasantly strong as well and the bike rolls to a stop from 60kph in a short 16.23m. However, I must add that feel at the lever isn't super sharp so as to make it friendlier to new riders, but if you put enough pressure on the lever, the bike stops well and with reasonably smooth ABS intervention.
I have really enjoyed my time with the Interceptor and I'm yearning to get to know it better still. This opinion is completely independent of the price - that only serves as the icing on top. Royal Enfield has pulled an absolute shocker with the pricing, with the Interceptor 650 starting at 2.50 lakh and the Continental GT 650 at 2.65 lakh. We knew the prices were going to be incredibly competitive, but this is on a whole different level. Absolutely incredible. Of course, the bikes still have a huge amount to prove in terms of reliability over the next six months, but for now, I can tell you that this is a genuinely lovely motorcycle and if all goes well, RE won't be able to make enough of them!
Also see:
2018 Royal Enfield Interceptor 650 image gallery