Kawasaki's new middleweight naked is versatile enough for daily commutes, midnight sprints and highway runs.
The gearbox too, is wonderfully crisp, though the short gearing necessitates you to be fairly precise and timely with your on-off throttle transitions. The slipper clutch works fairly well, and the assist function does help lighten the clutch lever.
The strong mid-range is particularly handy at corner exits. Talking about corners, the Z650 does a great job of going around them. The steering is well-weighted, which ensures the bike is stable as you shift weight while entering and exiting a corner. It will obstinately hold your chosen line around the corner, so much so that you might have to wrestle it a bit to correct your line mid-corner. However, what holds the Z650 back around bends is the Dunlop Sportmax D214 tyres; grip levels are not the best here. It would be interesting to see how better rubber would change the Z650's handling.
The suspension is set up on the softer side; the ride is pliant but not plush. As such, it will handle bumps, lumps and crests fairly well, with 'fairly' being the operative word here. However, the softness, especially at the rear leads to some mid-corner bumpiness that was unnerving on more than one occasion. There was plenty of lolloping on undulating surfaces as well. Suspension damping felt quite taut, occasionally delivering a sharp jar to my back as I rode over a speed bump a smidge too fast.
The brakes do a fantastic job of shedding speed and/or stopping the bike, unlike those on the ER6n or the previous-generation Ninja 650. Initial bite isn't much, but past that, stopping power is aplenty. A full four-finger pull will bring you to a quick halt, with ABS working hard to keep both wheels on the ground, while two-finger jabs will effectively slow you down. And the brake lever is adjustable – a thoughtful touch.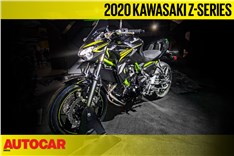 2020 Kawasaki ZH2, Z900, Z650, Z400 walkaround video
7277 Views|3 years ago
2017 Kawasaki Z650 video review
9860 Views|5 years ago