In what came as a rare flash of happy news in these times, TVS Motor Company announced that it has bought Norton Motorcycles, the legendary British bike manufacturer. The historic deal aims to revive the fortunes of the beleaguered company after it went into administration a few months ago. But why has an Indian manufacturer pumped in millions of pounds to resuscitate a hundred-plus year-old British brand? What makes Norton Motorcycles such a valued proposition? And what's in it for TVS? Buckle up, you're in for a bit of a long read!.
It's in the name
If you know your motorcycles well and if your senses have always been aroused by classic motorcycles, you'd know that Norton Motorcycles is steeped in a history so rich, it's probably the envy of many manufacturers. For the uninitiated, however, here's a quick lesson.
Norton was formed back in 1898 by James Lansdowne Norton. Located in Birmingham, the company initially supplied bicycle parts before graduating to producing fully assembled bicycles. The year 1902, however, was the turning point in the history of the company as it began building motorcycles. The first product was called the Energette, powered by a 143cc, single-cylinder Clement engine, made in Belgium. In fact, Norton built a number of motorcycles with engines that were sourced from abroad. Swiss-based Moto Reve supplied V-twin motors, while the French company Peugeot (yes that Peugeot) also made engines for Norton to use.
Norton 1907
In 1907, Norton began a new chapter by developing its own engine - the iconic Big Four. The 633cc, side-valve, single-cylinder engine. was introduced in production models from 1908, and was so successful that it remained in production until 1954. Another 490cc, side-valve, single-cylinder engine was also introduced alongside the Big Four and it produced 3.5hp, a decent power output in those days.
Norton's motorcycles quickly gathered a reputation for being hardy motorcycles that served their purpose really well. So much so that Norton Motorcycle supplied its motorcycles to the British Army during the First and Second World Wars. In the period between 1937-1945, a quarter of the motorcycles, over 1 lakh to be precise, used by the British military were Nortons. These were the Norton WD 16H Solo and the Norton WD Big 4 that had a sidecar with driven wheels.
Norton not only made motorcycles for its home market but also exported them. The Norton 16 H (we actually got to ride one of these) was the home model, hence the letter 'H', the export model was designated the letter 'C' or Colonial. The Norton 16 C featured a revised frame, increased ground clearance, larger fuel tank and a sturdy rear carrier. The rest of the motorcycle was identical to the H.
Throughout the years and even in post-war times, Nortons were widely regarded for their dependability as well as the performance of their long-stroke single-cylinder engines. Their designs stood out, and though they looked simple, there was a degree of elegance. Take the way the company's name is painted on the fuel tank, for instance. While the original Norton logo was simple with the name spelled in capital, the year 1914 saw the appearance of a new logo that was created by James Norton and his daughter Ethel. It was dubbed the 'Curly N' logo with only the initial letter N in capital. It is, by far, one of the elegant motorcycle logos that we've seen. But that wasn't the only major change that took place at Norton during that period.
Financial doldrums
In 1913, James Norton was faced with a severe financial crunch as his business declined. R.T Shelly and Company threw them a lifeline and Norton Motors Limited was formed shortly thereafter. The company was run jointly by James Norton and Bob Shelly who together led the resurgence of the brand. This little chapter, however, was just one of the many instances which saw the company witness a change in ownership and face economic hardships. We'll get to that later, but it's commendable to see that despite many ups and downs, Norton continued to churn out some iconic motorcycles, carrying forward the legacy of James Norton who passed away in 1925, aged 56.
The ones that stood out
While the Norton 16 H and Norton 16 C, that we spoke of before, were hailed for their utility, there were a number of other Norton's that etched their names in the history books. Some of these include the 500cc Norton Model 18, the first Norton to feature an engine with overhead valves (OHV). Then there was the Norton CS1, where 'CS' stood for camshaft and was the first model to use an overhead cam. Built between 1927 and 1939, the CS1 was originally designed as an Isle of Man TT racer and was later sold as a TT replica road bike. In fact, the CS1, ridden by Alex Bennet, won the first ever TT race that it participated in, at the 1927 edition of the event. In 1930, Arthur Carroll developed a new overhead cam engine that formed the base for all future OHC and DOHC Norton single-cylinder engines.
In 1949, Norton introduced the Model 7, also called the Norton Dominator. It was powered by a 500cc, pushrod twin engine and featured attractive styling that ushered in a new era of Norton motorcycles. Some of its features included a telescopic fork and plunger rear suspension. But the biggest breakthrough for Norton came in the form of the Featherbed frame that was developed in 1950 by the McCandless brothers. The frame went on to set a benchmark for others, owing to its lightweight, all-welded tubular design. It transformed the way Nortons handled and formed the backbone of many famous production Nortons, including the mighty Manx.
Norton Manx
The Manx Norton, or Norton Manx - its been known both ways - was a legendary motorcycle and besides wowing the general public, set race tracks on fire. With the Featherbed frame, it went on to record a double hat trick of podium finishes at the 1950 IOM TT. Famous racers of the time, including names such as John Surtees and Geoff Duke piloted the Manx Norton at the Races and to date, it remains one of most celebrated motorcycles of all times. In fact, Norton Motorcycles tasted success, right from the first time it participated in the IOM TT, way back in 1907. In the 1930s, it won back to back championships, and even after a long hiatus, the company won the 1992 TT, the first victory for a British bike in 30 years.
Stellar racing records aside, Norton continued to churn renowned motorcycles like the Atlas, Dominator and Commando. The Commando, for instance, was quite popular, with 5 lakh units being sold over a decade.
The Norton Commando of the 60s, was the most powerful and the best handling British motorcycle of its times. It featured an isolastic frame that used rubber bushings to isolate the engine and swing arm from the frame and consequently the rider. This helped quell unwelcome vibrations, an issue that plagued the 750 Norton Atlas. But as good as the Nortons were, they weren't devoid of mechanical troubles and faced multiple rust and reliability issues.
This wasn't good news, especially in light of competition from Japanese companies that made reliable motorcycles in those days and even continue to do so today. While mechanical issues can be fixed, and were fixed in the case of the Nortons too, repeated financial woes dealt severe blows to the company's ability to compete with other manufacturers.
Change of guard
The Norton Motorcycle company suffered financial issues at different junctures of its long history, with there being times when the UK government stepped in to save the home brand. In 1953, Norton was sold to Associated Motorcycles (AMC) that owned other renowned British brands such as AJS and Matchless. AMC became insolvent in 1966 and was reformed as Norton-Villiers. A few years later, British brand BSA ran into major debt and the UK government rescued it, while forming a new company - Norton-Villiers-Triumph. We're now digressing into BSA and Triumph history, which is another story altogether; but long story short, this venture failed as well and what was ultimately born of it was the modern-day Triumph Motorcycles.
Over the next few years, the still very valuable Norton name was tossed around between multiple owners, spread out across Europe and even North America. One of the coolest milestones of the 80s was Norton's experimenting with the Wankel engine design. Over the decade, the company did plenty of racing with the Wankel, and even had a few production bikes like the Classic, Interpol 2 and the Commander that were made in limited numbers. These were among the few rotary engined motorcycles in history and it goes without saying, some of the greatest sounding!
In 1993, Canada-based Wildrose Ventures owned Norton, but only for a year after which it, once again, faced other financial issues. This caused ownership to be transferred to Canadian Aquilini Investments, the firm that financed Wildrose's acquisition of Norton. This was followed by many years of American ownership with precious little activity. Finally, in 2008 came along Suart Garner, a UK based businessman who purchased Norton and brought it back to where it belonged. He set up a new 15,000 sq.ft factory in Donnington Park and it finally looked as if Norton Motorcycles would be restored to its glory days.
Garner(ing) controversy
The revived Norton Motorcycle, under Stuart Garner, began operations by building a limited edition version of the Norton Commando 961 that was built in tiny numbers by Oregon (US) based Kenny Dreer. Kenny modernised the Norton Commando in the early 2000s and produced the 961 till 2006. The bike that Garner and his team built was based on Dreer's machine. It was powered by a 961cc, air and oil-cooled engine that developed 80hp and boasted a top speed of 210kph.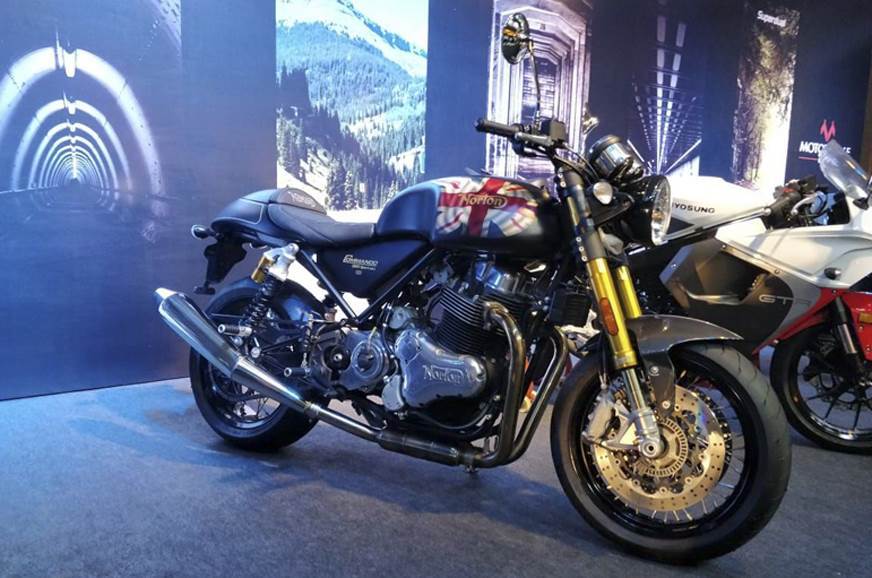 Norton Commando 961
Soon, orders for Nortons flowed in, and what also helped with its finances was the UK government's financial aid in 2011, underwriting a £7.5 million bank loan that was given to Norton Motorcycles. But, in the years that followed, Norton appeared to bite off more than it could chew, including taking on the mammoth task of developing its own 200hp V4 superbike and re-entering the world of road racing. This was followed by the company running out of funding, bikes not being delivered to customers who had already paid in full, and allegations of financial mismanagement and fraud against Garner.
With pressure mounting at all fronts and an outstanding tax bill amounting to £3,00,000 Norton Motorcycles went into administration in January this year, putting about 100 jobs in jeopardy. After a few weeks of uncertainty, the company was opened up to bidding and our own TVS won that with a GBP 16 million pound (around Rs 153 cr) offering that threw the iconic British company its latest, and arguably strongest, lifeline to date.
What can we expect from TVS-owned Norton
The underlying facts that we know so far is that TVS has bought out all the company owned assets and IP. The good news for Norton is that its operations will continue in the UK with all current employees to continue on its payroll. TVS says that Norton will continue to retain its identity with its own specific business plans. The focus for now is getting pending bikes delivered and the company hasn't commented on much else just yet. However there are a few interesting things to consider.
What's in it for TVS?
Owning a classic brand is all the rage in the modern motorcycle business world and the scope of what's possible with a brand like Norton is limitless - Triumph and Royal Enfield are living examples of this. The good news is that TVS appears to be fully intent on giving Norton its independence. The TVS release states that it wants to build the success and pre-eminence of the brand and grow globally together in the years to come. It also says that Norton can leverage TVS' reach and supply chain to expand to new markets, and all this sounds very positive.
What remains a question right now is what will become of the Norton deal with MotoRoyale. The Kinetic-owned business had partnered with Norton to retail, and even manufacture Nortons in India and MotoRoyale was in the process of scaling up its plant when Norton UK went into administration. Among the bikes that were to be built in India were the new 650 twin-cylinder models that were due to significantly change the British company's fortunes. While the TVS release states that it "is excited about existing and upcoming products, including the Command, Dominator and V4 RR", there is no mention of the 650s - models that would have the most relevance for India.
Kinetic Motoroyale's MD, Ajinkya Firodia is hopeful that it can continue its bond with Norton. The company has invested in the development and manufacture of components for the new 650cc model, called the Norton Atlas 650. In fact, Kinetic Engineering has also developed the frame for the Atlas 650. Firodia hopes to supply these components, in case TVS goes ahead with production of the 650.
Another point to note is that Garner very recently sold off the rights and tooling to the 961 engine platform to a Chinese firm Jinlang just before the company went into administration. What implications this will have on TVS-owned Norton are unclear right now, but the 961 engine is a huge part of Norton's line-up. Finally, what happens to all the people who are owed money by Garner-owned Norton is another question that's hanging in the air.
All these answers will certainly be provided in due course, but for now it's simply a matter of pride that an Indian company has bought a legend like Norton, even in such uncertain times.
Under TVS, Norton has its best chance of making a thorough and lasting comeback, and enthusiasts from the world over have everything to gain from it.