Husqvarna Vitpilen, Svartpilen 401 get automatic clutch option
Published On Mar 18, 2019 03:41:00 PM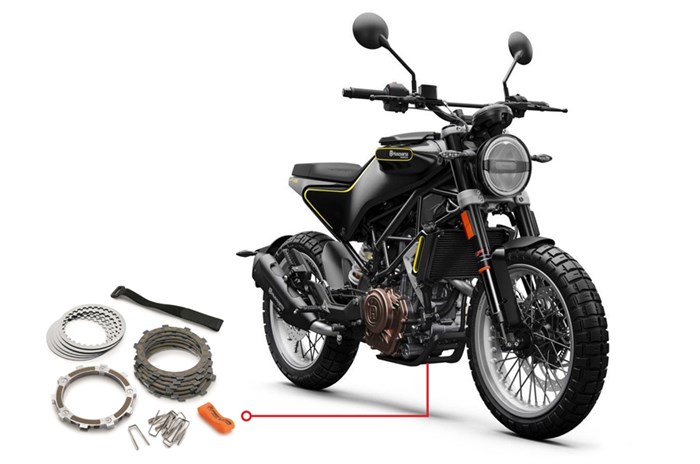 The automatic clutch kit is made by American Flat Track's official clutch partner, Rekluse.
Husqvarna Motorcycles has just announced that it will offer the Vitpilen 401 and Svartpilen 401 with an automatic clutch option. This clutch kit, if it makes its way to India along with the bikes later this year, would give the two hipster-styled motorcycles a unique feature never seen before in this segment.
Not to be confused with a quickshifter or a DCT (dual clutch transmission), the automatic clutch kit is a replacement clutch that makes it impossible to stall a motorcycle. The system that is making its way to the Huskies is Rekluse's Radius X centrifugal force clutch kit.
This clutch kit, in the company's own words, "automatically engages and disengages the clutch—you simply shift into gear, twist the throttle, and go. It is also not a slipper clutch. Unlike a slipper clutch, which disengages when the throttle is chopped, a properly set up auto-clutch maintains engine braking."
The company claims a long list of benefits, some of which include taking off and stopping in gear without using the clutch lever, no need to use the clutch lever in stop-and-go traffic, and fatigue-free riding over long distances. This type of clutch is quite widely used on off-road bikes and even on flat trackers, where it helps by eliminating the stalling of the engine in situations such as hard braking, starting and stopping. In this application, it also allows the rider to focus on other more important aspects like, for instance, sticking to the perfect line. In addition to all of the benefits, the system does allow a rider to still use the clutch manually via the clutch lever like on a conventional motorcycle.
We found the Rekluse Radius X centrifugal force clutch kit on sale on a few international online marketplaces at USD 599 (Rs 41,000). Expect the option to cost as much or even higher (owing to import duties) if it is made available in India. As for the 401 Husqvarnas themselves, we expect them to be priced slightly higher than the KTM 390 Duke (Rs 2.44 lakh) which is the motorcycle they are based on.
What do you think about this News