Husqvarna has showcased its upcoming electric two-wheelers in concept form for the first time.
Both EVs to be made-in-India

The E-Pilen has a claimed range of 100km

Expected to launch next year
Husqvarna's stand at the IAA Mobility show in Munich, Germany had both the company's upcoming e-scooter (Vektorr) and e-motorcycle (E-Pilen) on display. While the two-wheelers are still in concept form, this is the first time that people have been allowed to view them. These clear images reveal that they both look quite futuristic, just like they did in the pictures released by Husqvarna.
What's also quite interesting is that both two-wheelers look almost production-ready. They are missing rear-view mirrors and longer fenders that support registration plates, but aside from that they look quite close to being ready.
Husqvarna is expected to launch the production variant of the Vektorr and E-Pilen in 2022. The EVs will be manufactured at Bajaj's factory, as part of the Bajaj-Pierer Mobility plan. Bajaj, for the uninitiated, holds a stake in Pierer Mobility, which is a part of the KTM group, and they recently announced plans to become a world leader in the 4 to 11 kW electric two-wheeler space.
Husqvarna says the Vektorr concept is powered by a 4kW motor that can propel the scooter to 45kph, while the battery range is 95km. According to the original Pierer Mobility report, the E-Pilen would be available in a choice of two electric motor options - 4kW (5.4hp) and 10kW (13.5hp). However, the E-Pilen concept comes with an 8kW (10.8hp) motor, although it's quite likely that there will be other versions available as well. The E-Pilen has a claimed range of 100km.
Also see:
Husqvarna Vektorr concept electric scooter unveiled
Husqvarna E-Pilen electric bike concept revealed, could be made in India
Honda, KTM, Piaggio, Yamaha working on unified standards for electric bikes
Husqvarna Bikes
Husqvarna Svartpilen 250
₹ 2.17 lakh
Husqvarna Vitpilen 250
₹ 2.17 lakh
Husqvarna Svartpilen 200 image gallery
5523 Views|3 years ago
Husqvarna Svartpilen 250 image gallery
7275 Views|3 years ago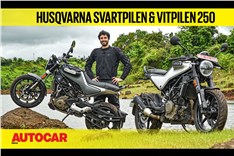 Husqvarna Svartpilen 250, Vitpilen 250 video review
18091 Views|2 years ago
Husqvarna Svartpilen 250, Vitpilen 250 first look video
23785 Views|3 years ago