You only live once... so why shouldn't you just ride everywhere, right? We pick the best entry-level adventure tourer money can buy you right now.
Motorcycle travel has come a long way. From when it was solely the propriety of the brave to being a romanticised, welcoming forum for just about anyone with a running motor between two wheels – motorcycle travel has gone from being an exception to topping every biker's must-do list. Enough to warrant the creation of a new segment of motorcycles, that is. The adventure-tourer motorcycle wouldn't have seen the light of the day had the lure of the open road, and often the unexplored wilderness that envelopes it, not worked its magic. Today, just about everyone wants an adventure-tourer, but for the longest time, the segment was restricted to very expensive motorcycles. Now though, we have three such bikes available for less than Rs 5 lakh in India and these are the very three motorcycles we're trying to look cool on in this picture.
GS' seat is comfy, but pillions aren't as lucky.
Between the Royal Enfield, Kawasaki and BMW we've brought together lay promising fables of exploration, discovery and adventure. And every turn of the odometer will create with it a new memory that will far outlast the monthly installments you'll have to shell out to own them. It is to find out which of these motorcycles is the one most deserving of your hard-earned money that we set out on a fine winter morning in search of a beach, preferably one we could get to after spending long hours on a ribbon of fast, flowing tarmac. The elaborate course of the journey enabled us to examine and experience these machines to the last detail, and we learned a lot about each other as well. In the process of finding a winner, I discovered Firoze's absurd disorder of parking his lovely Maruti 800 in the most random of places, Rishaad's expertise with a handbrake in a car that is not his and, to top it all, our ability to demolish a meal large enough for a small wedding party in less than 30 minutes. I hope you enjoy this story as much as we did in the process of creating it
ON THE ROAD
We only began to resemble a three-bike convoy about 60km into the ride, coming from different parts of Mumbai as we do. Riding through a dark, cold morning, we kept the pace slow and about 20km into the ride, pulled over for the customary tea break that so completes the stereotype of any motorcycle journey. With trucks seemingly flying past, their tyres wailing like Schumacher-era F1 cars, the three bikes looked like they belonged to the highway setting. Firoze, who'd brought the Himalayan along, was at ease, with the 411cc motor warming up nicely to the relatively slower wee-hour highway pace. The BS-IV norms saw the Himalayan getting smoother, especially closer to the top-end, and its fifth gear functions like a sort of overdrive, with the bike calming itself down at the 90kph mark. The strong mid-range makes overtaking easy, if not thrilling, there's a mechanical undertone to the motor and an exhaust note that makes for interesting company down the highway. Vibrations are present but they only get unpleasant at the absolute top-end. While 24.8hp is still not enough for many, the 32Nm of torque it generates keeps you contended in the saddle so long as you keep away from racing the clock – something you shouldn't be doing anyway.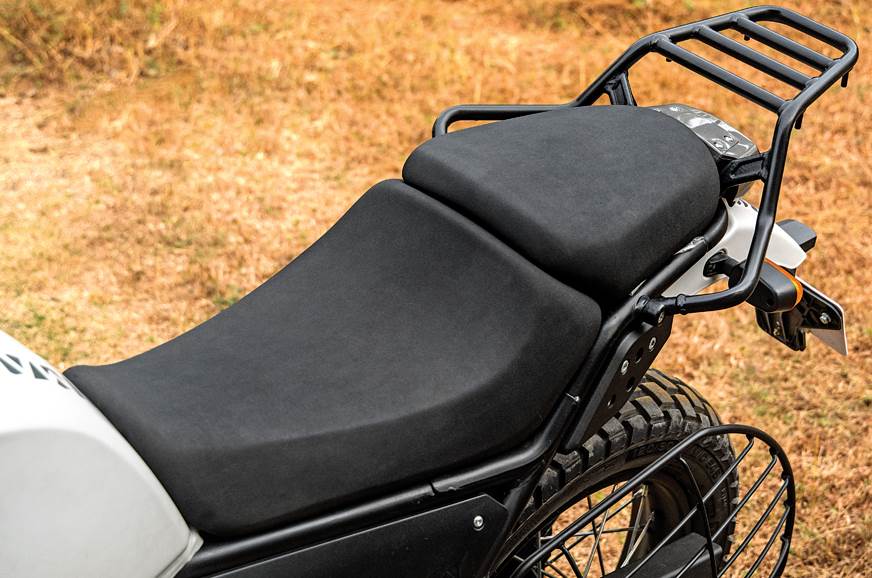 Himalayan is most balanced for two-up riding.
The G 310 GS didn't seem to mind the quick-ish early morning progress either, but astride it, I was less than overwhelmed. As I recollected over a relaxed evening later that day, I've ridden everything from the very first G/S, the 1980 R80, to the experimental F650 'Funduro' and the recent pack of GS' behemoths, and the G 310 makes no attempt to draw parallels. It's quick on its feet, but riding blindfolded (not that I'm keen to try), I'd never have been able to guess the badge this motorcycle flaunts so proudly. It certainly feels more capable of highway speeds than the Himalayan and its responses are crisper, too, but the 'GS' decals demand a certain degree of Teutonic refinement, which simply isn't on offer here. The 6-speed gearbox does keep things brisk, but, ultimately, the motor just doesn't offer the feelings you'd expect with those badges on the fuel tank. This is disappointing when you consider the G 310 is BMW's first made-for-smaller-budgets motorcycle. But on balance, it's an acceptably energetic motorcycle that has the pace to munch miles, thanks to the 34hp and 28Nm of torque on offer.
Versys' firm seat ruins neutral ergonomics.
Rishaad was quick to chip in with his take on the Versys' refinement, and he certainly could make faster progress due to the 'standard accessory' fog lights, but we've long known that the Versys, or rather the 'X300' part of its name, isn't quite designed for India. The only twin-cylinder motorcycle in this test is also the least touring-friendly one of the bunch and that's only too obvious since that motor was designed to serve the Ninja 300. In other words, here's a motor that's got firepower but all of it comes into action only past 7,000rpm, which is roughly 7,000rpm too late for riding conditions such as ours! The gearbox sweetens the deal to an extent but the motor, while likeably refined, lacks character and sorely misses bottom-end and mid-range grunt. Being the most powerful in this group, with 39.8hp at hand, the Versys is capable of higher speeds but getting there is rather unexciting – and you certainly won't buy a motorcycle of this type to go drag racing with!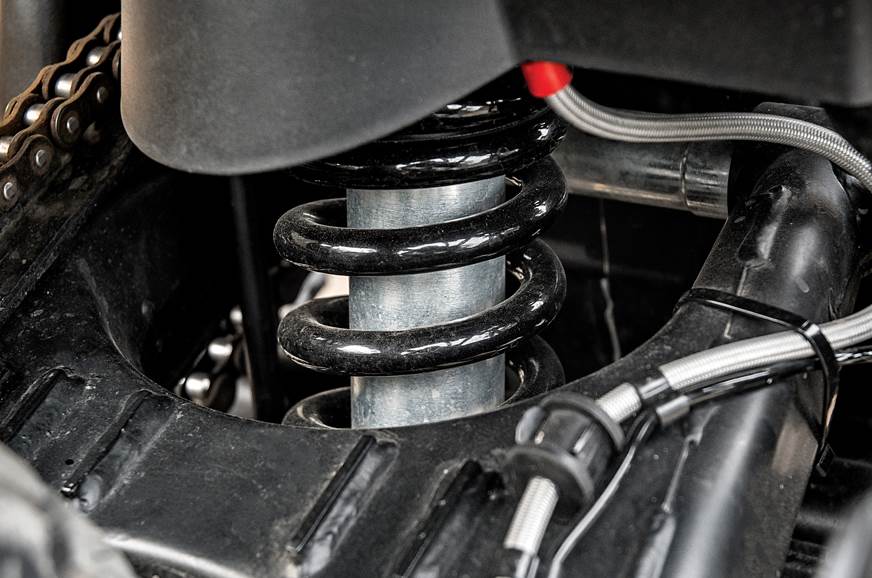 RE's monoshock is pliant, immune to abuse.
However, it takes more than just a good engine to make a great adventure tourer. Ergonomics, suspension and handling are strong deciding factors, too, and none of these motorcycles are perfect. The Himalayan is comfortable and is best suited to a pillion after the Versys, who's large and flat seat is quite welcoming. The suspension is pliant as well, but its 191kg kerb weight makes itself felt in the department of quick lane changes and cornering agility. It is, therefore, a fairly planted motorcycle at less than dramatic (read three-digit) speeds but it's not the best motorcycle to find yourself on when in need of a desperate change of direction. At 1,465mm, the Himalayan has the longest wheelbase here and while it feels stable in most amicable scenarios, high three-digit speeds are out of its comfort zone, with a bit of a weave setting in. On the whole, the Himalayan is quite comfortable for long hours in the saddle.
Soft BMW monoshock bottoms out easily.
The GS has a nicer rider's seat but pillion comfort is a bit compromised by the large (and impeccably designed) luggage rack that can dig into one's thighs. None of us liked the flat, low handlebar either – it just reduces comfort and off-road leverage – but the width comes in handy when things go extremely sideways in the dirt. Being the lightest, at 169.5kg, the GS certainly feels very nimble; its 1,420mm wheelbase, the shortest of the lot, can also be credited for this. Its ultra-soft suspension, however, eats into what could have been a serious corner-carver. To begin with, quite a bit of the travel at either end is lost the moment you sit on the bike. Then, just when you're tricked into believing it can absorb SUV-sized bumps, it bottoms out, especially with a pillion. The soft suspension does add to a sense of premium-ness and it works delightfully in the city, but it could have been better engineered, especially considering the components in use aren't cheap (the GS has the only USD fork of the three).
Kawasaki's monoshock offers comfy ride.
On the Versys, you feel most balanced. The riding position is neutral but this is marred by the unreasonably firm seat, although pillion comfort isn't compromised. The Versys has the most prominent windscreen in this trio and it truly helps deflect windblast at high speeds, which is nice. The suspension, though elementary, works in a predictable, well-defined manner, with decent rebound damping on offer as well. It certainly doesn't feel like a 184kg bike on the move and its 1,450mm wheelbase gives it a good dose of stability, as well as cornering ability. However, it isn't as planted as we'd like past 130kph. Another area of worry is the imbalance its single pannier (rather flimsy, too) can create at full load, and it would just have been better and more affordable without it. Ultimately, the Versys definitely feels the most like a big ADV from the rider's point of view.
At the end of a day-long ride, we voted unanimously that the Himalayan was the most balanced highway package of the day, although we also agreed the bike needs to be more enticing on the performance front.
Performance & braking
KAWASAKI VERSYS-X 300
BMW G 310 GS
ROYAL ENFIELD HIMALAYAN ABS
0-100kph
6.45s
7.43s
10.24s
20-50kph in 2nd
2.18s
2.33s
2.88s
30-70kph in 3rd
3.56s
4.17s
5.32s
50-80kph in 4th
3.54s
4.11s
5.58s
60-0kph (distance)
18.34m
17.54m
19.80m
OFF THE ROAD
The next morning, we geared up fully aware of the day's itinerary – a ride through a light off-road trail and then finally hit the beach. Considering these aren't hardcore off-road machines, but the sort of bikes you'd like to venture a bit off the road with – for the sake of a great Instagram post, if not more – we decided to evaluate them on user-friendliness and their ability to forgive rookie mistakes.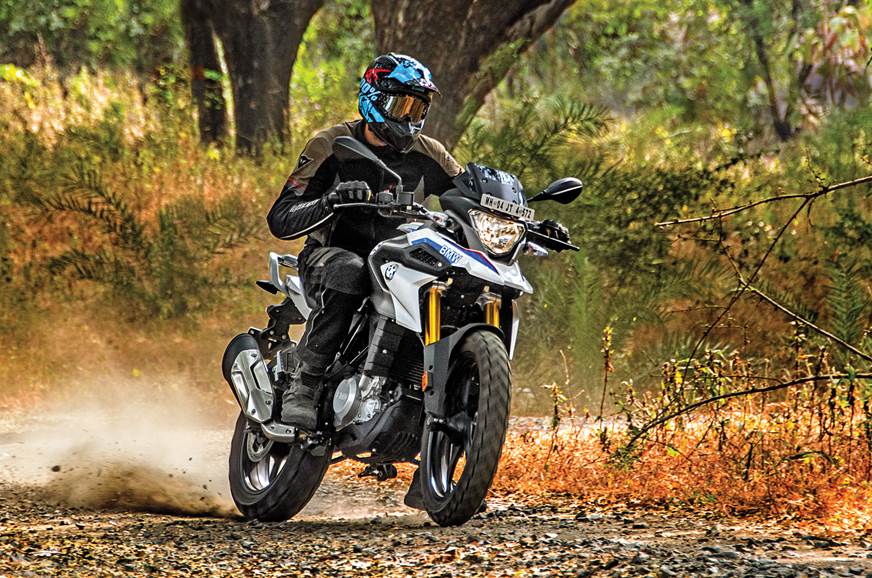 In this regard, the Himalayan is easy as walking. It feels connected and is the most natural to ride standing up, with lots of feedback on offer. The riding geometry helps you slide out of slippery situations rather well, too. The torquey motor gives you decent room to make directional changes using only the throttle, although you do end up hitting the redline well before the chassis finds its limits. Nevertheless, the strong bottom-end means you're never left gasping for power at low to mid revs and, to those unfamiliar with off-road riding, this works well because the Himalayan does all the hard work for you.
Unfortunately, the brakes are still too dull, but the inclusion of a dual-channel ABS is a welcome move, although it cannot be disengaged. The Ceat tyres, wrapped around a 21-inch front and 17-inch rear wheel, sport a block pattern tread which works wonderfully off the road, and while road grip isn't top-notch, it's well-suited to the purpose.
Himalayan's analogue meters suit its character.
The GS looks adventure ready and has the stance to match, thanks to its high ground clearance (probably the highest, going by visual reference). However, the first challenge for anyone south of 5ft 10in will be the 835mm seat height. In comparison, the Himalayan is the most accessible (800mm), while the Versys (815mm) takes second place. Thankfully, the lower kerb weight makes the BMW easy to crawl over slippery surfaces and the wide handlebar has the leverage to match. It is also the peppiest bike here, which means you can kick up an impressive dust cloud in an instant (this kind of thing gets you more likes on Instagram), but what your virtual fan-following won't see is how quickly the bike hits the redline. This means you have to shift up pretty quickly to keep the momentum going and also to tone down the unrefined noises the motor stirs up.
GS' instruments most contemporary.
Over a gradual, rocky ascent, the GS was quick, but the soft suspension kept bottoming out, leaving me very worried about ripping a tyre or bending a rim – neither of which happened, thankfully. If we did pick up a puncture, the GS would be much easier to fix as it's the only one here with tubeless tyres. Having said that, it doesn't seem to absorb undulations with a solid thunk – as you would expect from BMW, which invented the adv-tourer segment nearly four decades ago – and makes clattery noises you will be mildly concerned about. The tank is slightly awkward to grip when standing up on the pegs, and the off-road riding geometry is further hampered by the low flat handlebar.
Versys gets prominent tacho ...to remind you of peaky motor?
On the bright side, the GS can ultimately go just about everywhere the other two bikes here can, which means you won't feel left out, and once you get there, your bike will definitely look the coolest in pictures. The brakes are definitely the best in terms of bite and progression, although the excessive fork dive may seem unnerving to some of you. Lastly, BMW has done well to offer a pair of Metzeler Tourance tyres on the GS, and the 19/17-inch front/rear wheel combination works in its favour to create a good balance between on-road and off-road agility.
RE's 411cc motor is now smoother at the top.
The Versys looks like it belongs to the outdoors, but that's not exactly the case. While it offers a friendly riding position, it feels larger than the other two, which can get a bit intimidating for first timers. It's also the only motorcycle here that doesn't get enduro-style foot pegs, which can get irritating when riding through slush or in the monsoon in general. What has more serious implications on its off-road prowess is the engine itself. With peak power and torque arriving at 11,500rpm and 10,000rpm, respectively, you are left hanging with absolutely no punch low down in the rev range, which makes riding the Versys off-road a lot of hard work. The smoothness and linearity of the engine is easy on the rider at a sedate pace, but it's just not fun or punchy where it needs to be and that's a big disappointment knowing how capable some of Kawasaki's off-road machines can be.
BMW's motor peppy but sorely misses refinement.
While you focus on wringing the throttle wide open, you also have to watch out for the bike's underbelly, which is almost entirely unprotected from the elements save for some elaborate plastic shrouds on the sides. Like in our previous outing with this bike, we managed to bust the side-stand-down sensor yet again, which meant the bike would immobilise every time we snuck it into gear. Thankfully, a sense of déjà vu saved us time and we simply joined the two sensor wires together using a lot of electrical tape. It could've been a nasty waste of time had we been inexperienced in this matter, especially since our mobile phone signals had gone AWOL as well. In other news, the Versys, thankfully, is equipped with sturdy suspension and the monoshock is particularly pliant over tough off-road sections. The IRC tyres, however, are better off on tarmac than in inch-deep dirt, though the 19/17-inch front/rear wheel combination does give it a fair degree of controllability. All things considered, the Versys has its sweet spots but is most off the perfection mark in this company.
Ninja 300-sourced motor just not apt for adv touring.
Over six hours of off-road riding did leave us exhausted, but to the motorcycles' credit, we made it out of the trail with all of our bones and body panels intact. On the beach we finally arrived at, later in the day, we would go on to completely ruin an outrageous pre-wedding shoot, and one of us chipped in with some comic relief by the way of attempting, haplessly, to ride the bikes back up the soft, sandy shore.
THE WINNER
Under a calming afternoon sky, we stretched out and watched the three motorcycles parked by the sea. The last two days had been tiring but almost always hilarious, and this sudden state of inactivity sent everyone into a brief moment of introspection. In the larger scheme of things, we'd have been just as pleased to be here on any motorcycle, but these machines made it just that crucial bit nicer. They sure painted a pretty picture with their purposeful silhouettes, making us feel like accomplished expedition motorcyclists (it was hardly the case, of course). And while we didn't say it, we'd all probably picked the winner the day before. It had to be the Royal Enfield Himalayan.
Technical specifications
KAWASAKI VERSYS-X 300
BMW G 310 GS
ROYAL ENFIELD HIMALAYAN ABS
Engine layout
Parallel-twin, liquid-cooled, DOHC
Single-cylinder, liquid-cooled, DOHC
Single-cylinder, air-cooled, SOHC
Displacement
296cc
313cc
411cc
Power
39.8hp at 11,500rpm
34hp at 9500rpm
24.8hp at 6500rpm
Torque
25.7Nm at 10,000rpm
28Nm at 7500rpm
32Nm at 4250rpm
Power to weight
216.3hp/tonne
200.5hp/tonne
129.8hp/tonne
Gearbox
6-speed
6-speed
5-speed
Chassis
Backbone frame
Tubular spaceframe
Cradle frame
Wheelbase
1450mm
1420mm
1465mm
Ground clearance
180mm
-
220mm
Kerb weight
184kg
169.5kg
191kg
Seat height
815mm
835mm
800mm
Fuel tank
17 litres
11 litres
15 litres
Front suspension
Telescopic fork
USD fork
Telescopic fork
Rear suspension
Monoshock
Monoshock
Monoshock
Front brake
290mm disc
300mm disc
300mm disc
Rear brake
220mm disc
240mm disc
240mm disc
ABS
Dual-channel
Dual-channel
Dual-channel
Tyre size (f/r)
100/90-19 / 130/80-17
110/80-19 / 150/70-17
90/90-21 / 120/90-17
Tyre brand
IRC Trail Winner
Metzeler Tourance
Ceat Gripp XL
Warranty
2 years/30,000km
3 years/unlimited
2 years/30,000km
Price (ex-showroom, Delhi)
Rs 4.69 lakh
Rs 3.49 lakh
Rs 1.79 lakh
Rating
6/10
6/10
7/10
The adventure-tourer India needs should be, above all else, an honest motorcycle. No amount of tech-wizardry, swanky components and badge/heritage value can substitute a simple, rugged motorcycle and it's owing to this that the Himalayan emerges the strongest of the three bikes here. Over the course of our ride, we also found ourselves least cautious with riding the Himalayan because the repair bills would undoubtedly be the cheapest – an important consideration in the course of ownership. And then there's the small matter of value, which is easily the best here. At Rs 1.79 lakh, the Himalayan offers a good amount for the price, while both, the G 310 GS (Rs 3.49 lakh) and the Versys (Rs 4.69 lakh) fail to justify their price tags.
Although, it should be said, that none of us were completely in love with any of these bikes. Each has a healthy share of downsides, and, sadly, the ideal, affordable ADV for India doesn't exist just yet. Hopefully that might change next year with the arrival of a certain highly anticipated Austrian machine, but until then, the RE gets the job done the best. So, if like us, you too can't wait to load up all of your worldly belongings onto a motorcycle and set off into the horizon, it's the Himalayan you should be saving up for.
Yezdi Adventure vs Royal Enfield Himalayan comparison video
2530 Views|2 months ago
Yezdi Scrambler vs Royal Enfield Scram 411 comparison video
7907 Views|2 months ago
Royal Enfield Scram 411 video review
5326 Views|3 months ago