ZF technology: Future Ready
We take a look at how technology major ZF is preparing for electrified, autonomous and safer cars.
Published On Aug 12, 2019 09:00:00 AM
49,443 Views
Follow us on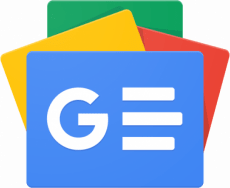 With the world's automakers embarking on the new path of future mobility, it's only natural that the supplier industry too makes this big shift towards electrification, autonomous technology and more efficient collision avoidance systems.
German component and transmission supplier ZF recently showcased some of its latest innovations at the ZF Technology Day 2019 in Dresden, Germany, and we were there to experience it in person. Here's a look at some of the exciting new technology that ZF has developed.
External side airbag
Like electrification, the push towards safety is also forcing suppliers such as ZF to develop innovative safety solutions.
According to the company, side- impact collisions can be particularly dangerous for occupants. It notes that around one in three passenger deaths in car accidents in Germany are caused by the lack of a crumple zone in that area.
Therefore, ZF has developed the world's first pre-crash external side airbag, which is claimed to reduce the consequence of a side impact accident by up to 40 percent. An external airbag between the A- and C-pillars is deployed if high-performance sensors detect an unavoidable side impact collision, thus creating an additional crumple zone in the door area.
Collision avoidance system automatically changes lanes if driver fails to react.
But that's not all. There's also the 'Automated Front Collision Avoidance' system that can automatically perform preventive manoeuvres such as emergency braking or steering to avoid a collision if the driver fails to take evasive action in time.
8-speed auto for hybrids
The 8-speed automatic is one of ZF's most successful transmissions and thanks to its versatility and robustness, it has found application in not just BMWs but also Rolls-Royces, Jaguars, Land Rovers and models such as the Aston Martin Vanquish and Lamborghini Urus, among many others. After being in existence for close to a decade, spawning three generations, the transmission will see the addition of an all-new fourth-generation version, one that has greater adaptability to hybrid applications.
New 8-speed auto will go into production in 2022, with BMW and FCA as first customers.
While electro mobility is gaining traction, ZF estimates that at least 70 percent of all new passenger
cars in 2030 will still have an internal combustion engine. To comply with stringent CO2 thresholds in the future, a substantial number of these vehicles will likely have an electric motor alongside the internal combustion engine.
"With the new fourth-gen 8HP transmission, we have three sizes, each having a torque capacity of 600Nm, 800Nm and 1,000Nm, respectively. The portfolio includes a conventional automatic (which
has also been optimised), a 48V mild-hybrid system with some pure-electric range, and a unit for plug-in hybrid application that can offer pure-electric range of up to 100km," said Patrick Gutmann, head of System Architecture at Passenger Car driveline Technology, ZF.
The new-generation 8-speed automatic has a modular construction system and is claimed to contribute strongly towards fleet CO2 reduction for automakers. "The CO2 thresholds will become stricter in all large markets over the next decade," according to Stephan von Schuckmann, head of the Car Powertrain Technology division at ZF.
ZF says, with the exception of the accumulator, all electric and electronic components are fully integrated into the transmission housing, in order to keep the installation effort in the automotive manufacturer's assembly factory to an absolute minimum.
The new hybrid transmissions will be seen in commercial applications from late-2022 onwards. ZF already has major orders from BMW and FCA.
New 2-speed transmission for EVs
ZF also showcased a unique, new 2-speed electric drivetrain for passenger cars, with an aim to shake up the global electromobility segment. The transmission is claimed to have a greater efficiency and better acceleration over the 1-speed unit that is used across models today.
The company currently offers the 1-speed unit for commercial application and recently came on board as a supplier of electric drive components to Daimler. Interestingly, the all-electric Mercedes EQC uses a ZF-sourced driveline module. In addition to the motor, it also includes the transmission, power electronics and control software for the front and rear axle.
ZF says the electric 2-speed gearbox can improve acceleration by up to 20 percent.
"In a 1-speed transmission, you always have a conflict between initial torque and max speed. With 2-speed transmission, you can improve torque but then lose max speed in the first gear, which is not
a problem as the top speed can be enhanced with the second gear. We also have a broad range to shift gears between 50-100kph," said Stephan Demmerer, head of Advanced Engineering E Mobility at ZF.
In ZF's tests, acceleration times for 0-50kph and 80-120kph for a 2-speed improved by 10 percent, as opposed to a 1-speed unit, while time taken from 120kph to 150kph was 20 percent faster, Demmerer said. The max speed of the prototype was up, from 160kph to 215kph.
EV drivetrain combines the 2-speed gearbox with a 140kW electric motor.
The company's new drivetrain combines the 2-speed gearbox with an electric motor of 140kW (190hp) capacity. The system is modular and can be paired with even more powerful electric motors rated for up to 250kW. The company says its 2-speed drivetrain technology is designed to consume less energy, resulting in a 4.7 percent higher range when compared to a 1-speed unit.
Using ZF's new 2-speed gearbox, vehicle manufacturers could either go for an extended range while retaining the same size of the battery or maintain the current range and utilise a smaller battery.
Predictive chassis tech
ZF showcased an innovative chassis concept called the 'Flying Carpet 2.0', which uses comprehensive sensors and smart algorithms to control suspension, braking, and steering systems. The system helps to smooth out bends, bumps in the road, and potholes by linking advanced sensors, a smart control unit and intelligent actuators.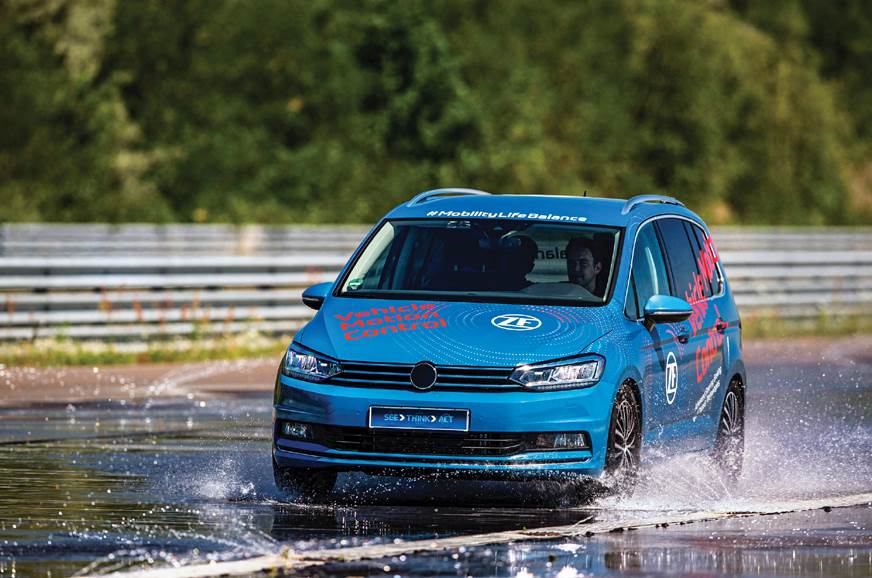 'Flying Carpet 2.0' can control vertical and sideways movements of the vehicle.
ZF's sMOTION fully active damping system uses four actuators to adapt the suspension movements of each individual wheel, according to the driving situation and road surface features.
Then there's the AKC (Active Kinematics Control) active rear-axle steering system. This steers the rear axle in the opposing direction to the front wheels at low speeds, increasing turning radius and improving manoeuvrability. At high speeds, it steers the rear and front wheels in the same direction, boosting vehicle stability.
Vehicles with 'Flying Carpet 2.0' can detect uneven surfaces in advance.
All of this technology is brought together by a cubiX control system, which receives the data from a set of sensors on each wheel. Think of it as the brain or the control centre.
With this, ZF says it is laying important groundwork for the automated vehicles of the future, enabling them to be used as mobile living rooms or offices.
Q&A Dirk Walliser, Head of innovation & technology, ZF
Dirk Walliser, Head of innovation & technology, ZF
On an electric future and ZF's readiness for the same.
There are many important tipping points in electric mobility that we don't see at the moment. For full electrification, we need to have a working infrastructure that is in place and with an energy system that's CO2 neutral. Until then, there will be multiple powertrain technologies as some automakers would like to go electric while others would like to have different options. We will have transmissions for ICEs, EVs and plug-in hybrids, with the last one accounting for a large faction of the propulsion type. For that, we have our EVplus transmission that's specially designed for households with only one vehicle: it allows them to do 95 percent of their driving in EV mode.
On autonomous car tech.
We have all the key elements required for autonomous driving, from Level 1 to 5, such as sensor sets, the processors, digitalisation, data and artificial intelligence. However the Level 2 systems will be the most sought after, especially because of its requirement in meeting Euro NCAP 2020 norms. For Level 4 and 5, while the high cost of the sensor sets will restrict demand, it will still be important for fleet usage in restricted areas, like robo shuttles, when legislation allows for it.
On tie-up with other suppliers.
Collaboration is at the core of our strategy. We already have partnerships with companies
such as Mobileye, Nvidia and several others so that we can continue to add to our technological competency.
Copyright (c) Autocar India. All rights reserved.