The fastest lap: Audi RS Q8 lap records
Published On May 22, 2021 09:00:00 AM
21816 Views
Follow us on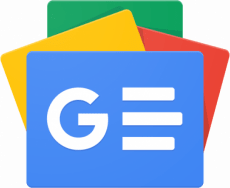 South India's highways have greatly improved over the last few years and are usually lined by distinct palm trees.
Don't have to worry about kerbs due to high ground clearance.
One car, a 3,500km road trip and three racetracks. We recount the story of us doing what we do best – breaking records!
If there's one thing we love doing here at Autocar India, it's breaking or setting records. Highest speeds, longest distances, maximum range – anything you can think of, we have done it. In short, we love a challenge. It comes as no surprise, then, that the moment news of the Audi RS Q8 clinching the Nürburgring lap record hit the internet, our minds went into action, wondering what Audi's new flagship performance SUV would do at the three big racetracks here in India – the Madras Motor Race Track outside Chennai, the Kari Speedway in Coimbatore and, of course, the Buddh International Circuit in Greater Noida.
HATCHING A PLAN
But as is often the case with great ideas – it seemed like wishful thinking at the moment, and with a faint smile, was soon put to rest. However, the thought lingered like a song from the '90s that you should not like, but do. You try and forget it, but unless you sing it out loud, it continues to nag you. This just had to be done! And while seeing how fast a car can go around a racetrack – or three – isn't an essential story by any stretch, the thought of getting back on track after the dismal year we've had, socially distanced from the rest of the world, was certainly an exciting proposition.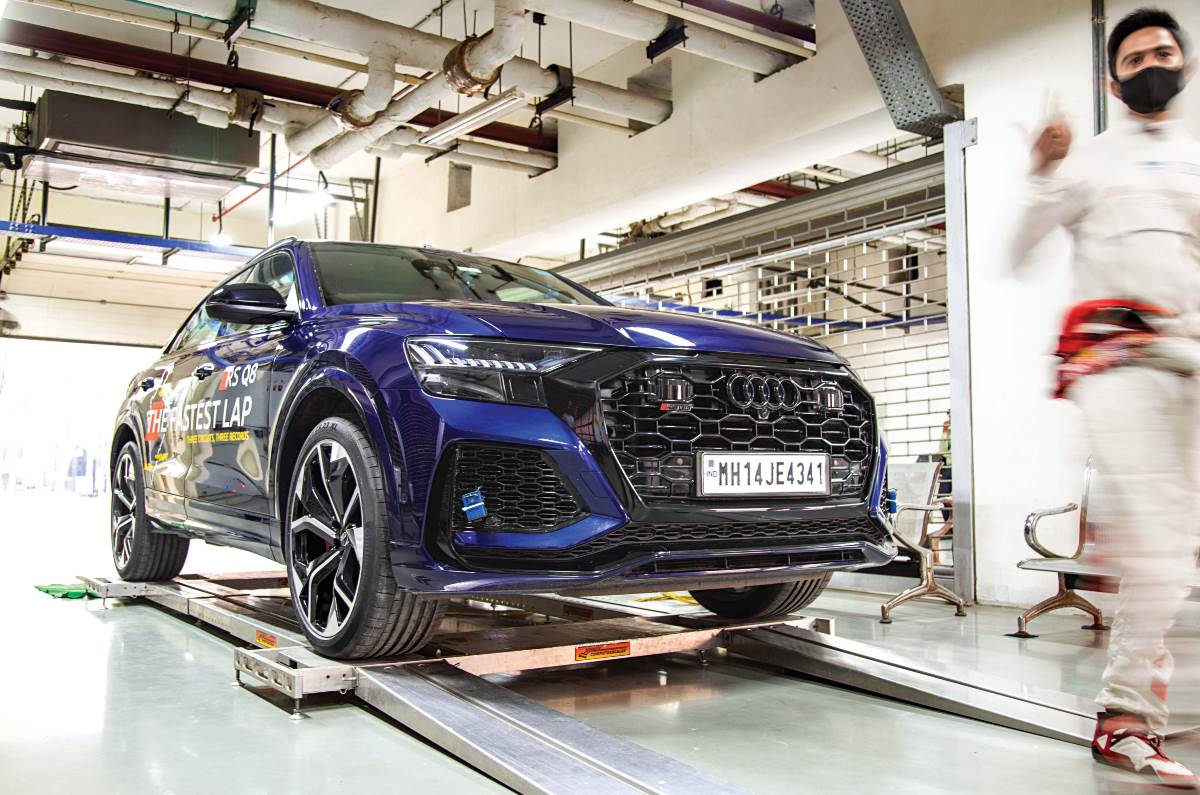 FMSCI officials weighing the RS Q8 to match OEM measurements.
But anyone can put a vehicle on a flatbed truck, send it to a racetrack, unload it there, go completely bonkers for an hour or so, and then take the next flight home while the car gets transported back home on that same flatbed. That just would not cut it for us! The RS Q8 is a comfortable, luxurious SUV after all, and is meant to be driven on regular roads by regular people covering long distances – albeit very, very quickly. And that's when it struck us; the only way we would do justice to this exercise – the Autocar way – would be by not only smashing or setting the SUV lap record at every track, but driving the RS Q8 from one track to another in the process. Now, until a decade ago, that would've been much easier, as we had just the two tracks in Chennai and Coimbatore, 500km from each other. But with the BIC in the fray, the distance was seven times longer – 3,500km in total! And while we could do the highway stints ourselves, for the track, we needed someone who could really extract the most out of this Audi – ace racing driver Aditya Patel.
The 4.0-litre, twin-turbo V8 makes 600hp and 800Nm of torque.
Since these record attempts would be verified by the FMSCI, an official went through the car, checking whether it was as per OEM spec and no changes were made. Our records would also be confirmed by the India Book of Records, which also had an official present for all three attempts.
WHEELS IN MOTION
With an ambitious plan to hit all three tracks in the span of a week, we chose to start at the MMRT, move on to Kari, and then drive north to the BIC.
As old as they may be, analogue pressure gauges are very accurate.
Setting a quick lap time is not as simple as arriving at a track and going as fast as you possibly can; it involves a lot of fine-tuning for the car. The most important of the lot has to be setting the tyre pressures according to the track layout and ambient temperatures. And while one expects us to use a digital gauge in 2021, we can tell you for a fact that the older analogue ones are far more accurate.
VBOX data measuring equipment measures lap times accurate to 1,000th of a second.
Like with every record run, the data to substantiate it is most important, which is why, just like at our Autocar India Track Days, the Audi RS Q8 was fitted with two VBox data-capturing devices, one of which has a set of cameras too. These devices sync with GPS satellites and give exact and accurate readouts of both, the precise position of the car on the track and the lap time to a thousandth of a second. The car itself doesn't really need any manual setup, as everything is controlled through Audi's MMI infotainment screen. For all record attempts, the RS Q8 would be in RS2 Mode, with all parameters set to Dynamic and with traction control turned completely off.
Every track saw two transponders attached to measure lap times.
FAMILIAR TERRITORY
Luckily for Aditya, the MMRT is like a second home, him having practically grown up there, with thousands of laps and countless driving hours under his belt in a wide array of cars. Our attempt had to be at the crack of dawn when both track and ambient temperatures would be as low as possible. Yes, cars run better and make more power in colder temperatures. A few mid-pace laps to warm up the fluids and the tyres, a reset of the pressures to correspond to the updated temperatures, and Aditya was good to go for a flying lap.
The RS Q8 flies past the iconic MMRT gantry.
The great thing about setting the lap time in a high-riding vehicle is that you don't have to tiptoe around the kerbs, some of which can end up doing some pretty serious damage if hit hard enough. It also meant Aditya could cut right across some of the corners with two wheels on the grass to eke out that fastest lap time. Of course, the lap would only be counted if track limits were not flaunted and the rule was pretty simple – at least two tyres on tarmac at any given time.
Even with a high-riding stance, the RS Q8 shows almost no body roll.
The Madras Motor Race Track is a great blend of tight and technical corners and fast straights, and the RS Q8 handled both with aplomb. With a top speed of 192.686kph down the straights, the super SUV used all its 600hp and 800Nm to propel its nearly two-and-a-half tonnes unbelievably fast. Aditya has one shot at setting the fastest lap, after which tyre performance drops off due to the fact that these are, after all, standard road tyres and not a bespoke set made for track use.
Best to do timed runs early in the morning due to lower ambient temperatures.
If we were to describe in two words how the Audi RS Q8 monstered around the MMRT, they would be 'physics defying', doing things no SUV with a high centre of gravity should be doing in the first place. While, for starters, we estimated a time under the two-minute mark, the result left us truly stunned – 1:52.911, a new SUV lap record and one that we think will not be beaten anytime soon.
Despite its size, the RS Q8 was as fast as some thoroughbred supercars at MMRT.
#TheFastestLap at MMRT: 1:52.911
"I couldn't believe it myself. As I got to the end of the lap, I looked at the clock and told myself "this cant be true". It's just so quick around this track", Aditya said.
THE HIGHWAY DASH
As we wrapped up our time at the MMRT, a 500km sprint to Coimbatore lay ahead. Considering it had just set a blistering time at the Chennai track, we expected the RS Q8 to be a high-strung, hard-sprung, edgy beast, but on the well-laid open highway, flanked mostly by palm trees, it felt incredibly docile, surprisingly supple and gobbled up kilometres without any fuss. It was a rather relaxed drive to Coimbatore, and even with a fair few coffee stops, we made it in just over six and a half hours.
FRESH NEW TARMAC
While the country was under complete lockdown last year, the management at the Kari Speedway in Coimbatore decided to give the track a new lease on life – a new layout with big changes and, of course, fresh new tarmac. The Speedway's main straight is now shorter, with a whole new set of corners at each side of the track. And although it still feels like a clubsport circuit, it is more technical and challenging now. Before hitting the track, the Audi RS Q8 munched down a tankful of Indian Oil's new XP100 100-octane petrol to give it that little extra performance.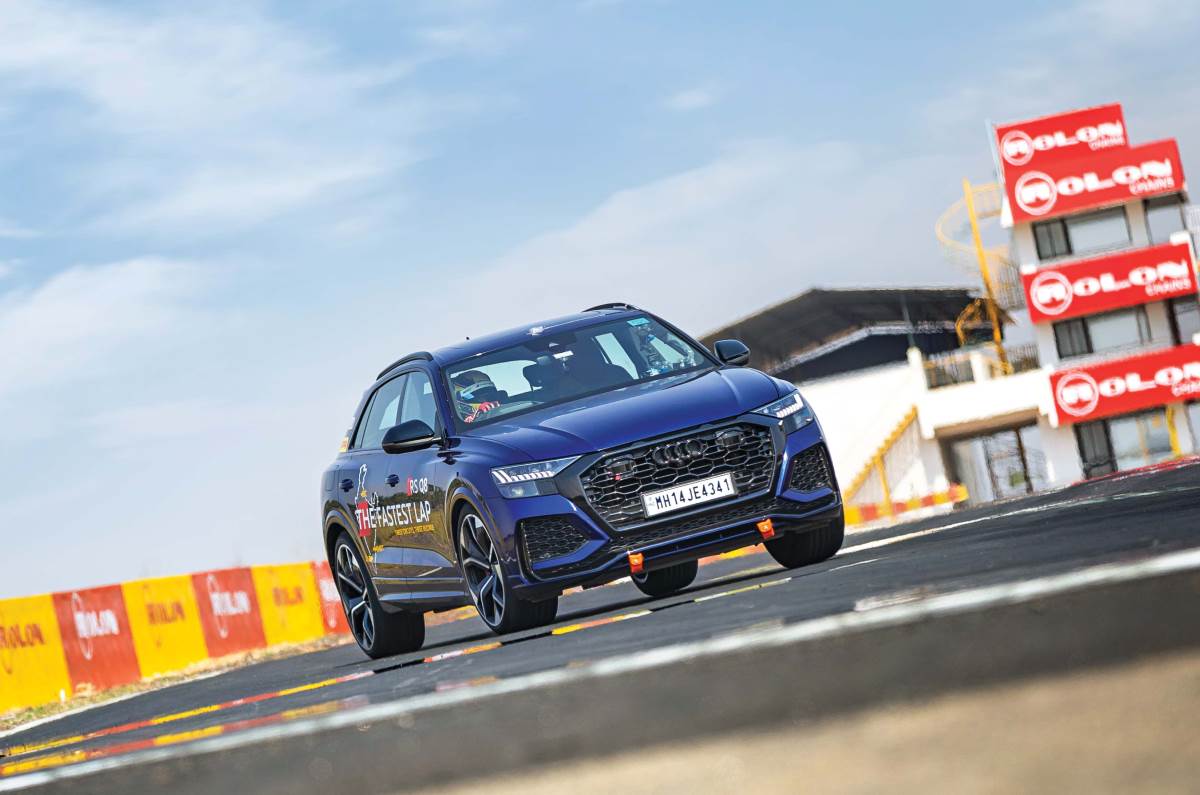 Despite getting a revamp, the iconic paint scheme at the Kari Speedway has been retained.
As with the processes in Chennai, FMSCI and India Book of Records representatives gave the car a once over and then we were let loose on that new, inviting tarmac. In fact, the track layout is so new, even Aditya hadn't driven here yet and did a few easygoing laps to find out exactly where the braking points were. A disadvantage we had was tyres. Due to the recent tyre import ban, lots of high-end cars with large wheels and tyres have been left high and dry. And since we had just one extra set, we chose to save it for the BIC, and leave this older set on the car for now.
Sticky new tarmac and all-wheel drive - a great combination.
You would expect the RS Q8 to feel completely out of its comfort zone on this tight and technical circuit, but Aditya just took it by the scruff of its neck and flung it around, bouncing off the rather large kerbs to set an unbelievably quick time – 1:13.691. Tracks like the Kari Speedway are where you can really feel the tech under the car's skin working overtime to get you the performance that would otherwise be seen as impossible. The active anti-roll bars, for example, and more importantly, the rear-wheel steering helped turn the RS Q8 into slower corners quicker, while still giving it immense stability in high-speed corners, are really what resulted in that superfast lap time.
While we do have an extensive benchmark for cars around the MMRT, barely anyone has competitively lapped the new Kari Speedway after its recent refresh. That said, according to track officials, the time we set is not only competitive, but also one of the fastest ever, and is certainly the new SUV lap record for the Kari Speedway.
#TheFastestLap at Kari: 1:13.691
After experiencing the RS Q8 at Kari, Aditya said, "I have never driven something this big and this powerful around the Kari Speedway. It is very engaging and you can really feel the active anti-roll bars work".
THE LONG HAUL
The route we took to the Buddh International Circuit is just under 3,000km, from Coimbatore, via Bengaluru, Mumbai, Ahmedabad, Jaipur and on to Greater Noida. We had to make a dash for it too, as we had just four days scheduled to cover the distance. A cakewalk if you have 600hp lurking underneath your right foot. But while we would have loved to go like the wind, preserving the car for the lap record in Delhi was more important, and a steadier pace made more sense. That pace would also help keep the fuel economy figures as high as possible, since finding good high-octane fuel on this journey could be quite the task. However, surprisingly, there are quite a few filling stations along the way (or a short hop from the highway) that offer XP100 fuel that keeps this 4.0-litre, twin-turbo motor at its happiest.
The RS Q8's touring capabilities make us want to drive on and on, all the way to the North Pole.
One of the biggest apprehensions we had on our road trip was about the RS Q8's massive 295/35 R23 tyres. Considering how bad the roads can get in various parts of the country, we were worried about bad potholes or a random bit of debris slicing them open or worse, damaging the wheel. Au contraire, the tyres coped with all sorts of road conditions extremely well; truly impressive, especially as this very set had just smashed two back-to-back lap records. Even when we hit diversions, either due to road works or really bad traffic snarls, or had to put all four wheels off the road and onto tougher terrain, nothing bothered the RS Q8.
Indian Oil's XP100 high-performance, 100-octane fuel helped the RS Q8 run at its peak.
The Audi's drive modes are just as useful on highways as they are on the track. Put everything into Comfort mode and the RS Q8's character completely changes from that of an aggressive, point-and-squirt super-SUV to the comfortable luxury SUV that it inherently is. Air suspension soaks up all the bumps and undulations and that fire-breathing 4.0-litre twin-turbo engine shows us it can also be refined. It really does have a 'Jekyll and Hyde' quality to it, and is one of the best grand tourers you can buy today. The drive to Greater Noida was pretty uneventful, with fantastic roads in general and the likes of the Yamuna Expressway to drive on, almost Autobahn-esque in many ways. Before hitting the track, however, it was straight to Audi's service centre for a new set of brakes and those fresh tyres.
A quick car wash at an Audi service centre to keep the RS Q8 spick and span.
But, as luck would have it, whenever everything is going to plan, there will always be a wrench thrown in somewhere, and that is exactly what mother nature had in store for us. A full-blown thunderstorm the night before we were due to set the record.
JEWEL IN THE CROWN
It's time for the hat-trick. The Buddh International Circuit – India's only F1 track is where national bragging rights are always earned, and as a racetrack, it is as different from the Kari Speedway as chalk is to cheese. The BIC has long straights, really fast sweeping corners, slow corners and of course, the parabola! Just as with the MMRT and Kari, FMSCI personnel were present to give the car a once over, making sure everything was as it came from the factory. The FMSCI even weighed the car on a portable digital scale to ensure no special weight-saving measures were put in place.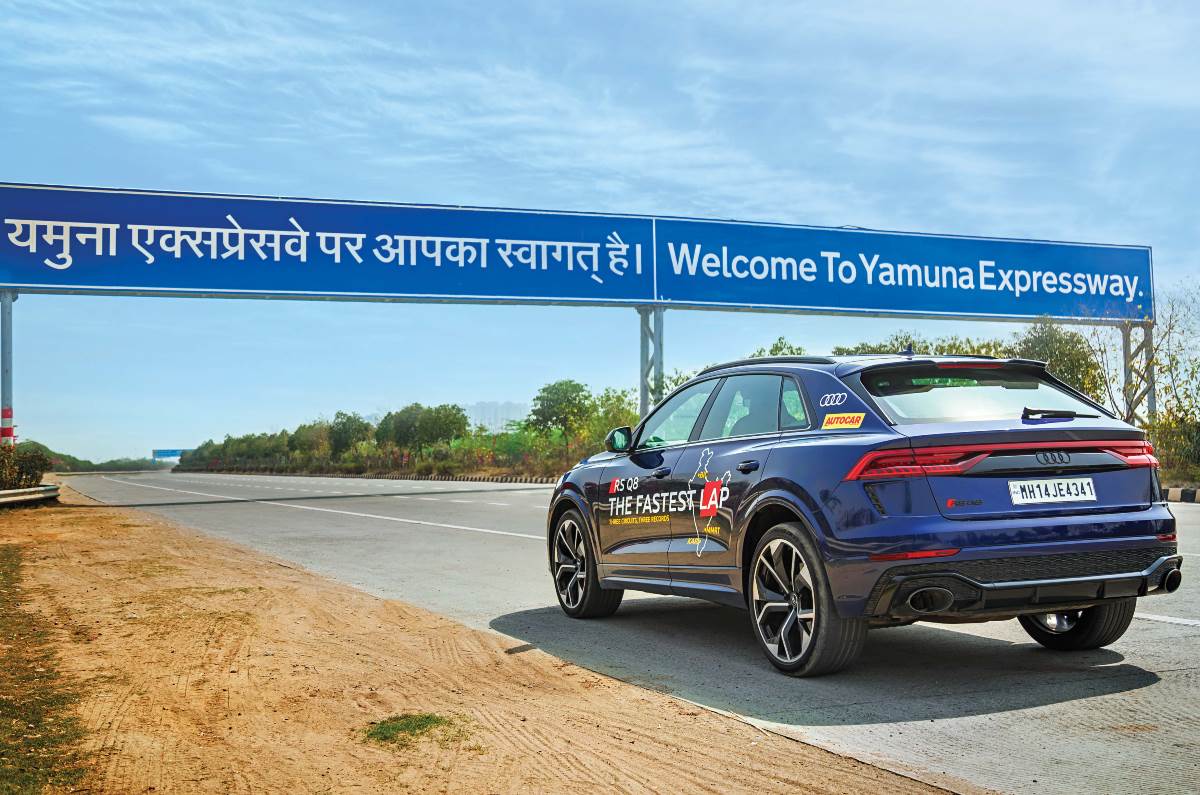 The Yamuna Expressway gives the RS Q8 a chance to really stretch its legs.
The thunderstorm the night before meant the track surface was still damp and it would be impossible to set a seriously quick lap time. But as the day progressed and the ambient temperatures started to rise, the track started to dry out and it was time for our attempt. The BIC, with its faster constant-radius parabola, is hard on a car's tyres, so Aditya would get just a few attempts to lay down the perfect lap.
Tyre pressures too make a bigger difference here, and with speeds up to 25 percent higher than Chennai, at just over 240kph down the back straight, so does the temperature of the brakes. Right at the very first attempt, Aditya cracked the 2:20 mark, which by itself is already a blisteringly fast lap time; but after a quick visit to the pits to adjust the air pressure, he went out once again and set this – 2:16.767 – the new lap record for an SUV at the Buddh International Circuit. To put it into perspective, this is only about four seconds slower than Audi's flagship supercar, the R8 V10 Plus. And that is when you really come to terms with the true performance of the RS Q8, something one can drive across the country in absolute comfort, and also set seriously fast lap times at a racetrack.
#TheFastestLap at BIC: 2:16.767
"Could have gone even faster had the rain not played spoilsport. But whoa, what a lap! It was really enjoyable and that is a very good time for an SUV", commented Aditya.
TRACK KING
The Audi RS Q8 is truly a car that left our jaws dropped, with the performance it brought to the table in a magnitude of arenas. Three tracks, three lap records in the bag and 3,500km of driving culminate this week-long saga. And just as at the Nürburgring, the Audi RS Q8 helped us achieve what we set out to do – get the fastest lap. Oh, and although it doesn't really matter, our cumulative fuel economy figure was 4.73kpl, quite impressive if you consider that includes several hard laps on three circuits.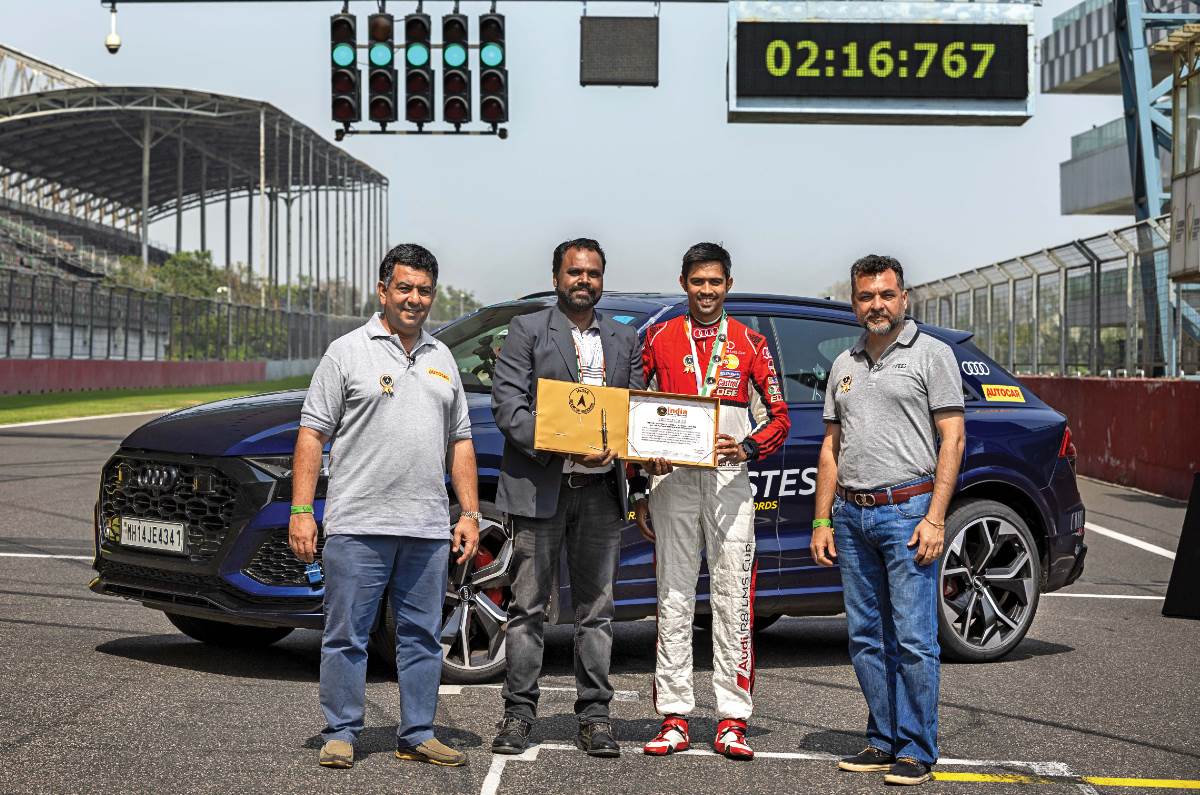 India book of records officiates the three lap records.
Could this just be the best all-round vehicle on sale at the moment? With three records to its name and thousands of comfortable kilometres in between, all without breaking a sweat, we certainly think so.
Q&A: BALBIR SINGH DHILLON, HEAD, AUDI INDIA
Three tracks, three records, What does a performance SUV like this really mean to the buyer?
Firstly, I must thank Autocar and Aditya Patel for this amazing feat. Coming to the question, in India you have many customers who like performance but who also need practicality to travel with their family. They want to drive, they want to be driven. So I think the RS Q8 is a combination of all of these.
Do you personally like driving on track?
Absolutely! Every opportunity that I get, I love to drive on the circuit and it always gives you goosebumps. At the same time you always feel proud of what you are doing and the love you have for these cars.
Given our driving conditions, how important are circuits for your customers?
These circuits are very important because they let every customer get the feeling of knowing the full capability of the vehicle that they own or drive on a daily basis. Generally, you cannot push the car to the limit and that is what you can achieve on a closed circuit.
Do any of your SUV customers come to the circuit? Now, with these lap times, do you think more people will take cars like this to a racetrack?
Oh yes, I completely agree with you. It is very important that the customers enjoy these cars on a circuit. Fortunately we have three across the country so it is possible for any of our customers to take a spin on these circuits. We also continue to organise such events for customers to drive their own vehicles at these events.
HORMAZD SORABJEE
PHOTOGRAPHY: GAURAV S THOMBRE
Also see:
Audi RS Q8 vs Buddh International Circuit: The fastest lap video
Audi RS Q8 vs Kari Motor Speedway: The fastest lap video
What do you think about this Feature