Sponsored Feature: Maruti Suzuki Dakshin Dare 2018
Tracking Team Maruti Suzuki Motorsport's rise at the toughest rally in the South.
Published On Oct 05, 2018 04:38:00 PM
9,043 Views
Follow us on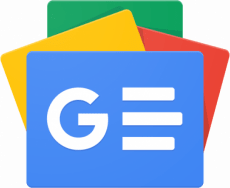 On the face of it, the Maruti Suzuki Dakshin Dare may seem like a fairly easy rally, as compared to other cross-country rallies. After all, it is driving through the Western Ghats, taking in the scenic vistas of the region, right?
Wrong. Don't let the beauty of the Maruti Suzuki Dakshin Dare trick you into thinking this is a cakewalk. It's easy to lose focus when one's driving through exceedingly gorgeous locations, but the Dakshin Dare demands every participant's attention, at all times. This is a true test of endurance for man and machine alike. This year, the challenge was more daunting than ever before.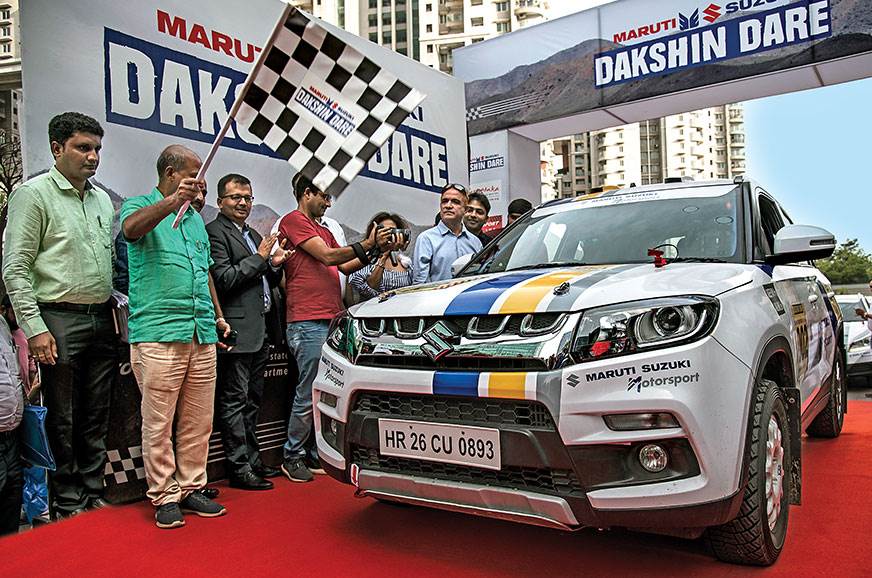 The 2018 Maruti Suzuki Dakshin Dare was flagged off from Orion Mall, Bengaluru.
For the grand 10th edition of the Maruti Suzuki Dakshin Dare, the organisers drew-up a new route (different from the one seen in years past) spanning an excess of 2,000km and covering three states – Karnataka, Maharashtra and Goa – a distance to be covered in just five days. This was a route constructed to extract the maximum out of competitors and their cars and push them to their extremes. Over 140 participants, comprising a total of 80 teams, were a part of the 10th edition of the Dakshin Dare, fighting it out in three different categories – Ultimate Cars, Ultimate Bikes and Endurance Cars (TSD). Interestingly, there was a large contingent of women drivers and navigators participating in the Endurance Cars class.
Maruti Suzuki is a name motorsport enthusiasts are all too familiar with. It has been at the forefront of the motorsport scene in the country for close to two decades now. Rally enthusiasts have seen the Gypsy and the Grand Vitara win trophies by the bucketload, and the journey now continues as Maruti Suzuki looks to usher in a new era with its next generation of rally cars.
Team Maruti Suzuki Motorsport's Suresh Rana (L) started off as one of the favourites.
Armed with vital learnings from its Desert Storm outing earlier this year, Team Maruti Suzuki Motorsport was back once again, and just like in Desert Storm, fielded a total of four teams. This time, the twist was with the cars they entered: in addition to the venerable Grand Vitara (driven by veteran rallyist and multiple-time Dakshin Dare winner Suresh Rana), there were the rally-ready S-cross and Vitara Brezza; and instead of the iconic Gypsy, Maruti Suzuki Motorsport brought in a close-to-stock 2WD Vitara Brezza as well. What's notable about the 2WD Vitara Brezza is that apart from a few modifications necessitated by rally regulations (a roll cage, new suspension, etc), this car was mostly identical to its road-going sibling, which has proved to be a roaring hit with the Indian masses. The point was to put the new-generation cars through a true test of their abilities, and demonstrate that they're more than capable of taking over from the iconic but ageing rally cars.
Competitors' machines were subjected to intense scrutiny.
After the scrutiny on Day 1, the 10th edition of the Maruti Suzuki Dakshin Dare was flagged off from Orion Mall, in the heart of Bengaluru. Competition in the Ultimate Cars class promised to be truly fierce, with ace Indian rallyist Gaurav Gill returning to the competition after a gap of more than five years, but Team Maruti Suzuki Motorsport was confident of its chances. Each of its teams had individuals with previous Dakshin Dare successes to their name, and they were more than game with the difficulty level being cranked up.
The first leg kicked off near Hosadurga, in Karnataka. Getting things underway was a 44km-long dirt stage that the cars had to complete thrice, and they had to be extra careful as not only was it a fast section, but it was also very narrow, and a slight misstep could send them in a downward spiral. While Team Maruti Suzuki Motorsport's men fought hard, niggling issues meant they couldn't make much of an impact on the opening day. But rallying is never about a single day's performance, and the teams knew that well. It was important to finish the day in a respectable position and try and mount a comeback on the following days – and that's exactly what Team Maruti Suzuki Motorsport did.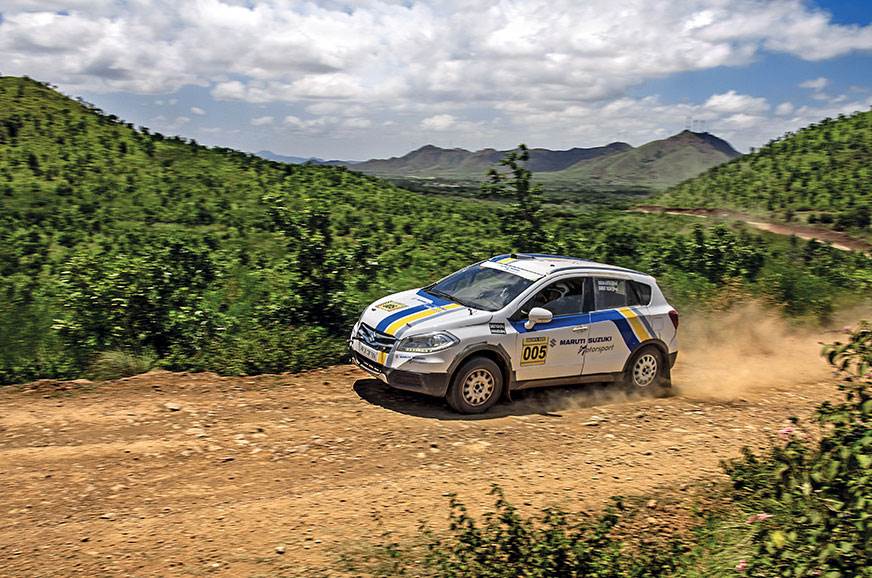 Following the opening stages in Hosadurga was a spectacular, fast and flowing 24km section in Aimangala, and that's where Maruti Suzuki Motorsport's Suresh Rana, Samrat Yadav (driving the S-cross) and Sandeep Sharma (driving the 2WD Vitara Brezza) came into their own, putting in strong performances to gain vital positions and make their way up the leaderboard. In Leg 2, Rana in particular staged a remarkable comeback, finishing in 6th place overall – five places up from his Day 1 ranking of 11th overall; while Sharma surprised many by slotting his 2WD Vitara Brezza in a commendable 4th place.
Rock and gravel stages were tricky, as teams had to go fast yet protect their cars.
After doing the first two days' stages once again in Leg 3, the action moved to the state of Maharashtra for Leg 4. This was also the first day that saw the arrival of rain, which – conspicuous by its absence till that point – no doubt, added an element of drama to the proceedings. Slipping and sliding across the narrow, gravel- and dirt-strewn stage, teams put on a show and notched-up searing stage times. Thanks to his consistent performances, Yadav slowly made his way into 3rd place overall, and with one more leg remaining, things looked good for Maruti Suzuki Motorsport.
Cut to Leg 5: The setting for the final stage of the rally was nothing like the opening stages – close to the village of Bhor, the weather in the final stages was cold. There was plenty of rain, and the fog hanging around the Western Ghats meant the participants also had visibility issues to contend with. But it was beautiful, nonetheless – a 75km ribbon of tarmac snaking through the Ghats that presented competitors with a fitting final challenge. And Maruti Suzuki Motorsport's men rose to the occasion, completing the stage in good time to strengthen their hold on their respective positions.
This is a rally that demands all of the participants' attention, all of the time.
Unfortunately, the second lap of the stage had to be cancelled because visibility had dropped by a big margin, and rallying in such conditions would be incredibly dangerous. But what the stage had witnessed in the first run was truly magnificent – competitors pushing themselves and their cars to the absolute limit, even in conditions that would best be described as treacherous. Never mind the risk involved with driving fast on a soaking wet ghat road, with a single mistake potentially proving fatal for the car, the teams went all out, and it made for spectacular viewing.
Eventually, it was Gill who proved to be untouchable throughout the competition and won the Ultimate Cars class at the 2018 Dakshin Dare, but Team Maruti Suzuki Motorsport had plenty to celebrate as well, with Yadav securing 1st place in the T1 4WD category and finishing in 3rd place overall. Even more impressive was the 2WD Vitara Brezza finishing 2nd in the 2WD category and 4th in overall standings, which speaks volumes of this ever-popular SUV's durability and capability. Rana took 2nd place in the T1 4WD category, and finished 5th overall, showing that the old warhorse, the Grand Vitara, still has plenty of fight left in it.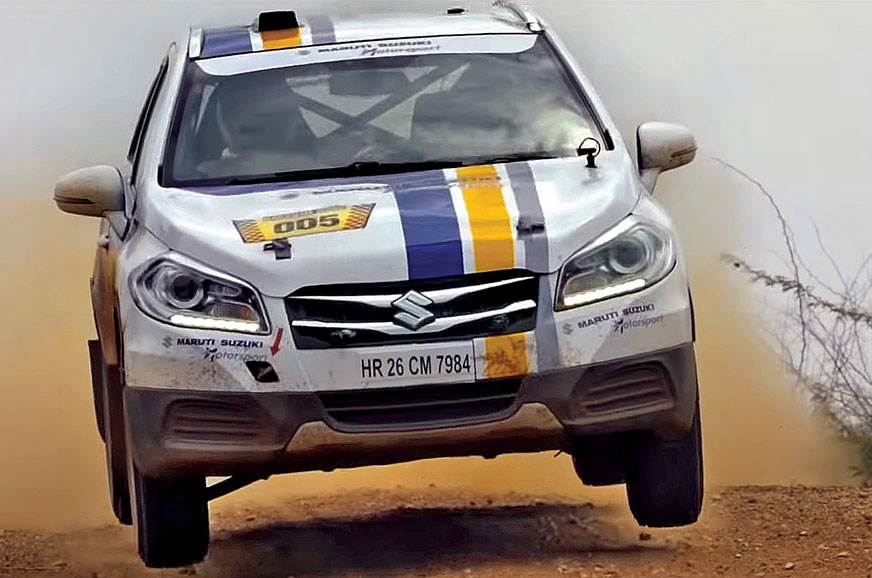 In the Ultimate Bikes category, Vishwas S.D claimed the overall title, making the most of early leader Yuva Kumar's misfortune in the last Special Stage. Yuva, who was leading all the way from the start, saw his bike break down with just 15km to go; and by the time the damage was repaired, he lost 15min. The setback dropped him to 3rd place overall, with Vinay Prasad slotting into 2nd.
The 10th edition of the Maruti Suzuki Dakshin Dare, then, delivered on every count, and then some. It provided plenty of action across some truly thrilling stages set in beautiful locations, but it also reminded one of the age-old piece of rallying advice: to finish first, you must first finish. The trick to finishing a rally is to preserve your vehicle, and employ the right tactics for every stage.
Going flat-out every single day would take its toll on the vehicle and the participants, and a serious breakdown could spell the end for any team. The idea is to persevere, adapt to every situation and play smartly. Taking a measured approach to every day and knowing when to put the hammer down can pay off handsomely – as was shown by Team Maruti Suzuki Motorsport's men.
They didn't let the hiccups in the opening stages bog them down. Instead, they chose to work steadily towards finding their way up the leaderboard, and by strategising and cleverly planning out their approach for each stage, they managed to leapfrog other competitors and finish strong.
Team Maruti Suzuki Motorsport's men strike a victorious pose in Goa.
What's also worth mentioning is that the performance of Maruti Suzuki's next-gen rally cars was truly astonishing, with each car proving to be fast, tough and also incredibly reliable. There can be no doubt that starting next year, Team Maruti Suzuki Motorsport will truly be a force to be reckoned with.
Copyright (c) Autocar India. All rights reserved.