Mercedes-Benz S 350d and EQS 580: the 'S' factor
The S-Class is considered the Best Car in the World by many, but does that make the electric EQS the evolutionary next step?
Published On Jan 01, 2023 08:00:00 AM
14,164 Views
Follow us on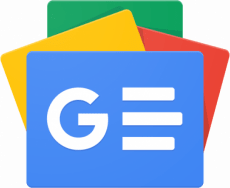 That many regard the Mercedes-Benz S-Class as the best car in the world is not just clever marketing; it actually has a lot of merit behind it. Few cars have had a greater influence on the auto industry on the whole, with technology that debuts on an S-Class making its way to family hatchbacks years, sometimes decades, later. It's also just damn good at its job of being the ultimate limousine for the chauffeur driven, regularly outclassing its impressive and expensive competition.
So what does that make the EQS, then? All signs point to it being an electric S-Class. It's a large Mercedes sedan, virtually the same size as an S-Class with the same wheelbase too, it gets the full complement of the brand's latest tech, it has S in its name, and it's got a model designation of 580 – which is a number too high to find on a lesser Mercedes. Amazingly, because it's assembled here, it even costs about the same as an S-Class; in fact, it's Rs 5 lakh less. And because we're constantly being told electric is the future, does this automatically make the EQS the new Best Car in the World?
Utterly different, but somehow both feel like peak Mercedes.
Somehow, we don't think it's that simple, so we've brought the two together to see what's changed and what's remained the same. And no, this isn't a comparison test because even if one of them does come out on top, Mercedes-Benz is the ultimate winner. That said, for all those similarities, it doesn't take long to spot the disparities.
Luxury lines
For instance, how they look in profile. It's something you otherwise wouldn't give a second thought, but when you see them together, it's clear these cars come from very different schools of thought. The new S-Class, for all its modernity, still follows the classic cab-rearward sedan design. Even in this long-wheelbase guise, it's clear that about a third of the car is engine, aft of that is the passenger compartment, and then comes a luggage area behind. It's regal, it's powerful, it's timeless.
The EQS, on the other hand, is like a drop of water. It's been shaped in a wind tunnel to carve the smoothest possible path through the air, with a drag coefficient of 0.20 that set a new record for production cars in 2021. It's every bit as futuristic as the S-Class is traditional. Reducing drag or resistance is crucial for maximising range in an EV, which is why so many of them have a similar 'monovolume' shape, but really, with a glasshouse that stretches further, both forward and back, it should be even more spacious.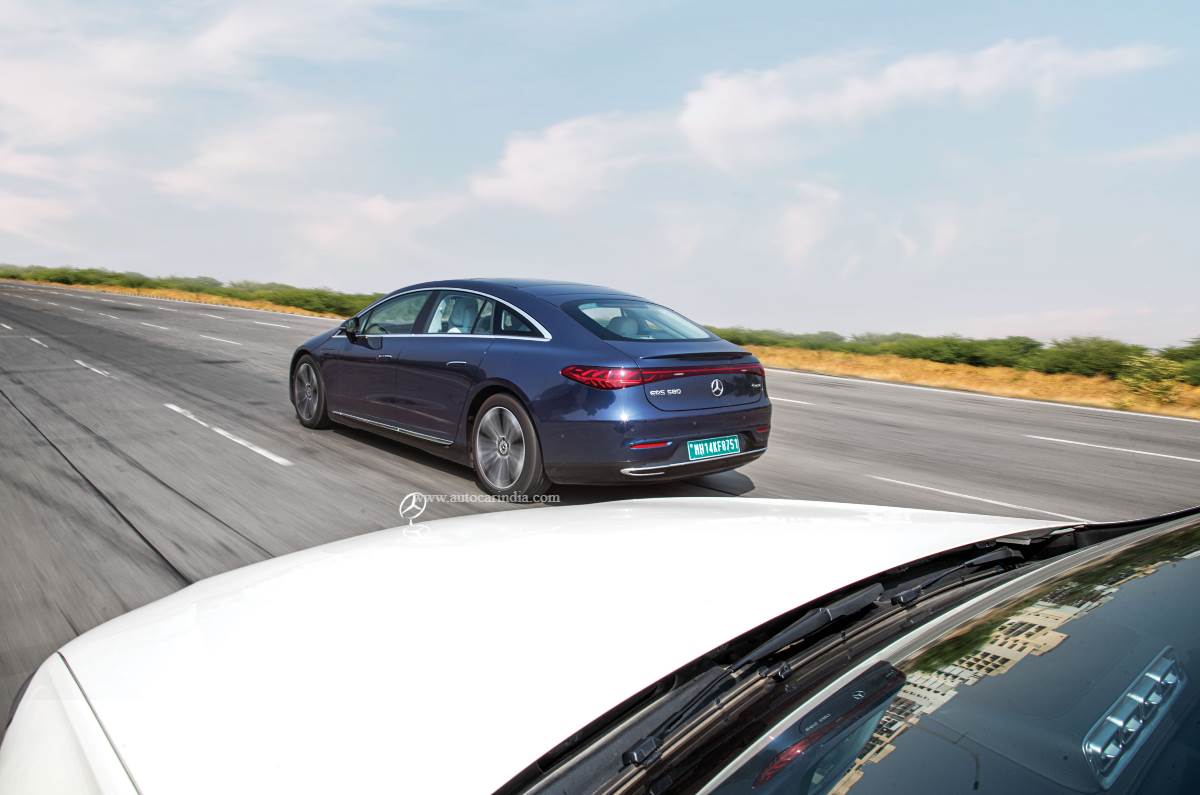 It's clear they can co-exist at this end of the market, where tradition and tech meet.
The S-Class, as ever, remains the face of the Mercedes model range. No bumper extensions, LED light bars or oversized emblem here – it's the traditional 'radiator' grille with the three-pointed bonnet ornament sitting proudly atop the nose. There is a bit of flash with the intricate LED tail-lamps out back, but lashings of chrome in all the right places make things feel suitably sonder.
The black plastic panel that replaces the grille on the EQS fits flush with the bonnet and headlamps, with a big star at its centre and dozens of tiny stars speckled around it, and a light bar up top. There's a light bar at the tail too, and the treatment here is altogether softer than that of the S-Class. There are subtler differences as well that clue you into their positioning, like the EQS getting frameless windows, while the S-Class gets soft-close doors.
Liftback boot of EQS offers a bit more practicality than the S-Class sedan.
The other big difference is that the EQS isn't technically a sedan; it has a liftback boot. Though its capacity of 610 litres might not seem that much bigger than the S-Class's 550 litres, you get a larger doorway and the ability to stack more vertically. You can even fold the rear seats down for SUV-like practicality, but the downside is the rear seats aren't as good as they could have been, as you'll soon see. Also, while the S-Class has a false floor to house the spare tyre, in the EQS, it sits in the boot.
Leading from the front
When we first laid eyes on it, the latest S-Class interior came across as plush but somewhat ostentatious compared to its more subdued predecessors. Next to the EQS, however, it looks like a stately old library. The EQS trades the unvarnished wood veneer for Gorilla Glass, which spans the width of the dashboard to form the Hyperscreen – an array of three screens that delivers entertainment, infotainment and instrumentation. The one on the passenger side feels a bit tacked on, frankly, as anything it can do, the huge 17.7-inch centre screen can do better.
This is truly the highlight of the car, and the wow factor it brings has to be seen to be believed. With all the processing might of 8 CPU cores and 24GB of RAM, buildings are brought to life in highly detailed 3D, animations are crisp and colourful, and touch sensitivity is instantaneous. You almost forgive the fact there are nearly no physical buttons and the capacitive steering controls barely work.
56-inch Hyperscreen array is the EQS' star attraction; the most futuristic a Mercedes has ever felt.
Zoom out from the screens, though, and you'll realise the interior is far more radically laid out than any Merc before it. It swoops and curves around its passengers, with bronze-accented EQ signatures all over and some very futuristic design elements. Since there's no gearbox, there's a huge storage area under the dashboard, with a bridge-like centre console linking the dash to the armrest.
And remember the S-Class's ambient lighting? The EQS, again, doubles down on that, bathing the cabin in more multi-colour neon light than a Tokyo Karaoke bar. It even has a mode that sends continuous pulses of light around the cabin corresponding to your accelerator input. That said, though the S-Class has smaller screens and fewer coloured LEDs, it's no slouch on the tech front. It debuted this version of the MBUX operating system, after all, and so it has almost all the features.
Though radical by S-Class standards, the new S is still a summer cottage to the EQS' glass penthouse.
Yes, its front seats aren't cooled or massaging like the EV's (they are heated though), but the chairs themselves are larger and more comfortable, which immediately helps lower your heart rate. And, interestingly, because the S's instrument cluster screen is smaller and set more upright, it's less prone to reflections than the rakish Hyperscreen. Your chauffeur will thank you.
Glide rule
Your chauffeur also won't have much to complain about when it comes to driving your S-Class, and a reacquaintance with the S 350d served to remind us just how utterly smooth a diesel powertrain can be. It's near silent unless you rev it out, eroding the electric car's inherent claim to better refinement to an extent. The gearbox is butter smooth too, and with 600Nm in reserve, you never feel short on oomph.
The 286hp diesel S is no slouch. But 523 electric horsepower is a time warp.
Of course, you might want to sack your chauffeur altogether if you buy an EQS, because with 523hp and an instantaneous 855Nm, it's as good as having guilt-free AMG-level performance all the time. It's purely academic, but as per Mercedes' own claims, the S 350d can crack an impressive 6.4sec 0-100kph time; the EQS does it in 4.3! And this is a car that comes with an ARAI-rated range of 857km; even with our ungentlemanly driving, we saw an indicated 750km on the screen! You'll never grow tired of flooring it, turning your cruise to an immediate gallop, but what's really surprising is how tidy the handling is.
It too uses adaptive air suspension, like the S-Class, but it's set up a tad firmer, and rides on larger 20-inch wheels. In Sport mode especially, body movements are impressively well contained, and the steering sharpens up considerably. The biggest win, however, is rear-wheel steering, which shrinks this 5.2-metre sedan down to size, especially when parking or U-turning; it's something you might not have missed on the S-Class before, but once you've tried it in the EQS there's no going back.
Both the S and EQS will scrape their bellies on speed breakers if you're not careful.
It's worth mentioning here, though, that while both cars with their 3.2-metre wheelbases are incredibly prone to scraping their bellies on large speed breakers, the EQS and its low-hanging battery pack are far more likely to take a hit. And also, while both cars can somewhat alleviate this problem with the lift function on their air suspension, they require you to go two layers into the touchscreen each time you do it, which is incredibly inconvenient. The EQS does, at least, have a cool function that, using the GPS, remembers where you lift the car and prompts you to do it when you revisit.
Quiet at the back
You may have guessed this earlier, and yes, with its larger wheels and firmer suspension, the EQS' ride isn't quite as plush as that of the S-Class, but it is way closer than we expected, and some might even prefer the former. Let's put it this way; the S-Class feels floaty in Comfort and comfy in Sport mode, while the EQS feels comfy in Comfort and firm in Sport mode. Both can offer ride quality on a level far above most other four-wheeled transport.
Everything in the S' cabin is powered, plush, isolating and with a layer of tech underneath.
The S 350d's 19-inch wheels and chunkier tyres take a bit more of the edge off Mumbai's post-monsoon potholes (yes, plenty are still around) and are ultimately just a little bit better at isolating you from the road. And isolated you will be as you sink into one of the best seats of any car around, the rear left seat of an S-Class. 43.5 degrees of backrest recline, a seat base that slides forward and presents a fold-out ottoman to you, a capacitive button press that moves the front passenger seat into another time zone to let you really stretch out, a pair of rear entertainment screens and blinds that shut out all light in the rear cabin – these are all things you don't get in the EQS. And yes, the cooling and massage functions in an S-Class are reserved for the back seats.
EQS' rear seat closer to an E-class. Fewer gizmos and less recline.
Sure, the space on offer is about the same and it's comfortable enough, but the EQS' rear seat is altogether simpler. Because of the split/fold function and the hatchback boot, the bench-type seats only recline slightly, and are nowhere near as plush or comfy. In fact, thigh support could have been better with a longer seat squab. Even the rear touchscreen remote gives you far less control of all the gizmos in the car; so yes, if you want to be entertained, you're better off upfront.
S marks the spot
So, as it turns out, despite having so much in common, these two aren't like one another at all. They both make for convincing flagship Mercedes sedans, but for entirely different reasons. The EQS is a technological tour de force, and makes a strong case for EVs as the future of mobility. It's got huge real-world range, strong performance, surprisingly enjoyable handling, and enough tech to embarrass a space shuttle. The thing is, most of this is best enjoyed from the driver's seat, and that's really where you, as an EQS owner, will want to be.
EQS rear-wheel steering does wonders for manoeuvrability in tight spots.
Not in the S-Class, and that's by design. Its rear seats are vastly superior, and feel like businesS-Class air travel on terra firma. You sink into the lounge chairs as they envelop you in warmth (or ventilation), massaging your lumbar region while you doze off on the headrest pillow. It may be powered by filthy old fossil fuel, but it's so refined, you probably couldn't tell, and the way it cossets you is just a precious few degrees better than the EQS. For the chauffeured, it still remains the one to beat, the quintessential 'limousine', and for a large chunk of buyers shelling out the price of a small Mumbai flat on a sedan, this is what they want.
Liftback boot of EQS offers a bit more practicality than the S-Class sedan.
What Mercedes has cleverly done is deliver two crorepati cruisers that appeal to both ends of the luxury car buying spectrum. What the S and EQS have in common is immense desirability and presence, comfortable ride quality and the latest in in-car tech. What separates them is their differing focus on the front and rear seats. Whichever you choose, you're going to make one hell of a statement.
Technical details
Price (ex-showroom, India)
Rs 1.60 crore
Rs 1.55 crore
L/W/H
5289/1954/1503mm
5216/1926/1512mm
Wheelbase
3216mm
3210mm
Engine/ Motor
6 cyles, 2925cc, turbo-diesel
2x Permanently excited synchronous
Power
286hp at 3400-4600rpm
523hp
Torque
600Nm at 1200-3200rpm
855Nm
Transmission
9-speed automatic
1-speed automatic
Boot volume
550 litres
610 litres
0-100kph
6.4sec (claimed)
4.3sec (claimed)
Kerb weight
2040kg
2585kg
Also see:
Mercedes-Benz EQS 580 meets the S-Class video
Mercedes-Benz EQS 580 4Matic India review: Luxury EVs don't get better than this
2021 Mercedes-Benz S 350d review: Still the best in business?
Copyright (c) Autocar India. All rights reserved.