Kashmir to Kanyakumari: 4,500km in a Porsche Taycan EV
4,500 km across the length of the country and not a drop of fuel used. We do something we have have never done before – drive an EV sportscar from Kashmir to Kanyakumari.
Published On Sep 30, 2022 08:00:00 AM
20,089 Views
Follow us on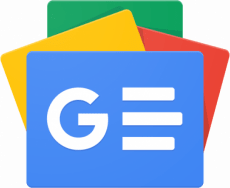 The Kashmir to Kanyakumari drive proved that EVs and sportscars can be great for road trips.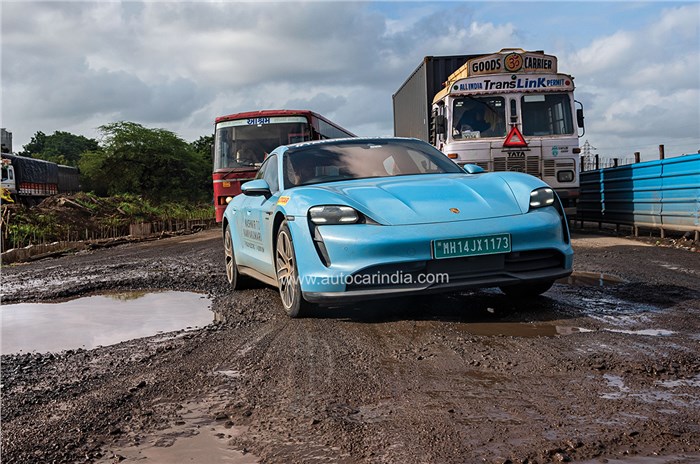 Craters in the middle of the highway are bad enough to put a stop to the drive.
Fantastic highways in Tamil Nadu made home stretch an easy cruise.
"What do you mean we can't leave?" Not that it's a complaint, given our current location – the gorgeous Vivanta Dal Lake View hotel atop a hill overlooking Srinagar in Kashmir. But right off the bat, this was the first of a mercifully precious few hiccups in an otherwise meticulously planned journey. It turns out severe landslides have all but wiped out a section of the highway to Jammu, and it will be closed for a day while the authorities clear things up. Luckily, we'd budgeted some buffer days on this journey, which we would need to pull off something like this.
Devastating landslides in Ramban district washed away the road, but with a quick suspension lift, the Taycan was able to make it through.
They say the two types of cars you simply cannot take on a road trip across India are a sportscar and an EV. We're attempting to do just that in a car that is both – the Porsche Taycan. And it's not some casual jaunt to a hill station over a weekend; this is the mighty K2K or Kashmir to Kanyakumari – over 4,000km from the northern to the southern tip of India. And before you ask, no, this is not a race against time or a test of range. In the real world, you do road trips comfortably, and that's how we planned this.
Delayed by a day due to landslides, our flag-off from Vivanta Dal Lake eventually happens in grand style.
So one extra day in Kashmir, huh? I've only so much as laid eyes on this Frozenblue Metallic Porsche Taycan once, at its launch in November 2021, so this is a good chance to get to know it better, I think. And what I get to test right off the bat is how good it is at being a Porsche. Twisty mountain roads, narrow, but decently surfaced, and since we don't have any vast distance to cover today, I'm allowing myself a bit of fun.
Taycan Drive Kashmir to Kanyakumari: Srinagar to Jaipur
– Gavin D'Souza
Straight into Sport Plus mode and off we go. What gets me first is the steering – a hallmark of every Porsche. In Sport Plus, it makes no concessions to lightness in the quest for the ultimate feedback. The whole car feels just so tightly wound in a way that no EV I've driven before has, and this is not even the mighty Turbo S. There's a purity to how this base, rear-wheel-drive model drives, and its 326hp is ample without feeling over the top. Some breathtaking views and a fair few hairpins later, it's time to put the car back on charge and head off in search of a Kashmiri dinner.
The 85-litre 'frunk' can hold a lot, including a photographer in search of that perfect frame.
The following morning, a proud 100 percent and 370km of indicated range showing on the screen, we've got the all-clear from the highway authorities and we're ready to flag off. But first, a little matter of packaging. The 84-litre frunk can hold a surprising amount, but as we're going on a long trip, we've packed some extra charging gear – including a custom-made 15A extension cord, just in case. It's the 407-litre rear boot that, impressively, swallows up two week-long bags and then some, despite also housing the space-saver spare tyre.
Our custom-made 25m 15A extension cord came in handy.
Our exit from Srinagar is far more subdued than my little jaunt from the day prior, as we settle down nicely with the 'Normal' drive mode. I make sure to turn brake regeneration on, however, as it's all downhill from here. As the kilometres tumble, the indicated range stays more or less the same, which means we're driving this car more efficiently than the last person – me, yesterday.
The roads up here are heavily militarised, and it's not unusual to be stopped for long spells to allow convoys to pass through. It happens on more than a few occasions, which gives the local sellers of apples, shawls and cricket bats enough opportunities to accost us with their best possible deals. It's not long before they turn their attention to the blue bolt, however, and the conversation changes from bargaining to wild curiosity.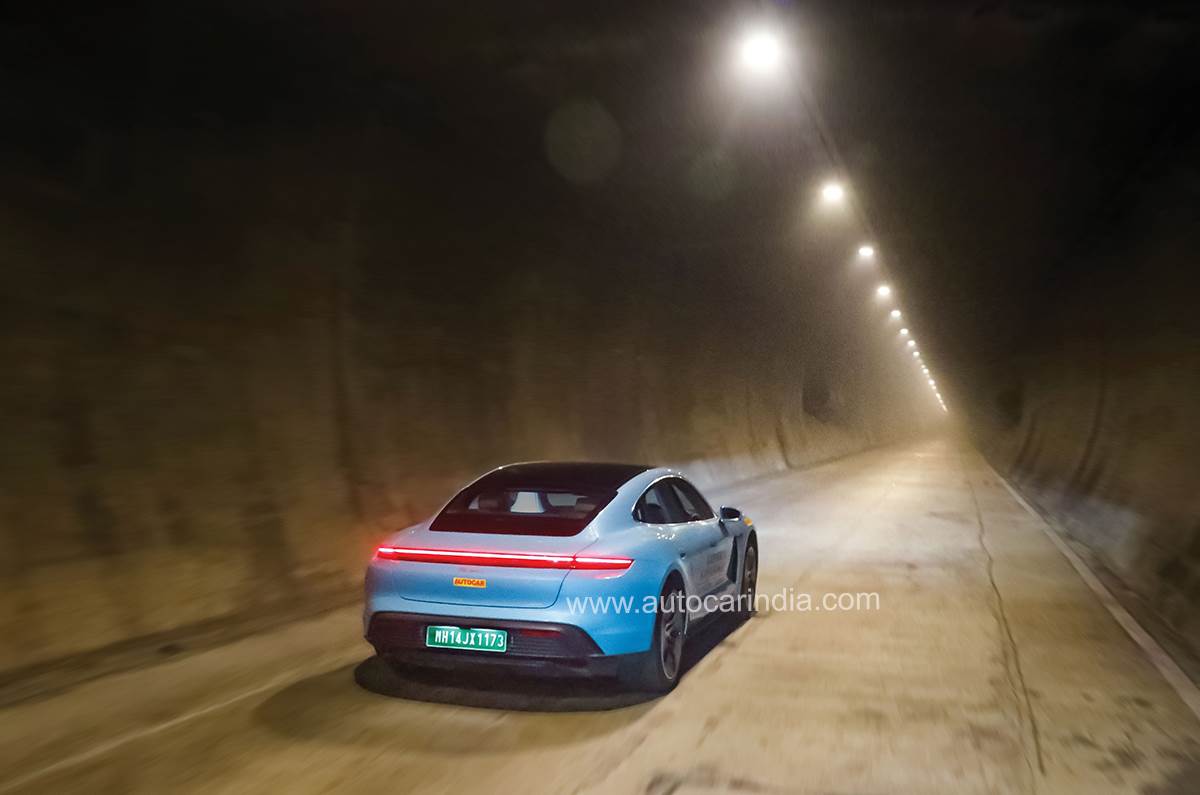 Completed in 2021, the 8.45km long Qazigund tunnel cuts 16km off the journey from Kashmir to Jammu.
The road to Jammu takes us through the 8.45km long Qazigund-Banihal tunnel, among several others, and before long, we're in Ramban district, where those devastating landslides took place. The authorities have done a tremendous job of clearing the road, but it's still something of a mucky minefield, and the first real test of the Taycan's go-anywhere ability. Thankfully, air suspension is standard for India, and raising it a few times lets us navigate the watery ruts left behind by the heavy truck traffic. That slowdown and the many traffic stops meant it's after dark as we roll into Jammu for the night.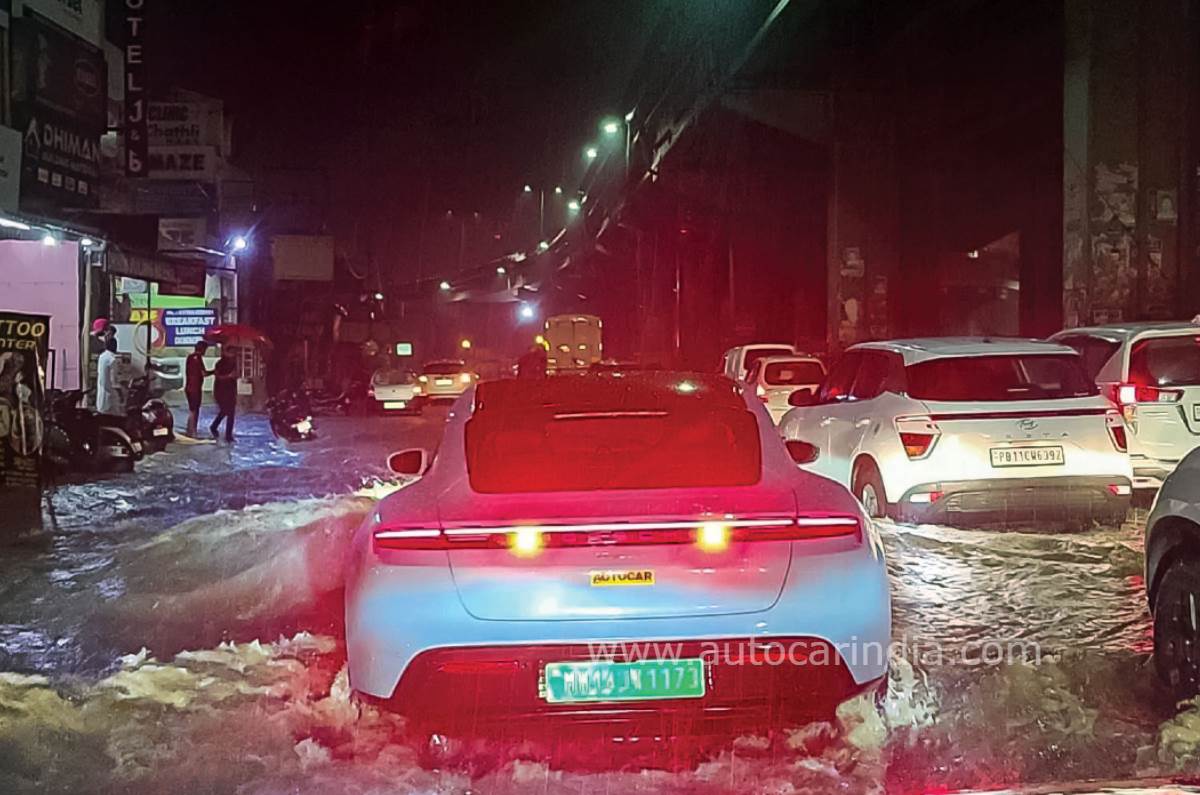 An uneventful driving day suddenly turns tense as we encounter heavy water-logging in Zirakpur, Punjab.
We thought the most eventful part of this journey was behind us, but we're in for a surprise. For the most part, the journey to Chandigarh comprised superb, wide highways and superb road surfaces. But as we enter Zirakpur, the sky breaks open with some of the most intense rainfall I've seen all year. Visibility is non-existent, other road users are in a panic, and huge ponds of standing water begin to emerge out of nowhere. And then, after a long traffic jam crawls us towards a blind junction, the penny drops. A huge water-logged stretch spreads out before us and we have no choice but to wade through. It's already taken a few vehicular victims, abandoned in the middle or to the side, but we push on. I'm quickly reminded that with this being an EV, there's actually less chance of internal powertrain damage, as there are no intakes or exhausts for water to enter through. Still, it doesn't stop my heart from being lodged firmly in my mouth, and once we're finally clear and into Chandigarh, we inspect the car, and all is well.
On our most efficient day, the Taycan did 7.1km/kWh, translating to an indicated 475km of range.
It's an absolute breeze getting to the Capital the next day, and although quite uneventful, the long, smooth highway gives me a fun game to play. The Taycan, unlike most EVs, actually has two gears in its transmission, the second being an overdrive for better efficiency on the highway. Putting the car in Eco mode actually lowers the suspension for better aero, and it's here that I start chasing my new favourite number on the screen – the km/kWh reading. Much like kpl, a higher number is better, and in my experience with EVs so far, anything above 5km/kWh is good. Coming down from Kashmir meant we were already doing a pretty good 6.2, but by the time we roll into Delhi, I manage to take it up to 7.1km/kWh!
The future meets the present as we bump into some supercar owners in New Delhi.
As we dock into a fast-charging bay at a large fuel station in the heart of the Capital, the unexpected happens. Car enthusiasts, two, three, four at a time, start to pull in and fill up; they serve 100-octane here. As it turns out, they're all on their way to a Cars and Coffee New Delhi meet-up. It'd be silly not to go and check it out, and when we do, we're treated to an incredibly warm welcome from scores of enthusiastic car owners. The Taycan is the only EV there, of course, and parked amongst internal combustion's finest, it's a great way for all of us to unwind.
A quick breather at India Gate, before getting stuck and losing precious time in Delhi's infamous traffic.
My brilliant 7.1km/kWh figure is quickly eroded the next morning as progress is brought to its knees by Delhi traffic. An EV is technically more efficient in traffic than an ICE car, but nothing could be efficient here. After a quick spin around India Gate, it's time to make our way to Jaipur. While Rajasthan's highways are generally some of the best around, the monsoon seems to have taken its toll, and we're regularly engaged in a game of dodge the surprise pothole. It's back up to Comfort mode and mid-height suspension, I think. The final stretch to our hotel – thanks to some of Google Maps' finest botchery – is on a tiny village road, replete with traffic snags and annoyed locals. But now that I'm so well acquainted with the Taycan, it's as easy as driving a family hatchback.
Taycan Drive Kashmir to Kanyakumari: Jaipur to Mumbai
– Jay Patil
Starting the second leg of the Taycan K2K drive was pretty much like being the second runner in a 4x100m relay: vastly underrated and little in terms of excitement. The flag dropped and in true relay fashion, Gavin started off in the twisties of the north that straightened out as he passed me the baton. It was bittersweet, to be honest, considering the Jaipur to Mumbai leg is mostly flat with only a handful of bends thrown in to break the monotony. And going by Shapur's review, the Taycan, despite being an all-electric Porsche, was one that offered the full experience.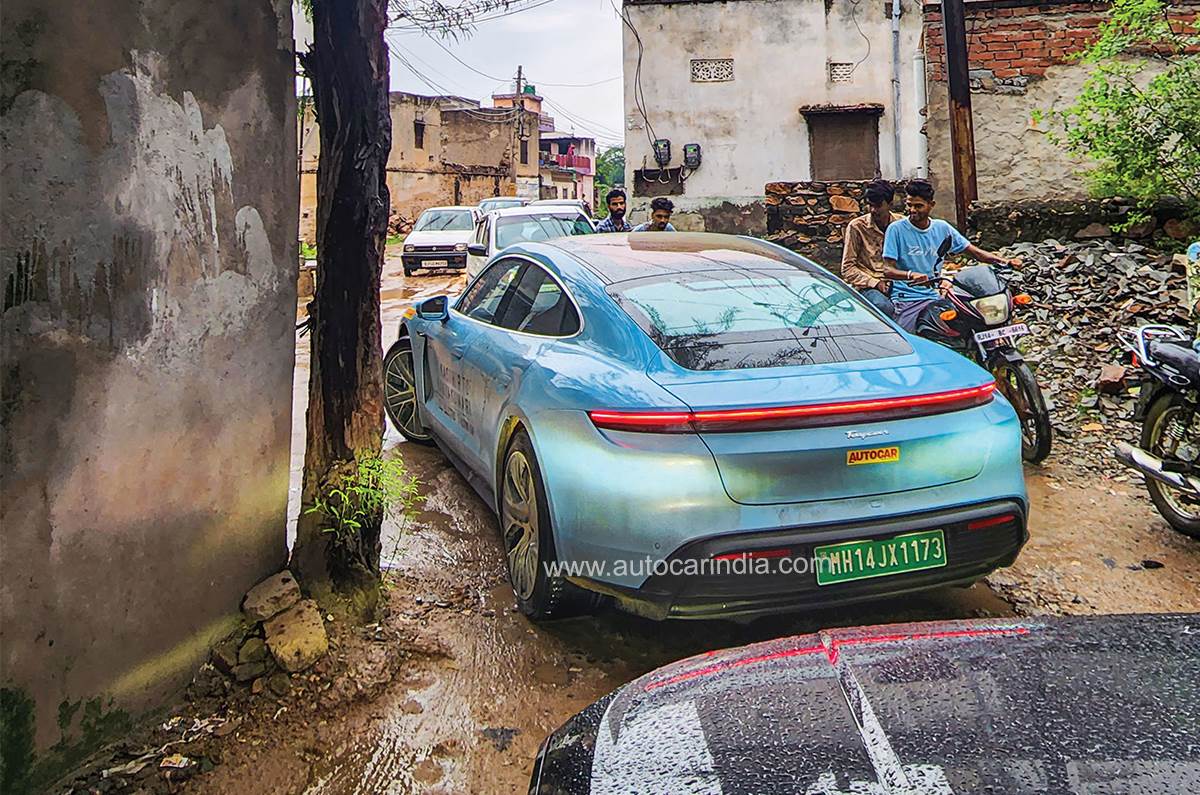 It's mostly big highways and open roads, but we often have to go off the beaten path on this journey.
My straight jaunt to Mumbai started off from the quaint Devi Ratn Resort in the beautiful city of Jaipur. Beautiful it was, right until the clock struck 9am and traffic clogged the picturesque but narrow streets. Nursing the Taycan out of the city amidst the parking sensors' greatest hits was nerve-racking and a gentle reminder that it wasn't going to be a road trip like in the movies with just long looping highways.
What most of the Jaipur-Mumbai stretch looks like. An arrow straight ribbon of tarmac.
As we got out on the highway, I could relax and stretch the Taycan's legs to get a feel of the zero-emissions Porsche. My first thought was of disappointment, because there was no exhaust purring away as I squeezed the accelerator. What was surprising, though, was how adept the Taycan was at cruising speeds. It exudes a feeling of a superb long-distance tourer that makes light work of hundreds of kilometres. As it munched on the miles and kept washing them down with lithium-ion juice, my range anxiety too was tapering slowly. The Taycan's battery management is superbly calibrated and it gently sips on charge as you trudge along. But, of course, on long, straight highways, there would be a change in drive mode every once in a while. While Comfort is the ideal setting for a drive like this, Sport Plus is where the drowsiness of a lengthy road is eradicated. However, while the instant torque does make for cheap thrills, there are only so many times you can enjoy a shove to the body.
With my eyes peering out in the distance for some corners, we entered Udaipur, and my hunger for a few twisties was temporarily satisfied by some spicy Laal Maas.
An extremely comfy night at the wonderful Taj Aravali Resort and Spa made sure I was fresh for the next day when we would be leaving behind Rajasthan and entering Gujarat.
Long charging times, especially without fast charging allow you to have a relaxed meal.
The start to each day was methodical and started by filling out a log for each day's trip and charge reading. Udaipur was yet another breezy drive, until we needed to recharge. You see, when you are on long drives like these, even the most diligent planning can go for a toss. And so it did when we reached the charging location at a remote, under-construction hotel. Now, recharging isn't as effortless as parking your car and plugging it in. There can be some rough patches there too. We found out the hard way as we plugged the car in and realised we were out of network. This rendered online payment impossible, and just as we were about to lose all hope, Rahul decided to walk around and managed to find one bar the traditional way – one arm in the air. If that wasn't enough, there was a power cut at the hotel, which halted the charging. As ironic as it was, a diesel generator was used to power the charging station, but the entire process of rebooting the charging software, with the weak network and fluctuating power supply, cost us a good chunk of time. Fingers crossed, we hoped the car charged as fast as possible and started prepping for a night drive into Gujarat.
As we set off, I made good use of the Taycan's straight-line prowess and as the sun bid adieu, we crossed into Ahmedabad.
Taycan Drive Kashmir to Kanyakumari: Mumbai to Satara
– Hormazd Sorabjee
With the Taycan's 79.2kWh battery topped up to 100 percent charge via our wall box charger in office, the first stop of the day was Pune. After a ceremonial flag off of the southern leg of our K2K drive at our office by Manolito Vujicic, head of Porsche India (also my co-driver), we eased the Taycan into Mumbai's rush hour traffic towards the expressway. Two nasty speed breakers just outside office saw the Taycan pass the ground clearance test with flying colours. The Mumbai-Pune Expressway was where the Taycan came into its own, silently and swiftly slicing past traffic. That Mano and I were engaged in animated conversation throughout was evidence of the Taycan's ability to gobble miles without any drama. Truth is, though it was a quick drive to our lunch stop, deliberately chosen not far from a Tata Power 25kW charger, I wasn't driving this Porsche like a Porsche. That would be saved for the Khambatki ghat after Pune. We arrived in Pune covering 165km and with a 63 percent charge.
The Chhatrapati Shivaji Terminus was part of Taycan's Mumbai darshan.
Lunch at Sayaji hotel took a little more than an hour, enough time for the Taycan's battery to get upto 99 percent. Driver and car nicely fed, we made brisk progress on NH48 and reached the bottom of Khambatki, where the fun would begin in earnest. Camera team in position, Sport Plus mode selected, a pause for a gap in the road and wham. Acceleration is quick but not super quick (this is not the Turbo S but the base model), but the handling is just next level. The wide, smooth and curvy uphill one-way section of Khambatki was the ideal playground for the Taycan. The way it dives in and out of corners, the purity of the steering, the flat and composed ride was just incredible. In fact, it was so much fun, that we did the Khambatki loop twice.
The car and the journey got a thumbs up from everyone.
Twenty kilometres later, we were stopped by the police, not for speeding but because they wanted to have a look at the car. The blue Taycan was making all sorts of friends wherever it went!
Exciting Taycan came into its element on ghats en route Satara.
Flat-out uphill driving did take its toll on the battery, but when we reached Satara, a good 140km after our last top up, we still had 54 percent charge. I left the inconvenient job of finding a charger in Satara before calling it a day. Any regrets? I just wish I had more time to have driven it all the way to Kanyakumari, I was just getting warmed up.
Taycan Drive Kashmir to Kanyakumari:
Satara to Kanyakumari
– Nikhil Bhatia
I'd been following the Taycan's adventure through India via Instagram thus far and had been itching to be part of the proceedings myself. Satara is where I gleefully joined car and crew. I'm no stranger to the highway we are on (it's part of the route to Goa!), but I was a stranger to the Taycan. I'd not driven one before and there really wasn't any time for an ice-breaking session with it either. A quick run through of the Taycan's four screens and some of its quirks like the unusual position of the light switches beside the instrument screen was pretty much it. Thing is, as I find out almost instantly, the Taycan is a car that puts you at immediate ease. It's very 911 in that sense. Frontal visibility is excellent, the beautiful bonnet 'buttresses' are a great reference point, and the driving position is spot on. I think I'm going to enjoy my time in the Taycan!
The Gogte Plaza charging station at Belagavi supplied cleanest energy.
The drive to Belagavi is smooth and ends with a charge at the Gogte Plaza charging station. Set up beside a solar field that powers it, with windmills churning away in the distance, it's the 'cleanest' and greenest of our charging stops. I hope it's a model we see replicated over the larger journey to electrification. The roads improve as we charge on deeper into Karnataka. Our average speed is up, travel time is reduced and what that means is a lot more can be packed into the day. Our stop at Davanagere is well spent in the quest for the best Benne Dosa – butter dosa with butter level Pro Max! Ahem, some of us may have packed in a kilo or two over the drive.
Resplendent Vidhana Soudha in Bengaluru is a must-see.
It's on the way to Bengaluru that it hits me – range anxiety hasn't hit me yet! Save for a range check at the start of each day, I've not paid much attention to the number over the course of three days of driving. EVs minus their most notorious stress point are a win in my books. A charger in easy reach just sweetens the deal. Luckily for us, Taj Yeshwantpur in Bengaluru, our halt for the night, is home to EV chargers.
There was just no getting around Bengaluru traffic.
Our plan of a late exit out of Bengaluru to avoid the early morning rush is met with partial success. We get a good run to the resplendent Vidhana Soudha, a must see, but it's a crawl for the rest of the way out. The Taycan's natural silence has a calming influence in the madness, I can tell you that.
The day's driving has us enter Tamil Nadu, the final state on our journey. My devious plans to beat Gavin's efficiency record are quickly aborted. The road is super-smooth and there are some wide, sweeping corners too. It'd be rude not to enjoy it to the fullest. Sport Plus dialled, the Taycan quickly (quickly being the operative word) reminds me it's a Porsche first and then an EV. That gorgeous balance to the handling is just so, so rewarding. It's only later that I realise we weren't all that far from Kolli Hills, the 70-hairpin hill climb. Talk of a missed opportunity!
Zeon Charging's RFID-enabled interface was really user-friendly.
It's smooth sailing from Salem to Madurai. Again, it's the road that impresses and what's also reassuring to know is that we are never too far from a fast charger. The EV charging network is denser in the south. We use Zeon Charging's 50kW charger, and it's a joy to see the car 'tank up' so quickly, relatively speaking. The Taycan can accept charge at up to 225kW, which, infrastructure supporting, can give 100km of range within 5 min of plugging in.
I'd have loved to stay on to explore the temple city of Madurai and the historic Taj Gateway hotel we were staying at, but there's a futuristic car waiting for me and a journey to complete. Today is the day we drive to Kanyakumari.
Gorgeous final run was almost ceremoniously lined with windmills.
I do feel for poor Gavin and Jay, but I think I've lucked out with the best roads of the entire trip. The surface is brilliant and the icing on the cake is that the traffic has thinned out the further south we've come. This is my last dance with the Taycan and I sure as hell make the most of it. Gorgeous skies and a forest, and I mean it, a forest of windmills on either side of the road lead us into Kanyakumari.
It's a busy Sunday evening at the southernmost point of mainland India, but we politely creep our way forward till we make it to Sunrise Point (incidentally down the road from Sunset Point) and have the iconic Vivekananda Rock and Thiruvalluvar statue in view. This is it! Job done! Manolito Vujicic, who is donning two hats – of Porsche India head and a wide-eyed tourist – joyfully flags us in. Curious bystanders, and there are hordes of them, can't comprehend our drive all the way from Kashmir, let alone one in an EV.
To us, the 4,467km journey has been epic in so many ways, but one of many learnings too.
Our Taycan lived an entire life in those 4466.5km.
For one, isn't it gratifying to know we have the roads, at least many, to really enjoy a Porsche on? Then there's the EV infrastructure. There's no arguing here because there's still a long way to go, but the fact that the Taycan did the trip from Kashmir to Kanyakumari without burning a drop of petrol or diesel, or needing any form of external assistance should tell you we're surely headed in the right direction. And it cost us 'only' Rs 15,422 in charging. Fast charging isn't cheap, but you'd be spending in multiples on fuel with a similar powered petrol car.
Bustling Kanyakumari was a place of quiet reflection of one epic journey.
As for the car. What a machine. We put it through everything. Rain. Shine. Good roads. Bad roads. No roads. The Porsche Taycan took everything like a champ. We knew it'd be fast and exciting, but what we've come to appreciate is how India-friendly the car is. Ironically enough, the Taycan's impressive real-world range meant the whole journey wasn't as much of an adventure as we anticipated it to be. And that is no bad thing.
Who said you can't road trip in a sportscar or an EV?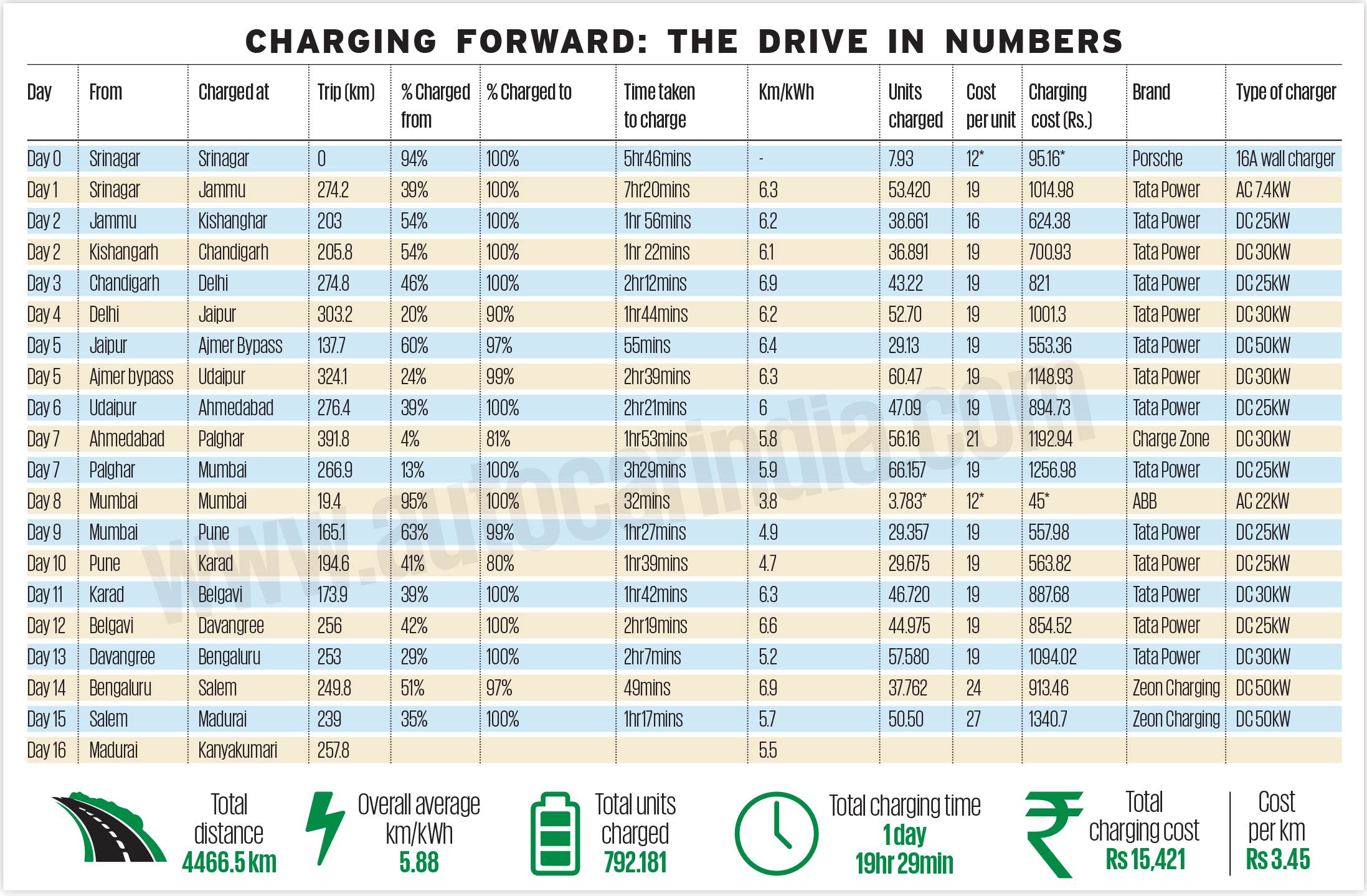 Also see:
Porsche Taycan India review: The best driving EV in the world
Copyright (c) Autocar India. All rights reserved.