How to use ABS on your motorcycle effectively
Now that ABS is mandatory on all bikes above 125cc, we explain how the safety system works and what you need to keep in mind while using it.
Published On Apr 19, 2019 08:00:00 AM
39,780 Views
Follow us on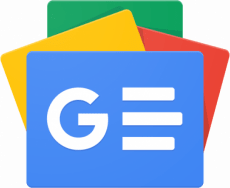 On April 1 2019, it became compulsory for ABS to be part of every motorcycle with an engine larger than 125cc. This is an excellent move because ABS can be a lifesaver on our chaotic streets and the extra cost it brings is completely justified by the safety net it provides. And now that it is compulsory, a massive number of motorcyclists out there will be experiencing the feature for the first time, so I figured that this article may be quite helpful.
Let's start with the basics and we're going to keep this article focused on the simpler, cost- effective system seen on affordable motorcycles.
How does it work?
Far too many new riders grow up with a fear of using the front brake, which is a pity because that's by far the most effective way to slow a motorcycle down. The reason for that fear is obvious – too much pressure could lock the front tyre, and could easily cause a painful crash. Well, ABS, or Anti-lock Braking System exists exactly to prevent that from happening. The system works by regulating the amount of brake pressure to keep it just below the point at which the tyre would lock.
Small ring mounted on the disc is what helps collect the wheel speed data.
To do this, ABS uses a sensor, which is usually a slotted rotor you'll see mounted on the brake disc. The data from this sensor is analysed by an ECU, and when this ECU detects that a wheel lock is imminent, it sends instructions to the ABS pump to reduce the brake pressure by an appropriate amount. The ABS pump is installed along the brake lines, between the brake master cylinder (where the rider input is given) and the brake caliper (where the actual braking happens). When ABS is triggered, the pump rapidly regulates the brake pressure multiple times a second, which prevents the wheel from locking, while still slowing the bike down as effectively as possible.
How does it feel?
I imagine motorcycle dealerships will be inundated with worried customers over the next few months complaining that the brakes on their brand new bikes are 'vibrating/juddering/pulsing/rattling'. Let me save you that trip to the dealership, because those sensations are normal when ABS kicks in, and you will feel a pulsation at the lever, accompanied by some sound from the brakes as well.
This may take you by surprise the first time you experience it, but don't pump, or let go of the lever. Instead, keep the pressure on the lever steady until the bike has slowed to the speed you need to be at. When you learn to trust it, you can effectively slam the brakes as hard as you can and leave the system to sort out the rest. This is what makes ABS so vital, because in a panic situation, most riders will instinctively grab the brakes as hard as possible. With ABS in the picture, instead of a potential crash, you can slow down sufficiently and make a direction change to avoid any potential dangers.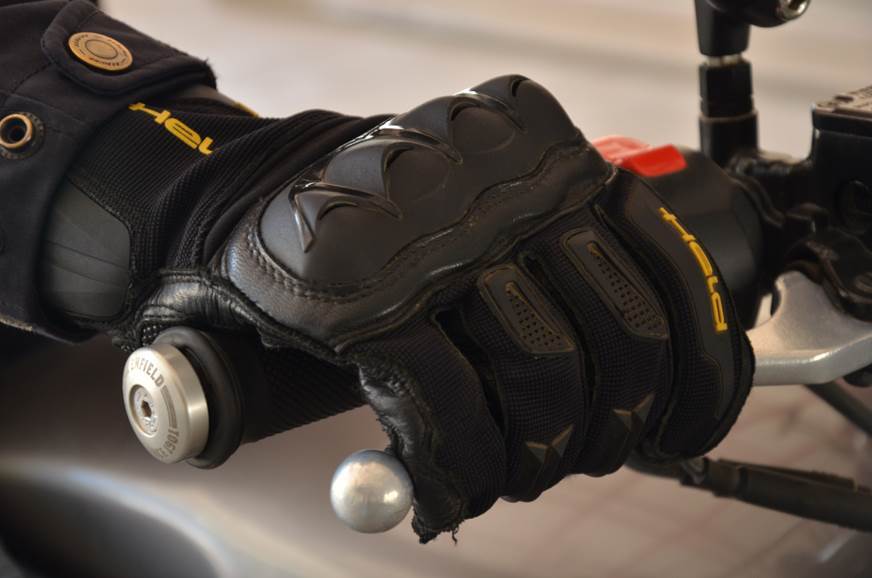 With ABS engaged, a hard pull on the brake lever will bring you to a safe stop.
ABS doesn't boost braking performance
Remember that ABS won't magically improve your braking performance and you must continue to estimate braking distances as you would do without the system. In fact, more often than not, an advanced rider will be able to stop shorter with ABS turned off, and this holds especially true for the more cost-effective systems. Take the current 390 Duke, for example. It has the sharpest brakes you'll find on any machine this side of Rs 5 lakh, but the braking distances it posts in our 60-0m braking test are a little longer than the likes of the new Dominar 400 and even the Interceptor 650, both of which have duller feeling brakes.
And that is because KTM has a rear-lift mitigation system that prevents the rear wheel from lifting off under heavy braking, by engaging the front ABS. The thing is, the lightweight KTM has a short wheelbase and a powerful front brake, which means the rear wheel will lift quite easily. Turn ABS off (or into Supermoto mode on the Duke, which deactivates rear ABS) and the bike will stop much shorter, but that's something I'd only do on a closed race track. Nevertheless, even though the 390 isn't the shortest-stopping machine, it comes to a halt very well and under complete control with ABS on. Ultimately, that's what's most important on a public road where panic can easily override fine-tuned rider input.
ABS doesn't like certain conditions
There are a few surfaces that can trigger ABS quite easily and keep the system engaged for a longer period. The rule here is quite simple – the lower the grip available, the sooner ABS will engage. Under-construction roads sprinkled with a layer of fine gravel are particularly notorious. Just as low-traction surfaces can trigger ABS faster, stickier tyres on a smooth surface will generally reduce ABS intervention levels.
ABS gets triggered more easily on rough or loose surfaces.
You will also occasionally feel that typical ABS judder when riding over potholes or a speedbreaker, even if you only have a slight pressure on the brake lever. This is because the front tyre might momentarily come up in the air, which can confuse the system and kick it into effect. In such cases, where an urgent reduction of speed isn't important, you can briefly let go of the lever and press it again to get smooth, ABS-free braking.
Summing it up
If you're the type who makes frequent use of the term '#TLDR', here's a synopsis. First of all, don't be surprised or worried by the sensations and sounds ABS produces – that's just the way it works. Second, be aware of what kind of road conditions trigger it more easily and remember, for the most effective performance outside of a panic situation, you want to brake to the point just before ABS triggers. Finally, understand how the system works so that you trust it to brake as hard as you can when the need arises.
Quick News Video, September 17, 2023
1978 Views|2 months ago
2022 Kawasaki Ninja 400 video review
9637 Views|1 year ago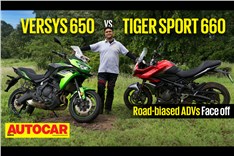 Kawasaki Versys 650 vs Triumph Tiger Sport 660 comparison...
10210 Views|1 year ago
Copyright (c) Autocar India. All rights reserved.