At a glance, this may seem like a regular, run-of-the-mill Toyota Fortuner. But underneath the seemingly normal exterior, this SUV is wrapped in 900kg of armour capable of withstanding 350 rounds from an AK47 and armour-piercing sniper bullets, as well as blasts from hand grenades. And it'll manage the school run, too.
It's the finished product from armoured-car specialists Streit Armoring headquartered in Canada. The company retrofits protection to cars across the world, and in India, for the government and private customers to defend VVIP owners from attack. You'll be hard pushed to spot any differences between a fully armoured version and a standard model.
Spot the difference: the finished fully-armoured Fortuner (L) looks identical to the regular SUV (R).
If you're considering cladding your daily driver in armour, though, there are some prerequisites. For a start, not every vehicle is eligible. The smallest engine that can cope with the added weight of armouring is a 3.0-litre turbocharged diesel unit, which means that the most popular cars to fit the bill in India are the Fortuner and, higher up the pecking order, the Toyota Land Cruiser 200 Series.
You also need clearances from the Ministry of Home Affairs, or the police, to acquire an armoured car, because of understandable concerns that it may end up in the wrong hands.
Then there's the cost. Prices start at Rs 25 lakh to armour a Fortuner, and rise to Rs 1.6 crore for a fully-clad Mercedes-Benz S-class. Audi, BMW and Mercedes-Benz build their own armoured cars in Germany, but the process of importing them to India can take up to 90 days, and the tax levied on them makes prices soar to around Rs 8 crore for one vehicle.
However, get the armour retrofitted in India – with the same grade of parts used by Mercedes and BMW, imported from Germany, Australia, Beirut and the UAE – and it will cost Rs 3.5 crore for the car and the armour.
Most transformations take around seven to 10 days to complete. Surinder Singh, CEO of Streit Armoring from the Mumbai office, says that it's important for the cars to remain aesthetically similar after they've been armoured, primarily from a safety point of view, so that attackers are unaware that you're protected, but also so that the customer still feels comfortable using it as an everyday car. You wouldn't want to show up for that red carpet event in a battle tank, would you?
Protection levels are graded from one to four in the US by the National Institute of Justice, with the equivalent top European specification being VR7 grade – awarded after exhaustive munitions-defence testing in Germany – and 85 percent of customers opt for level three to defend against AK47s and armour-piercing sniper rounds.
There's also a chemical, biological, radiological and nuclear package that can be added which filtres the air that enters the cabin, but this is mainly used for tactical warfare vehicles that travel to remote places. Still, it's good to know your car can be prepared for any eventuality.
Regardless of which level you choose, the process of armouring begins by gutting the original car inside and out down to its shell, with the dashboard, seats and roof all removed, before cladding it in armour with either composite materials or ballistic steel.
The original car is stripped down to its shell.
Composite is around 30 percent lighter, but more expensive, and because steel is stronger and more reliable, it's chosen by the majority of customers. For example, 7mm thick steel gives the same protection as 30mm composite.
Once the car is stripped down, it's built back up with the chosen armour, starting with the quarter panels and floor, then working up to the roof which gets blast resistant steel and Kevlar to protect against two hand grenade explosions.
Armour is then welded on from the bottom up, starting with the quarter panels and the floor.
The standard tyres are swapped for run flats with special composite materials around the wheel rim so that even if they come under fire and deflate, the vehicle can still travel up to 60kph for 60km to help escape danger.
The glass is the last part to go back in before the upholstery is replaced, and it's a considerable contributor to the added weight of the armoured car. On an average, car glass can be around 6mm thick but, in an armoured car, thickness ranges from 22mm to 54mm depending on the level of protection, which means that the windscreen, rear windscreen and four windows can weigh in at 400kg, almost half the total 900kg added. The windows don't open in most finished products, but the front two can be lowered by a maximum of four inches, if the customer specifies, to pass documents out of the car.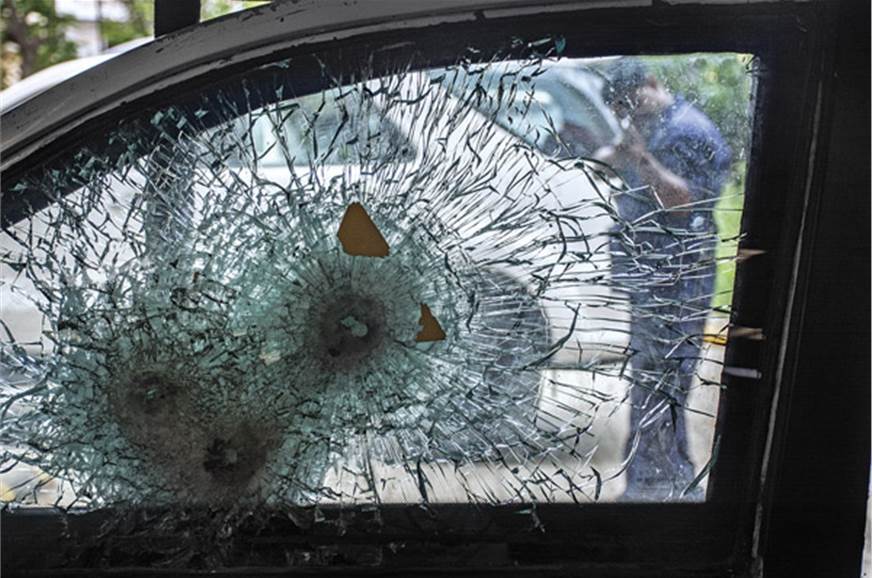 At highest level of protection, the glass can withstand fire from a sniper rifle.
The other popular option is the openable tailgate that acts as an escape hatch that can be used when the passengers are unable to get out through the doors. Unless you're the Hulk, it would be impossible to break out of them from the inside if they're jammed shut, so the exit hatch inside the rear tailgate can be opened manually.
There are constant inspections throughout the armouring process, and a team of 12 people work on one car, including specialists in mechanics, upholstery and maintenance, all with a minimum five years of international training or experience. Anonymity of the customer is of paramount importance, so while work is carried out, each car has its original number plates replaced with an individual number. So, no one working on the car knows whose vehicle they are working on.
But the fitting of the armour and glass isn't the most challenging aspect of the job; it's getting the performance and aesthetics right afterwards.
900kg of additional weightcalls for beefed-up suspension.
Each car undergoes a road test because, with almost one tonne of extra bulk, many technical aspects have to be completely reworked. The suspension and brakes are replaced with heavy-duty setups, and suspension height matched to that of the original road car to maintain its similarity, but the engine isn't touched – hence the 3.0-litre turbo minimum.
Predictably, the car does suffer a drop in fuel economy, and its top speed is limited to 137kph, but this seems like a small compromise when you consider the generous trade-off for safety. Although there is one slight chink in the armour; around the hinges of the doors where protection is at its thinnest to enable the hinge to function.
Around 80 percent of Streit's sales in India are accounted for by government customers. One of them was Etela Rajender, Finance Minister, Telangana, who was being driven through Karimnagar in June 2015 when his driver lost control of the vehicle at 130kph. It flipped five times before coming to a standstill on its roof, but all passengers escaped with only minor injuries. The armour protects against bullets and bombs, as well as road accidents, which in India kills far more people than terrorists.
Surinder Singh brought the company to the country in 2011 and his primary aim was to bring high-quality equipment used abroad to the Indian market. "We collaborated with international companies to use the same technology and certification they do, and brought it to India to have international standards of equipment that was lacking previously," he says.
Demand in India has been growing since it entered the market. Although the company deals in small numbers, since starting in 2011, sales have doubled every year and it is now commissioned for around 100 armoured vehicles per year, whereas rivals like Tata and Mahindra – who have armoured versions of the Safari Storme and Scorpio, respectively – sell around 20 each. A strong business model, then, and a sign of the times, too, perhaps.
Special thanks to Surinder Singh at Streit Armoring Pvt Ltd. Contact: 022-28656666
www.streitarmoring.com